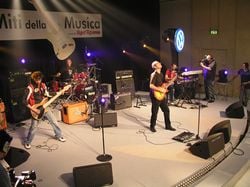 Atto IV is an interesting Italian prog band from Varese (Lombardia) that was formed in 2002 by Valerio Rizzotti (guitar and vocals), Alex Oliveri (keyboards), Sebastiano Pinnarò (bass) and Christian Marino (drums). In 2003 they released their first demo EP "Stati alterati" and at the end of 2004 they signed a contract with the label Videoradio for their first full length album "A parte", featuring new versions of the old tracks and new compositions. A period of intense live activity followed... The music of Atto IV is inspired by the Italian prog masters of the early seventies like Premiata Forneria Marconi and Banco del Mutuo Soccorso but with an "heavier" edge and an up to date sound (among their influences you can find also Dream Theater and Porcupine Tree)...
I got in touch with the band for their story and Valerio Rizzotti kindly answered my questions.
#################################################################
When, where and by whom was your band born ? Did any of you, past and present members, play in any other bands before joining up in your band ? Why did you choose that name ?
The band started in 2003 in Busto Arsizio, North Italy, from an idea of mine. Every member played in other bands, with a lots of different music styles: death metal, fusion, electronic pop-rock: I was attracted to reunite people coming from different musical realities, because variety is always a treasure.
The name "Atto IV", which simply means "Act IV" in English, has a very funny story: in the days when we're searching for a name, I heard one of my friends telling that he had a date with a girl; so he told me that he wanted to "act" with her! The line up is 4 elements, so I simply put together the word with the number! I've got something ironical, theatrical, and enigmatic.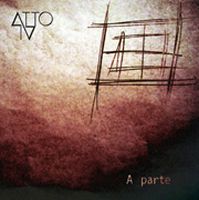 Over to your two albums. Your debut album A Parte was released in 2005. Please tell us more about this album.
"A parte" was released in 2005 with Videoradio, an indie Italian label. It took all the 2004 to produce it. The album received good critics in various countries, and lots of prog radios broadcsated it; that was a saisfaction for us, especially for an album sang in Italian.
During the whole 2006 we played around Italy and opened also for Tony Levin.
And then you disappeared from the radar for many years. What were you up to during these years ?
Yes, at the beginning of 2007 I had to put the project in stand-by, because of problems and different goals between us. During the following years I've composed some music for theatre companies, short indipendent movies, and worked as a session man in studio.
All these experiences gave me new energy to restart the project in 2009: I've found other 3 great musician and friends, who wanted to continue with me. We started composing, rehearsing, produce and experiment. At the end of 2010 all was ready for the new chapter.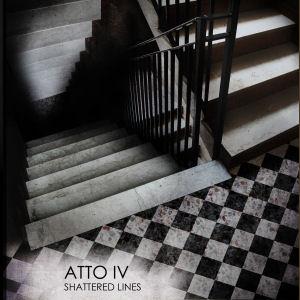 Your new album Shattered Lines has just been released. Please tell us more about this album.
Shattered lines is very different from the previous album. More aggressive, sang in English, more composite. Many influences converge in the nine tracks of the disc: fusion, heavy, alternative rock, electronic and noise. Every song is a trip through contrasting atmospheres, free associations of ideas, recurrences: a polyedric and uncontrollable fragmenting of things and existence toward unknown directions.
How would you describe you music and which bands would you compare yourself with ?
Our sound has his roots in the classical prog rock sound of the 70′s, blended with the power and violence of the modern heavy-prog and alternative rock.
We are inspired mostly by bands like King Crimson, PFM, Dream Theater, Liquid Tension Experiment, Tool, Alice in Chains, Porcupine Tree.
We like lots of different music styles, even very far from the prog: classical music, electronic music, fusion, pop. Variety is fundamental for inspiration.
Are your band active on the gigs circuit or are you just a studio band ?
Both things. We don't base our activity exclusively on live gigs, but we like to play in contests and situations that allow to fully express ourselves.
What is your plans for this year and beyond ?
At the moment we are going to promote the album, the videoclip, and to plan a tour around Europe.
To wrap up this interview, is there anything you want to add to this interview ?
Just follow us and stay updated through
our website
and let the music flow!
Thank you to Valerio for this interview



Edited by toroddfuglesteg - March 16 2011 at 11:57