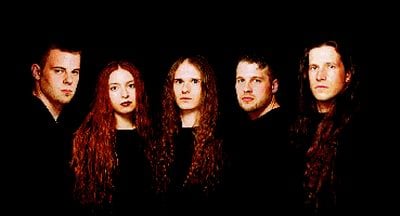 Back in the final years of the last millenium, I ran a webzine called News From The Infested Graveyard. The contents of this webzine has now been removed from the internet. Some weeks ago, Garden Of Shadows was added to ProgArchives and I pulled this interview back again from my personal archives.
This is an old interview done just after they released their debut album. I still think it as a good interview and worthy re-publishing in ProgArchives. So let's go back 13 years in time and revisit 1998.....
USA is not most known for their atmospheric Death Metal or Doom/Goth Metal scene. The brutal Death Metal scene is the most well known musical export from USA. But there are life in the atmospheric Death Metal and Doom/Goth Metal scene in USA. Garden Of Shadows is the band with the greatest potential from this scene. Their "Heart Of The Corona" opus is a stunning piece of atmospheric Death Metal. We contacted the band for an update. Brian from Garden of Shadows gave us an update on the situation.
#############################################################
When and where was Garden Of Shadows started? Could you give us a biography ??
Well, back in '95, Scott, Chad, and I were in a band called Funereal Opera based here in Maryland. Basically, we sucked. We had recorded a demo that was terrible and after that, we decided to get serious. We knew that we needed a second guitarist, so we began searching. During that summer we found Mary, whose musical ideas were very similar to ours. Our music was developing rapidly at that point, but our drummer and bassist did not want to follow the same route and they left. We had a very difficult time finding a new drummer. We played with several and none of them worked out. We really didn't do much as a band until we found Bret in the fall of '96. After he joined the band, we composed some new material and recorded our "Heart of the Corona" demo in April '97. After the demo had been circulated through the underground for almost a year, we signed with X-Rated Records to release our demo on MCD format. We then recorded a bonus track in the middle of '98, remastered the original demo recording, and the MCD was released at the end of '98. Since then we have acquired a new bassist (Sean) and we have parted ways with our keyboardist and are still searching for another one. Just last month we signed with Wicked World, and we plan on recording our debut LP in the summer of '99 and releasing it later in the year.
What is the concept behind your chosen band-name ?
There is not as much a concept behind our name as there is an essence. The name which we have chosen captures the mood that we want to convey in our music-feelings of magnificence, darkness, and beauty.
How did you get in touch with X- Rated Records ?
We sent them our demo tape because a friend of ours recommended them to us. We knew they were a distro as well as a label and we were just hoping they would want to distribute the demo. They liked it so much that they wanted to release it on CD! We received some offers from other labels who wanted to do the same thing, but we went with X-Rated because we had heard good things about them.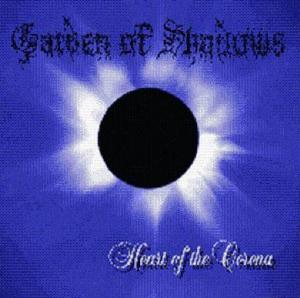 Please give us a full insight to your new album "Heart Of The Corona". The recording, the tracks, the concept, the line up on the album and the art- work.
In some ways it is misleading to say it is a new album. The CD consists of our Heart of the Corona demo from '97, plus one new track we recorded in '98. On the demo the line up consisted of myself on guitars and bass, Mary on guitars, Chad on vocals, Scott on keys, and Bret on drums. The line-up was the same for the new track we recorded for the CD, with the exception of the bass guitar, as Owen was added to the line-up on bass. The demo consists of 4 tracks and an intro. The new track we recorded for the CD is titled Shards of the Sphere and it brings the running time of the CD up to 39:16. The artwork for both the demo and the CD was done by myself and Mary with the help of photo editing software on my computer. The cover art shows a solar eclipse, that is the image which inspired us to write the lyrics to the song "Heart of the Corona" and we felt that it was an appropriate album title as well.
Please give us an insight to your lyrics.
This is a tough question for me to answer, because we attempt to make each set of lyrics unique, so there is no one concept that runs continuously throughout our lyrics. I could start to go through all of our songs attempting to describe what each is about, but I don't know how interesting that would be for people reading it. Let me just say that all of our lyrics have a particular meaning to us and I would be curious to know what other people make of them !
Your music is not in the vein of the usual American Death Metal stuff. How do you place yourself in the American metal landscape ?
Our music is different than the stereotypical American brutal death sound because we are influenced by more melodic bands. Our place in the American metal landscape is not as unusual as it might seem, though. At this point in time there are many American bands emerging with a lot of melody. Scholomance, Agalloch, Sculptured, Forty Days Longing, Dawnbringer, Assisting Sorrow, Sorrow Bequest, Disinterment, Corrupture, Estuary of Calamity, and Edenrot are just a few of them.
What do you call your music ?
I would call it atmospheric death metal. I guess the best way to describe our music would be to list our influences. Some of my all time favorite albums are Septic Flesh "Mystic Places of Dawn", Crypt of Kerberos "World of Myths", Orphaned Land "Sahara", Rotting Christ "Non Serviam" Dark Tranquillity "Skydancer", In Flames "Subterranean", Depresy "A Grand Magnificence", and many more.
What is your political, religious and philosophical views ?
As for religion, I am an atheist and I have no need for religion of any sort in my life. You could relate this to my philosophical views, as I have a degree in philosophy, and it was while I was pursuing this degree that I was convinced that nothing exists beyond the physical plane. It would take me far too long to fully explain why I believe this, so I will just say that I am a realist and I think that the world would be better off if no one had any religious beliefs. As for politics, I do not strongly associate myself with any one political view, but I am strongly in favor of freedom and equality for all individuals.
What is your future plans ?
We have just signed a contract with Wicked World and we will be recording our debut full-length this summer. It should be out towards the end of this year. That is what we are concentrating on at the moment. Beyond that I am not certain. We will continue to play as much as we can and hopefully I will live out my dream of touring Europe !
Where can Garden Of Shadows be contacted ? Any web sites ?
We can be contacted at via email at
or at 14712 Botany Way
Gaithersburg
MD 20878
USA
Any final comments ?
Thanks for this chance to let some of your readers know a little more about us. If anyone out there is interested in us or wants more information don't hesitate to email or write and ask !!!
Garden Of Shadows released the album Oracle Moon in year 2000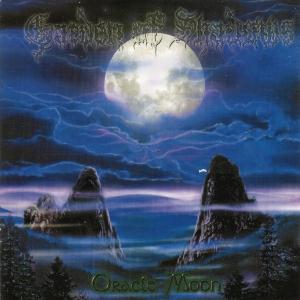 ......before they disappeared........