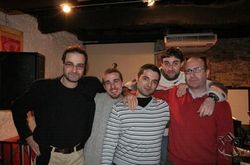 Vieux Carre is an Italian prog band from Spoleto (Umbria) formed by five musicians with a jazz background: Alessandro Bartolucci on piano, minimoog, keyboards; Federico Barbieri on drums; Filippo Zelli on guitars; Marco Rambaldi on vocals and Nicola Palladino on bass. The band was formed in 2003 as CHIAROSCURO and a first demo featuring four original tracks and two Genesis covers ("Firth Of Fifth" and "Musical Box") was released. In 2005 they changed their name in VIEUX CARRÉ and released their first self-produced full length album "Gli spiriti, i corpi e le menti" (that can be legally downloaded for free from the official website). VIEUX CARRÉ have been influenced by progressive bands like GENESIS, BANCO DEL MUTUO SOCCORSO and PFM, but their music has its own touch of originality and it's worth to be checked out...

Their album has both been released on CD and is available as a free download. The album is an interesting album and I therefore contacted the band for their story. Marco Rambaldi answered my questions.
~~~~~~~~~~~~~~~~~~~~~~~~~~~~~~~~~~~~~~~~~~~~~~~~~~~~~~~~~~~~~~~~~~~~~~~~
When, where and by whom was your band born ? Did any of you, past and present members, play in any other bands before joining up in your band ? Why did you choose that name ?
Band was formed in Perugia, Umbria in 2002. There, two university students, Bartolucci (piano, keyboards) and Zelli (guitar), both with previous experiences in jazz formations, met for jam sessions and rehearsals at a local jazz music school. In 2003 Rambaldi (voice, lyrics) and Palladino (bass) joins the band. They produced a demo tape and opt for the name 'Chiaroscuro'. Meanwhile the line-up varies with different drummers and bass players alternating until the comeback of Palladino and the joining of Barbieri (percussions). VIEUX CARRÉ is chosen for is exotic-sounding and multicultural nuances and suggestions. Mainly for being the old French quarter in New Orleans, the cradle of jazz and experimentations.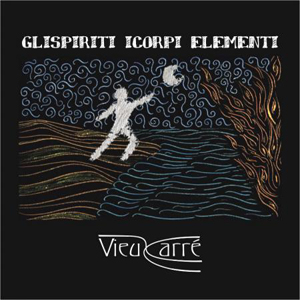 Your one and only album so far; Glispiriti Icorpi Elementi was released back in 2008 and is now both a free download and available as a normal CD. Please tell us more about this album.
The album was recorded live in an amateur equipped studio. Some material dates back to the Chiaroscuro period. Lyrics are deeply influenced by the our passion in literature, cinema, ancient arts, archeology.
For those of us unknown with your music; how would you describe you music and which bands would you compare yourself with ?
We strive to accomplish a sound in which Mediterranean style melodies are implanted in progressive structures and patterns. Our heroes are Gabriel, Battiato, PFM, Genesis, Jethro Tull and King Crimson.
What have you been up to since the release of your album and what is your latest update ? What is your plans for this year and beyond ?
Recording of our second work is currently under way. The album should be completed soon. It's in style with the first one, but we do think it's more ambitious in music and lyrical themes.
Thank you to Marco Rambaldi for this interview