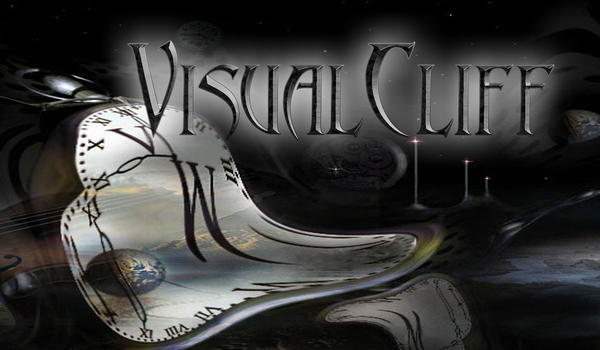 Visual Cliff from USA is a good fusion/crossover between every genres imaginable band which has so far released five albums. They have got a good fanbase, but are maybe not that recognised here in ProgArchives. That's a good excuse to get their story. I contacted the band and Rob Perez answered my questions on the behalf of the band.
~~~~~~~~~~~~~~~~~~~~~~~~~~~~~~~~~~~~~~~~~~~~~~~~~~~~~~~~~~~~~~~~~~~~
When, where and by whom was Visual Cliff formed ? Did any of you, past and present Visual Cliff members, play in any other bands before joining up in Visual Cliff ? Why did you choose that name ?


First off hello everyone (Rob Perez here) thanks for checking out this interview! The name visual cliff came about from my psych101 class where the test for human depth perception was being discussed. The test is called the Visual Cliff test. I thought it was a cool play on the direction for the music I was writing and I kept that name ever since. VC officially started in 1999. I am the founder of the band. All of the members in VC have been in lots of different projects over the years and would be too numerous to mention them all. Most notably though is our vocalist Shane Lankford's band Orphan Project and David Michaels band Promise Land. We are mainly a studio band with Mike Florio residing in NY, Shane in MD and the rest of us being from Pittsburgh.

How was the music scene in your area when you started ?
I know the scene in Baltimore MD is good but up here in Pittsburgh,,,ehhh not so good for original music. I moved to NYC and played the clubs there for a few years and the scene there was incredible.





Over to your albums. Your debut album was Lyrics for the Living from 2003. Please tell us more about this album.
This album was done with only 2K worth of gear in my third bedroom and was my first stab at producing. The concept behind the album was to title each tune as a Psalm that should be read while listening to the music.





Your second album was Key To Eternity from 2004. Please tell us more about this album.

A little more gear and a little more experience and a much better production..lol This album was a little more edgier and harder rockin overall. The album was mastered by Bob Katz and I think this album started to define what directions the music would take for all later albums. Very organic sounding with someof the pieces being conceptual.





Your third album was Freedom Within from 2005. Please tell us more about this album.


This album saw VC introducing vocal oriented tracks. Shane Lankford (Orphan Project) hoped onboard to sing on three of the tracks. This album finally cemented the direction VC would take musically and it was and still is a very highly sought after album for us. This was the first album I mastered as well as engineer and produce. This album realized distribution in Best Buy and Circuit City too. Not so conceptual as the tunes each have their own message and vibe.





Your fourth album was Into The After from 2007. Please tell us more about this album.

Building off of the momentum that Freedom Within created we decided to make a half n half album with 5 vocal tracks and 5 instrumental tracks. Again no concepts just each song standing on its own. This album turned out great with a nice mix of harder edged stuff and a couple songs that are just beautifully ambient that requires headphones to fully get it.





Your fifth and most recent album was Collective Spirit from last year. Please tell us more about this album.

This album saw a brand new line up of players being brought in. Mike Florio on keys, David Michael on bass and Thomas Schuffert on drums. Like Freedom Within the line up of tunes has 5 instrumentals and three vocal tracks. Many are calling this album our best as it embodies a lot of what the fusion folks have always loved about VC as well as what the progrock folks dig. This album was recorded and mixed in my new recording studio that I developed over the last year. A neat wrinkle that we are offering to folks that do buy the new album is that we are expanding the 8 songs to 11 via three free downloads that we will put out over 2011. Only those folks that do buy the new album will ever hear these songs. We call it the album that keeps on growing... The first single will be released by end of April.

What have you been up to since the release of Collective Spirit ?
I have been busy with my studio producing other artists as well as tracking the drums that will be on David Michael's new Promise Land album. Workingon the new VC singles and doing one off tunes with other singers. You can check all that stuff out at trinityrecords.net

What is the availability of your albums and where can they be purchased from ?

All the usual places - iTunes, Amazon, CD Baby etc... or direct from us at Trinity Records There are some cool freebies we give to those ordering direct!

How is the creative processes in your band from coming up with an idea to it's being recorded ?

I will write the material and then I present it to the other guys and they compose their parts to it. Since we are mainly a studio band the only person that I usually jam on things with is Thomas (drums) and David (bass). Basically though, after me and Thomas create the basic tracks of drums/guitars, I will then send that off to David, Mike & Shane with little or no direction on what I would want from them musically. But it is amazing how every time they shoot me back their tracks it is always better than what I expected and its like we were hashing these tunes out all together for days. It's been a real huge blessing to have worked with the caliber of musicians that VC has had in it. Shane will record his tracks in a studio in Baltimore, Mike will create his tracks in his home studio in NY and then they send them to me to import into the project for final producing & mixing. David, Thomas and myself will track everything at my studio.

For those of us unknown with your music; how would you describe you music and which bands would you compare yourself with ?
A spiritual mix of rock, metal & heavy fusion. We have been compared to Rush, Pink Floyd, Porcupine Tree. Mainly though we get folks telling us that we have our own identifiable thing going on..and thats really cool!

Your albums has been released on a Christian label and you have some Christian lyrics. What is your main markets; the secular market or the Christian music market ?
We are Christians and our message is that only through Jesus Christ can one be saved from eternal separation from the one true God of the bible. We make no bones about it and no apologies for that message because it is truth. But the reaction to our music has been extremely well received from both the Christian market as well as the s ecular market and actually maybe even more so from the secular prog/rock crowd. Trinity Records is my own label that I started to springboard all of the music that I am involved with. The label has been blessed to be involved with organizations such as Feed The Children & The Childrens Hunger Fund. Since 2005 Over 18,000 meals have been given to starving kids from the proceeds that we dedicate from sales as well as sponsoring a beautiful child from Columbia for the last 5 years. We thank God for the ability to be of service.

What is your plans for this year and beyond ?
Finish up the Visual Cliff singles and get them out to those folks that purchased Collective Spirit but as far anything further out than that..it's up to the good Lord.

To wrap up this interview, is there anything you want to add to this interview ?

Thanks so much for the opportunity to address your fan base and readers... it's an honor and a pleasure. Stay tuned!






Thank you to Rob Perez for this interview