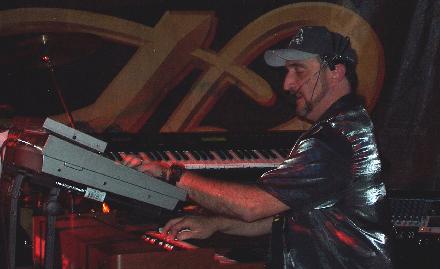 Based in Virginia, USA; Mike VISAGGIO is a keyboard player and vocalist who first started out as a musician in the late 60's. He was a member of several active live bands in the 70's, and from 1975 till 1981 he worked with Billy FALCON, appearing on his releases in that period. From 1980-85 he was a member of the show band SOUND CITY ORCHESTRA, and was also active in christian rock outfits INNERVISION and THE AMBASSADORS. He is also active in Kinetic Element.
I got in touch with him for his story.
#######################################################################
Your biography has been covered in your ProgArchives profile so let's bypass the biography details. But which bands were you influenced by ?
When I was just a kid I started with pop and blues. I was a Beatle nut which was unusual for a piano player I guess, but when I first heard Felix Cavaliere play the B-3 for The Young Rascals I said, THAT's what I want to do. I listened to Vanilla Fudge with Mark Stein on the organ, a live Al Kooper/MikeBloomfield blues double album, the original lineup of Traffic with Steve Winwood, and even Lee Michaels' version of Stormy Monday. Gregg Allman also was interesting, and so were The Doors, but in 1971 I first heard The Yes Album and my musical world was turned upside down. Shortly thereafter I found The Nice and Emerson Lake & Palmer, Peter Gabriel-era Genesis, and other keyboard-ish outfits like Deep Purple, Gentle Giant, Hatfield and the North, Brian Auger's Oblivion Express and Pink Floyd. So it's a wide range of early prog and classic rock stuff.
Before you struck it out on yourself, you were also involved with some other bands. Please tell us more about these other bands and projects.
Yeah, in the late 60's I was a teenager and was playing in pop bands playing the Rascals' version of In the Midnight Hour, but by the 70s I was into that progressive-FM thing and began writing with a bass player partner trying to extend songs and get all artsy, with a band called Randori. Never got anywhere. In the mid-70s I met a singer-songwriter named Billy Falcon, and did four albums with him, all his music. That's the closest I have ever been to success in music. It was somewhere between Springsteen and Tom Petty I guess, but I always wanted to play prog because of Yes! I started listening to Rush about 1977 and UK in 1980 and when Billy and I parted company I went into a rock band called Innervision in 1982, which, when they got me in the band, took a decided turn towards prog, but again, got nowhere.
I spent five years in a show/wedding band which was kind of fun and was paying my bills, wound up in a Christian band called The Ambassadors which was kind of stilted for me, and got so fed up with playing music that I just quit it altogether in 1985 and eventually went long haul trucking, which for me is like being at the Hotel California with a lilfetime reservation. In 2000 I got talked into buying a polyphonic synthesizer by a music store salesman and not long after found myself back in a band with a Richmond hard rock band called The Strokers and we put out a CD with the decidedly un-spiritual title "On Your Back." But when that band found itself incapable of even getting organized for practices I decided (with, I believe, some prodding from a higher power) to get busy on my own music which had lain dormant since 1968.



Let's go straight to your only album so far. Please tell us more about Starship Universe from 2006. How would you describe the music on this album ?
Starship Universe was a big sigh of relief for me, although I did not have any money to record it, no equipment, no real idea what it was going to be, I just knew I had songs that I wanted to record but as I was getting it organized I kind of had an epiphany about the idea of finding a spiritual light of purpose in a very dark world. I met the engineer almost by miraculous circumstances and he gave me a tremendous deal on recording it. Anyway, it's basically classic rock with very strong prog leanings, in fact some of it has been reviewed as pure prog but it has a pink-floydish ballad, a little classical sounding piano interlude, a cover of Blues Variation by ELP, a rocked-up cover of the Deodato's jazzy version of the theme music from the movie 2001, a couple more prog/jazz fusion songs, and a straight ahead classic rocker only with no guitars. And I am very proud of the keyboard bass playing on this record. I used a fretless sound on my Alesis and it really worked well on the Deodato cover especially. I used a drum unit for all but three of the songs, which were played live by Michael Murray who eventually joined me in Kinetic Element. I wish I had a better singing voice; I was talked into doing the singing by the engineer and it has good and bad moments. But the record did serve me to get my name out to the prog world and I've been blessed to find that a lot of people think I play pretty well.
You are now involved in Kinetic Element. But have you stopped doing anything outside Kinetic Element now or are you working on a follow up to Starship Universe ?
I would say Kinetic Element has pretty much taken up all my music time the last six years. I doubt there will be another solo CD, as I just have neither the money nor the time to do one. Somebody would have to give me some kind of sponsorship so I could stop putting in 60 hours a week on my day job and use that time for music. Any takers?
What inspires you to create new music and what is your recording technics ?
Either I get a lyric idea and sit down to improvise accompaniment, or I get a melodic instrumental idea and try to connect it to something else. I believe inspiration comes for reasons known only to the Creator, and when He lays one on you, you'd better go make something out of it or it will disappear. Music exists in time only, unlike paintings or sculpture, and it always has to be performed to exist, which is why the recording of performances is so freakin' awesome.
As for techniques, I am utterly ignorant. My life took turns that eliminated any possibility of learning how to use the gear. I'm lucky I can interact with Facebook and Myspace much less make something out of Pro Tools. I always need an engineer. This is a real drawback and obstacle and I get very envious that other prog bands have the time and knowledge and gear to record their music in their living rooms.
What is your latest update & plans for the rest of this year and beyond ?
Kinetic Element is going to try to break in a new singer, find (finally) a bassist, learn a variety of cover songs we like, everything from Yes to Boston, and go play the bars and whatever parties we can get and try to get paid for once. However we will also be working on new music and will not stop trying to make a dent in the prog world because that's the core purpose of the band. We would love to perform Powered by Light at Prog Day this year. If you are going to Prog Day, and like our music, please ask the Prog Day guys to put us on the bill!
To wrap up this interview, is there anything you want to add to this interview ?
The best way to get where you're going is to start going. We're looking for a few people who think our music is worth supporting to sponsor us for a tour or for recording. If we could get maybe 10 people to sponsor $200 or $300 apiece we could go out to your cities in the Eastern US for a few shows. Does anyone think this could work? Just asking because we are pretty much chained to Richmond/DC/Baltimore/Raleigh by the money situation. We love all of you who have befriended and supported us, and to know that the music touched your heart means everything to a bunch of older men on whom time is running out for doing this band thing, and we take comfort in knowing that Prog lives on.




Thank you to Mike Visaggio for this interview