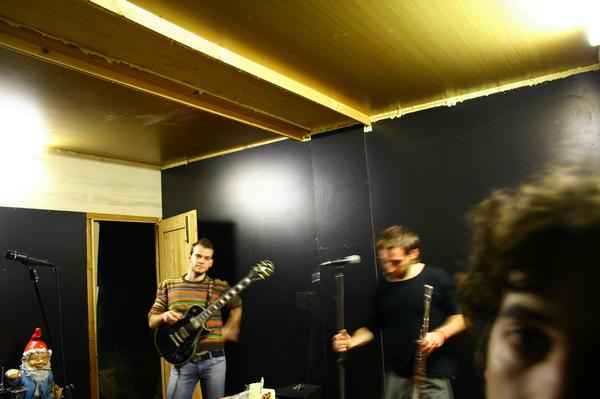 Una Volta Eravamo In Sette are an Italian progressive rock band from Forlì that was formed in 2008. The line up features Francesco Agnoletti (keyboards, electric guitar, vocals), Riccardo Fiorini (vocals, flute), Mattia Massa (electric and acoustic guitar, vocals), Mattia Flamigni (drums) and Fabrizio Piani (bass). From the very beginning they started to work on original pieces inspired by The Rime of the Ancient Mariner, a poem by Samuel Taylor Coleridge. Their debut work, La ballata del vecchio marinaio was published in 2010 as a free legal download on the site jamendo.com and is an interesting and original mix of vintage and modern sounds featuring influences ranging from the Italian prog masters of the seventies to psychedelia, to classical music and many more.
I got in touch with the band and Mattia Massa answered my questions.

##############################################################################
When, where and by whom was your band born ? Did any of you, past and present members, play in any other bands before joining up in your band ? Why did you choose that name which in English means "One time there were seven" according to my online translation tool ?
UVEIS were born in 2008 in Forlì (Italy) from Francesco Agnoletti and Mattia Massa, who, having played in another project called "Spine di Rosa" (rose's thorns) with Mattia Flamigni, decided to follow another path after some changes in the line up and push for a more progressive sound. Fabrizio (from "Psycho Surfers") and Riccardo completed the band in 2009.
As we met one day our band's special guest and mascot, a garden dwarf, we chose our actual name (that translated sounds like "Once upon a time we were seven"), referring to the animated film "Snow White and the Seven Dwarfs".
Which bands were you influenced by ?
Our tastes are quite heterogeneous. We listen to many kinds of music, from classical to grunge, from electronic to new wave. But we all gathered around progressive style (maybe not an orthodox one) and were influenced by bands like Jethro Tull, Pink Floyd and RIP like Area and PFM.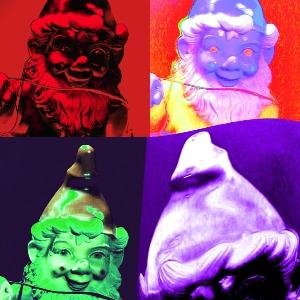 Your one and only album so far, La Ballata Del Vecchio Marinaio was released last year and has so far been met with approval by the RPI fans in ProgArchives. Please tell us more about this album.
"La Ballata", as we simply call it, is a concept album based on the poem "The Rime of the Ancient Mariner" by Samuel T. Coleridge. The story that the author tells is something we were really interested in and that was suitable for the kind of album we wanted to work on, because it allows a concept not too long, but with a dreamy and surreal world to be represented. It was a challenge we wanted to face and the choice of putting a concept album together came because we thought it was the best way to express our feelings and it would have given the opportunity to build a complete show. The original idea was to represent it as a play in a theatre with actors, but for now it is just a wish… we will see how we will be able to work on it in the future.
This choice may be a difficult one, but we work with our instinct when we create music and it seems that this works pretty good!
This album is a free download album. Please let us know why you are giving it away for free. Is there any chance you will print up a small run of Cds/LPs too and sell it over the net ?
Being musicians in Italy is a difficult matter: music often doesn't allow them to live a long life, so they have to struggle to keep up and to be known. We are working on an album with some artwork, that should be available in a couple of month, but money, work and other obstacles make it tough to do. Anyways we want to spread our music, so we let it flow for free.
For those of us unknown with your music; how would you describe you music and which bands would you compare yourself with ?
Pink Floyd added to Jethro Tull, with a bit of Radiohead.
What is your plans for this year and beyond ?
We started working on another concept album, based on the Battle of Stalingrad, different from La Ballata because we are inventing our own story and the sound is a bit more electronic. In the meanwhile we continue playing around with La Ballata, trying to let people enjoy it. We are available to be called for concerts abroad!
To wrap up this interview, is there anything you want to add to this interview ?
Guys, support good music and your local bands: they deserve it! Bye!
Thank you to Mattia Massa for this interview

Their PA profile is here and their album is here