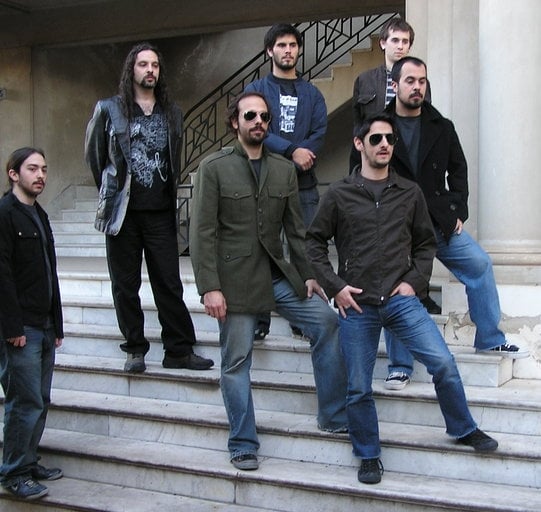 William Gray is an Argentine musical project featuring 10 musicians and focussing on three subjects: an album, an audio-visual show and a multi-media website (still under construction). The story on this concept album is about a person called Virgilio who is walking on the streets of Buenos Aires and lives between sane and insanity.

I got in touch with the band and Sebastian answered my questions.
################################################################################
When, where and by whom was your band born ? Did any of you, past and present members, play in any other bands before joining up in your band ? Why did you choose that name ?
This all started in 2005 as a solo project. Later, I met lyricist and co-writer Guillermo Rubens, we hit it off, and what until then was just music started evolving into fully fledged songs. I started summoning the rest of the musicians until the final ensemble was set up.
Then, when Living Fossils came out, I met again with some of the people involved in the recording and decided to play it live, and that's how William Gray became a band. Some of those members left and other came out. Our current lineup is:
Federico Zanzottera: Piano, Moog, Keyboards, Accordion
Juan Manuel Tavella: Hammond, Keyboards, Santoor
Fausto Manes: Drums
Carolina Azcune: Backing Vocals
Joaquin Angiolini: Bandoneón
Marcela Muollo: Cello
Agustin Uriburu: Cello
Federico Ferme: Guitars
Maximiliano Rago: Bass
Sebastián Medina: Vocals, Guitars
The people involved in Living Fossils are part of a varity of other projects, such as Pez, Rockafonica, Colón Theatre Academic Orchestra, 31 Chamber Choir, or Astillero Orchestra (tango).
The members of the current band play or have played in other projects, such as: Monos del Infierno Group (tango), Baigón Orchestra (tango), Roberto Klein Quintet (jazz), Alan Haksten Grupp (tango), Verne, Ecos, Quiz Titiritaina a Fortiri, Evos, Fonofante, and Frac Popper.
For those of us unknown with your music; how would you describe you music and which bands would you compare yourself with ?
This is a cliché, but it's true in our case at least: we compose the music we like, and we are not obsessed with conforming to this genre or that. Every member of the band has a different and distinct musical background, ranging far and beyond prog rock. This becomes clear when you listen to the other musical outfits they belong to. But this is an advantage when we are composing, because it enriches the music. Of course we think the result can be obviously framed under progressive or symphonic rock.
About the band name, William Gray (Guillermo Gray) was an unknown Argentine writer who spent all his life as an ordinary man working in a bank. He was born in the 30s and died alone and with no relatives. All his writings were found in his closet and published posthumously. Living Fossils was his last tale.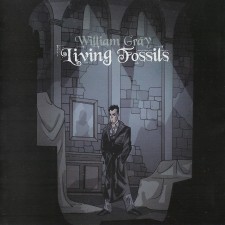 Your one and only album so far; Living Fossils, was released in 2006. Please tell us more about this album.
It's a rock opera: the story takes place in current-day Buenos Aires, and its arc takes through several real-life city locations, from the emblematic Harrod's building to the city zoo, and in between it spans the traditional Molino café, the National TV terraces, and the tunnels of South America's first subway, which still operates wooden coaches. The main character –Virgilio, a university professor- sees his life shattered when his wife and little daughter are run over by an ambulance. He suffers a breakdown and roams the street homeless and deranged, thinking at times he's a medieval troubadour, and others he's on a holy quest to fight a dragon. Luck would have it, he's spotted by a secret cabal of grey men who take him under their wing and nurse him back to helath (and sanity). To get there, he will have to face his fears in the shape of urban battles, the last of which is against himself.
From where can this album be purchased from ?
What have you been up to since 2006 ?
After the first album was released, we supported it with several live performances, both in the city of Buenos Aires and other provinces of Argentina. Some have been our own gigs, but we also took part of several festivals, in which we shared stage with people like Caamora (Clive Noland), Under Linden, Nexus, Chaneton, etc. Switching through lineups and styles, some shows were acoustic, some more rock-like, and we even made a forray into tango when playing with the Alan Haksten grupp.
What is your latest update and what is your plans for this year and beyond?
We're giving the finishing touches to our second album, titled Silentio, which will be released in July 2011. Another rock opera, this time it's the story of a child with an uncanny ability to communicate with objects. It's as eclectic as our first one, with arrangements for lyrical choir, tango, and strings, etc. Over thirty musicians were part of the recording, without counting the choir of course. It includes a string quarter, bandoneón, accordion, mandolin, trumpet, and Baldwin funmachine!
Our plan is start playing it live as soon as the album hits the streets, first in Buenos Aires, then the provinces, and if any producer appears, overseas. We're looking into Europe and Japan as possible destinations, and keeping our fingers crossed.
To wrap up this interview, is there anything you want to add to this interview?
Thank you to Sebastian for this interview