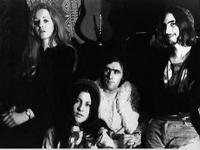 From Dublin, Ireland, MELLOW CANDLE specialised in imaginative psychedelic folk rock and early progressive rock, with the singing talents of two ladies (Alison WILLIAMS and Clodagh SIMONDS), in addition to bassist Frank BOYLAN, drummer William MURRAY and guitarist Dave WILLAIMS. They covered both ballad and rock domains equally well. The music displayed a prodigious degree of natural talent for songwriting, harmonizing, and arrangement. A folk-rock in the vein of FAIRPORT CONVENTION or FOTHERINGAY.
I got in touch with Alison O'Donnell and she kindly answered my questions about Mellow Candle.
###############################################################################
Mellow Candle was born in Dublin, Ireland in the late 1960s/early 1970s if I am correct (please correct me if I am wrong). An era of Ireland with a lot of changes with the Troubles up in the north and an emerging rock'n'roll scene all over the island. Bands like for example Thin Lizzy emerged from this scene and put Ireland on the world map. How were your first years as a band and what do you remember most from this time?
Mellow Candle was formed in the mid-60s by three schoolgirls, of whom I was one. The electric line-up was put together in 1969 with Pat Morris on bass. A few years later he left the band and Frank Boylan joined, along with a British drummer, William Murray. I played in a covers band for a while when I first met Mellow Candle guitarist Dave Williams. We did quite a few gigs including one in Belfast. We were mindful not to get into any trouble when driving back and forth. Mellow Candle never played there and many groups stopped going after members of the Miami showband were murdered during their return to Dublin from a gig in Banbridge in 1975.
I remember clearly the attitude of creative musicians in the late 60s/early 70s. We all worked and played hard. The music we were creating was of paramount importance in our lives and we devoted endless amounts of time to crafting and practising our songs. Then we hung out with other musicians, jamming, discussing the merits of the work being produced by like-minded musicians in Britain, Ireland and America, and playing the latest vinyl. In general there was a cooperative atmosphere between groups with one or two exceptions. We wished each other well and had mutual respect. We were in the same management stable as Thin Lizzy so we watched their progress with great interest. Aside from the serious stuff of the working and social lives that were spent as a unit, Clodagh and I experimented a lot with colourful clothes and styles.
Why did you choose the Mellow Candle name as your band name?
Before Mellow Candle we were The Gatecrashers and after we were Grace Before Space. Clodagh was on her way to a pantomime at the Gaiety Theatre in Dublin when the name popped into her head. It seemed to fit and there were no dissenters to the suggestion.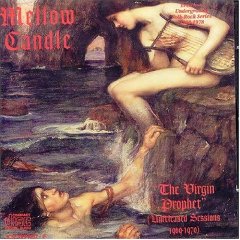 You did some demos, later released as the 1996 album The Virgin Prophet. Please tell us more about this early stuff and that album.
Between 1969 and 1971 we tried out a lot of material, ranging from traditional songs to our own original compositions, written mostly by Clodagh, but also with contributions from Dave and myself. Dave had a large repertoire of rags, blues and early original songs as he had played in several bands as far away as Mombasa. I started to write when I realised that the band was going to get off the ground properly. We had fun doing demo recordings and mucking around a bit with the lighter songs, and then we knuckled down to the more serious stuff. In the mid-90s, due to increasing, retrospective interest in the band and its growing reputation, tapes surfaced, which formed the basis of the CD The Virgin Prophet. Some of this material has been included in a double vinyl to be issued in the spring of 2011 by Lee Dorrian of the doom metal band Cathedral. Obviously demo and unreleased recordings are of a different quality to the tracks on Swaddling Songs, but they seem to matter in the arc of Mellow Candleís history. They are not only of interest to many listeners, but they have a certain raw charm.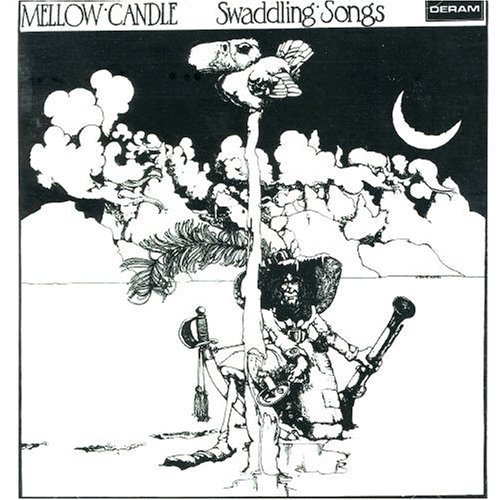 Your first and only album to this date is the legendary Swaddling Songs from 1972, released on the famous Deram label. How did you get in touch with Deram and please tell us more about this album.
Our manager, Ted Carroll approached a number of people in the music industry. He knew the A&R man at Decca, Frank Rogers. We recorded demos for them and a drummer was suggested. We travelled between England and Ireland gigging when he could find us work, which was often difficult because we were too folky for the rock clubs taking on the likes of Thin Lizzy, and with drums we couldnít always play the more acoustic folk venues. Eventually we rehearsed up the twelve tracks for the album and put them down at Tollington Park Studio, London in December 1971. It was an all-consuming and thrilling time recording the best of what we had created over a three year period. We felt like we were involved with something really new and original. We loved the studio environment and were excited to move forward with the music and get it out to more people. A number of albums recorded on the Deram label suffered from a lack of follow-up promotion, and we were dismayed and perplexed when our record failed to have the desired effect. This threw the whole band into disarray and we never recovered. Twenty-five years and counting onwards, the album has earned a special place in psych/progressive folk rock history.
What happened with Mellow Candle after this album and why did you split up? What have the band members been up to after Mellow Candle split up? Are you still in touch with the other band members?
When a larger following failed to materialise after the albumís release in 1972, the band struggled on for a while, but we were disheartened and disillusioned, and inevitably internecine problems overwhelmed us and we parted company under a heavy cloud. Dave and I went to Johannesburg in early 1974 and a few years later Clodagh and Willie to New York. Frank joined The Gary Moore Band for a time. Most of us got as far away from the seat of our professional and personal disaster as we could. Many years later, we are in contact with one another, made easier by the fact that three of us live in Ireland.
Frank came originally from the Irish beat scene in a band called The Creatures. He returned to the rock scene with a number of bands including Chips and Cover Story after working with the recently deceased renowned guitarist, Gary Moore. Dave Williams lives in Cape Town. He works with Shanty and Caroline Blundell and works for the SA Broadcasting Corporation. Clodagh Simonds has a long biography which includes an impressive list of collaborations and contributions. Most recently, as part of the critically acclaimed Fovea Hex, she released three EPs under the collective title,
Neither Speak Nor Remain Silent
under the auspices of Janet Records (
www.janetrecords.com
). She has just completed a new Fovea Hex album.
I have also worked in many cross-genre situations with bands, collectives, solo, in theatre and latterly with a range of young musicians influenced by the music created by Mellow Candle and others in the late 60s/early 70s. More recently there has been an EP with The Owl Service, a vinyl single of a Nico song, a solo album,
Hey Hey Hippy Witch
, and contributions to albums by Cathedral, The Owl Service, Big Dwarf , United Bible Studies and Head South By Weaving. I also have a working concert band called Bajik (www.alisonodonnell.com).
The invention of the internet has given this album a new lease of life and the album is now regarded as a legendary album. You even have a Myspace page now. What is your view on the internet thingy and this album's new lease of life?
Sometimes the internet spreads the right word. In my opinion Mellow Candle is well-deserving of its historical niche, a view shared by many journalists, readers and listeners. If people in the music business want to continue reissuing the album, it enables us to gather new generations of fans as time goes on. I think people who create something original, however small or cultish, should be remembered with respect, especially when they worked long and hard for it with little financial reward and a bewildering lack of attention at the time. The more people who add Swaddling Songs to their list of favourite bodies of music, the more it gives us working musicians a platform from which to launch current projects, something which is exceedingly difficult to do in todayís music industry climate.
Is there any plan to do anything more under the Mellow Candle name?
Mellow Candle captured the spirit and creativity of the music scene in the late 60s/early seventies which would be difficult to recreate as William Murray is long deceased and everyone has moved on. I have never made any secret of the fact that I carry the flame and would work with Clodagh again in a heartbeat, although not on anything that smacks of Mellow Candle, but she has well moved on, so far away from what we did then, that she just doesnít want to revisit any part of it, a view I utterly respect. I have worked a few times with Frank and Dave, which was thoroughly enjoyable, but we all have our own projects now, some of which are far removed from what we did back in the day.
Irish folk rock has become a very strong brand name now and there are probably Irish inspired folk rock bands even in Mongolia now. What is your view on this whole Irish folk rock scene?
The scene that encompasses folk rock and its sub-genres is not that healthy in Ireland. This country is going through a very bad time at the moment, a fact that is inescapable if one reads the papers and listens to the round of depressing daily news. The music business is no exception. I cannot get enough gigs or interest in what I am doing here and frequently have to look to Britain instead, which is dispiriting.
To wrap up this interview, is there anything you want to add to this interview?
No, I think Iíve said a lot and not all of what Iíve said is just a rehash of many other interviews. Any set of questions is capable of sparking off something that may not have been said before.
Thank you to Alison O'Donnell for this interview