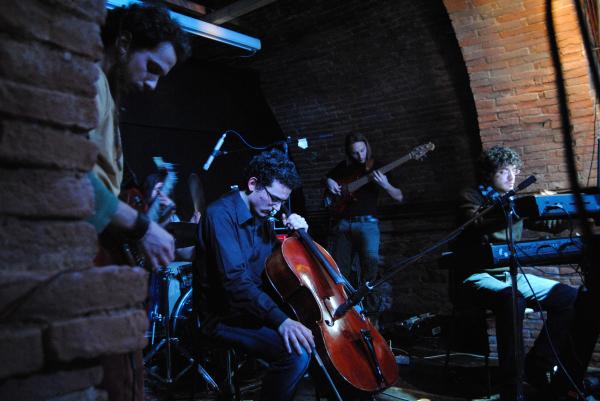 Labirinto Di Specchi (Labyrinth of Mirrors) is an Italian progressive band from Siena. Convened around 2005, the group released their first demo in 2007, called "La Maschera delle Visione." They caught the ear of Lizard Record's Loris Furlan who released their proper full length debut "Hanblecheya," now making waves with a sound Lizard calls "Porcupine Tree meets Pholas Dactylus." It reworks material from their early demo and adds some adventurous new compositions.
They have just released their debut album and I caught up with them. Filippo answered my questions.
############################################################################
When, where and by whom was your band born ? Did any of you, past and present members, play in any other bands before joining up in your band ? Why did you choose that name ?
Labirinto Di Specchi is a project started in 2005 by bassist Matteo Canestri, who had the idea to make a band marked by an orchestral setting that was supposed to contain two drums, two bass-guitars, two keyboards and two guitars. Matteo was the first to put together the band members, who, at the time, had just come out from small tribute bands. Tired of playing other people's songs and willing to write original music, we joined together and gave birth to Labirinto. Due to different reasons, the project has undergone several changes (Matteo Canestri, drummer Lucio Pacchieri, and keyboard player Giovanni Ferretti left the band). Shortly after the release of Hanblecheya, Diego Samo (keys) did the same. Luckily, there were important add-ons too. Andrea Valerio came to fill the ranks of the band playing piano and synths, while Michele Sanchini (cello) and Paolo Carelli (vocals) gave their great contributions making the album.

The band's name was a tough choice but, eventually, we came up with an extremely spontaneous solution. We were looking for something that evokes psychedelia, and thinking of a maze made of mirrors (guess the english for "labirinto di specchi"), this is the first sensation that came into our minds.


Which bands were you influenced by ?
In a musical meaning, we define ourselves omnivores. We are open towards pretty much all musical genres, including the most "extreme" expressions. The main artistic influences date back to the 60's-70's. Starting from the Canterbury scene and the colorful italian prog scene, we learned a lot from bands like Tool, Porcupine Tree and Isis, that are, according to us, the classic prog-rock contemporary heirs. We are also deeply inspired by different kind of alternative-rock, such as post-rock (65daysofstatic, My Sleeping Karma, Mogwai, Neurosis, Radiohead) and noise-rock (Zu, Morkobot), without neglecting the folk and acoustic scene (Balmorhea).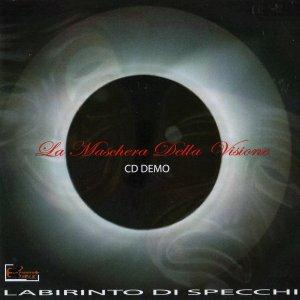 Your debut was a demo CD from 2005 named La Maschera Della Visione. Please tell us more about this demo CD. Is it still available ?
"La Maschera Della Visione" ("The mask of Vision") is our first and unique demo-cd. Its release dates back to 2007, when the group still had his original setting (with two drums and two basses). It was divided into seven prog-rock tracks, featured by blues, classical music and alternative-metal references. Even though the sounds were simple and there was no large use of electronics yet, that demo contains many examples of what we wanted our music to be. Few tracks, in fact, were imported in Hanblecheya after undergoing some changes, meaning that we were approaching the issue of "Vision". We still have copies of that demo, but honestly we think they're better off where they're now!


It took you further six years until your official debut album was released. What happened during these six years ?
Four years have passed between demo's release and our first official album. Actually little less than that period, considering that some of the songs were ready as early as January 2009 (when we started recording). Because of that, it is reasonable to divide this period in two halves: the one before the beginning of Hanblecheya's recording, in which we did artistic and musical experiences at an individual and collective level and we composed the songs, and the other, lasted almost two years, in which, once finished recording, we started editing the album.

Although this second was a bit too long a period, now we realize that it was really important, not only for Michele's and Paolo's partnerships, but also for taking time to reflect and develop new ideas.
Unfortunately, Siena and in general tuscan provinces aren't that interested in our kind of music, so we found many difficulties presenting our project. However we did few live concerts (last one on December 2010).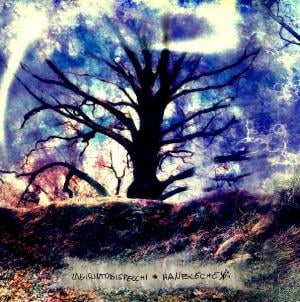 Your debut album Hanblecheya was released earlier this year. Please tell us more about this album.
The main theme of the album is the Vision, understood not only with a metaphysical meaning but also metaforically, as a path of reflection and experience that leads to change, a path to awareness, a path to be followed by a society that moves towards self-destruction.
We spent almost a year and a half working on this project. We tried to create an original style that couldn't be classified as pure progressive rock. To achieve this, we mixed together and reworked different genres and sounds, trying to reach our own expression.


Pholas Dactylus-voice Paolo Carelli's and Michele Sanchini's contributions were fundamental to complete the album. We owe a lot to them, especially Paolo, who read our lyrics and wrote " Nel Nulla Etereo Soggiogato Dall'Ignoto La Mente Si Espande"'s.


How would you describe you music and which bands would you compare yourself with ?
We don't like to compare ourselves to other bands or even be labeled as a standard-prog one. We do believe that our music dissociates from progressive's canons. If we were forced to describe our genre, it would be something like post-prog-psychedelic-alternative rock with space and ambient influences. So on and so forth!


What is your plans for this year and beyond ?
We're now developing some ideas, pretty much minimal and experimental music, that may hopefully become songs, and perhaps be part of a new project. Meanwhile we're looking forward to do live concerts to advertise Hanblecheya.


To wrap up this interview, is there anything you want to add to this interview ?
We are great supporters of art's interdisciplinarity. According to us, music, as an Art, cannot be separated from other existing art forms. Our concerts are attempts to involve the viewer in a multisensory experience, ranging from visual and plastic arts to literature and philosophy, which is meant to create a sort of parallel universe in which he can get lost. By doing this, we hope to recover the artistic dimension of music, trying to avoid making music a mere entertainment or a futile business, which is exactly what is appening nowadays.


What we did during Hablecheya's presentation concert was really close to that ideology. By use of different materials we made up two artistic installations representing a path towards the Vision. The same Vision that we celebrate in our album. A Vision which has no esoteric meaning, but depicts an individual and collective purification, a mental state in which associating images, memories, thoughts and moods comes naturally. To convey this message, a holistic approach to making Art is necessary.
Thank you to Filippo for this interview