Finnish band with a very original sound on their first CD, which combines classic Medieval Folk with 70s Progressive Rock, ending up sounding like a mix between MOSTLY AUTUMN, RENAISSANCE and ENYA, very original and very impressive as well. The band sings in their own language, but I do think it is a great thing to finally hear a Finnish band doing something completely different. Especially recommended to fans of 70s Progressive Rock with very nice female vocals and huge keyboardsounds by the way.
Sounds great to me !! Hence, I got in touch with them and Mikko answered my questions.
##############################################################################
When, where and by whom was your band born? Did any of you, past and present members, play in any other bands before joining up in your band? Why did you choose that name?

The band was born at the end of 1998/beginning of 1999). The band was founded by me (Mikko Uusi-Oukari). All the members with the exception of the current bass player had played in several bands before joining Viima or it's predecessor Lost Spectacles. The name was changed for many reasons. One of them was the change from English to Finnish lyrics. The keyboard player Kimmo Lähteenmäki and I had a brainstorm about the name. He had a suggestion Vimana, but he had noticed that it had already been used by somebody. I woke up next morning very early, took the newspaper and checked the program of "Tavastia", the most famous rock club in Finland. I noted that the Finnish names looked and sounded better than the English ones for us with Finnish lyrics. I saw the name "Viikate" there. I was writing on the newspaper Vimana, Viikate, Viina (the Finnish word for booze) and the name Viima came to my mind. Viima means a cold breezy wind in winter time. One of the leading new prog bands is Uzva ("Fog"), and there are the 70's Finnish prog bands Kaamos and Nimbus. So there were already some "weather phenomena tradition" in the names of Finnish prog bands. I thought it's good to go with the tradition.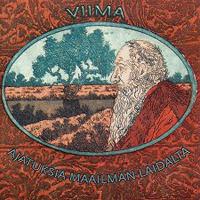 Over to your two albums. Your debut album Ajatuksia Maailman Laidalta was released in 2006. Please tell us more about this album.

Half of the material ("Johdatus", "Ajatuksia Maailman Laidalta" and "Leijonan Syksy") were played already by Lost Spectacles. Päivi (our female singer) had already moved to Sweden, so we had rehearsals only once or twice a month. After one gig I went to work to Germany for a month. During that period the band split. We decided with Kimmo to continue to get those three songs recorded. Päivi was in for the idea and so we recorded the tracks in spring 2003.

We were satisfied with the recordings. The tracks already accounted for half of a full-length album. So we thought it's best to record another half to complete the album. It was Kimmo and me left and Päivi came several times from Stockholm to sing her parts. The Lost Spectacles bass player Jarmo Kataja played the first three tracks and Janke Kuismin played the rest. In addition to all keyboards Kimmo played also drums in the whole album. Kimmo, as well as the engineer/producer Timo Haanpää and me were sitting in the studio throughout the whole recording and mixing process. Evetually Timo's ideas and mixing played a great part in the final product.

Half of the tracks are Kimmo's and half are mine, Päivi contributing one of my tracks (Leijonan Syksy) with a singing melody in the part before guitar solo. When the recordings progressed we wanted to sound more 70's, so many keyboard parts were played again using 70's analog synthesizers.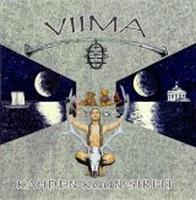 Your second album Kahden Kuun Sirpit was released in 2009. Please tell us more about this album.

During the end of recording "Ajatuksia Maailman Laidalta" (year 2005) we started forming the band again. Because we had the album coming out it was natural to perform the material with the band. The current Viima line-up: Hannu Hiltula, vocals, soprano sax, flute, Aapo Honkanen, bass, Kimmo Lähteenmäki, keyboards, Mikko Uusi-Oukari, guitars, and Mikko Väärälä, drums, was formed during that time. After releasing the first album we started writing new material for the second album. I had my track "Sukellus" already composed earlier. Hannu, the new singer, composd two songs. When my namesake, the drummer Mikko Väärälä then brought his over-twenty-minutes song "Kahden Kuun Sirpit" to rehearsals the material for the second album was there.

After performing the three shorter tracks live we started recording them. But the album was recorded during quite a long period. This was partially due to our participation to several tribute and concept albums organized by Colossus/Musea. Mikko Väärälä's long track was recorded at the end in relatively short period and the other three tracks were also finished. Mikko mixed the album, so it was a product of just the band, mastering being the only stage were other people were involved.

Comparing the albums the biggest difference is the changeover from female to male vocalist. Other differences are longer tracks in the second album with probably longer instrumental parts. However, there are more guitar and keyboard solos in the first album. There are more written instrument parts in the second album while the first relied more on improvisations over the basic structures.

Your music has been described as a mix of 1970s prog rock and folk rock. But how would you describe your music and which bands would you compare yourself with?

Categorizing has it's pros and cons. Anyway, I would also describe our music as a mixture of 70's prog and folk. And although it is sung in Finnish, I think that at least the first album is musically closer to English than Finnish 70's prog. The second album is more original, clear influences are not so easily identified.

There are four composers in the band, everyone making a bit different type of music. That's why our style is not so easy to define. When naming just one band to compare us with it would definitely be Camel. Our intention is not to make "Camelish" music. But I think all the 4 composers of the band have done songs with some parts quite close to Camel. Our line-up is similar to that in Camel (vocals, gtr, analog keybs, flute/sax, bass, drums). Kimmo's style of playing keys and my guitar playing, both concentrating on clear, simple and beautiful melodies is something that Camel was doing in their 4-6 first records. The central elements in our music in the first record. And I think Camel is a mix of 70's symphonic prog and folk.

When I read the lyrics at your homepage, I do get the feeling that your band has a different lyrical approach than most Finnish folk and metal bands. Hence, no references to Kalevala, the Winter War, Finnish folklore and the forests in Finland. Is this a coincidence and what is your lyrical topics and ethos ?

Well, our track "Kaukomielen Kaipaus" (the bonus track) in Colossus/Musea concept album "Kalevala" is a story about "Lemminkäinen", a male character in the Kalevala saga. He was a red haired handsome young man with a great lust for women and hunger for warfare.

The Winter War is breafly mentioned in "Kahden Kuun Sirpit" lyrics along with other historical events that took place in the city of Turku. Otherwise the lyrical content of the piece combines the history of the city with a story of a person's life in the city and in the archipelago. The title refers to the way the story handles and modifies the truth. Part of the text is based on reality and the rest reflects it in it's own way. On the other hand the name also refers to a perfect moment by the warm and calm sea when the moon is shining and is reflected from the glassy sea.

Lyrics in Hannu's songs in Kahden Kuun Sirpit album are Finnish poetry from the early 20th century.

Some major topics in the lyrics of keyboardist Kimmo Lähteenmäki are humanity and reincarnation. The lyrics are universal.

What have you been up to since 2009 and what is your latest update? What is your plans for this year and beyond?

After releasing "Kahden Kuun Sirpit" we played a couple of gigs and started composing new material for the next album. The final demos have been made and we finally start recording the album in the beginning of April. So our plan for the year 2011 is to release the new album (in autumn) and play some gigs.

Right now we are not looking beyond that.

To wrap up this interview, is there anything you want to add to this interview?

It is great that prog is alive again after the complete lack of it in the 80's! The prog audience in Finland is quite small. 75% of our records are sold outside Finland. Thus, we really need the space here in ProgArchives to talk to our listeners.

I wouldn't have believed that prog will be back. Therefore it is unbelievable that most of the great 70's bands are alive again. And their followers: the number and quality of the new brilliant prog bands exceeds that of the 70's. Keep on Progging!!!

Thank you to Mikko for this interview

Their PA profile is here and their homepage's here



Edited by toroddfuglesteg - September 02 2011 at 23:15