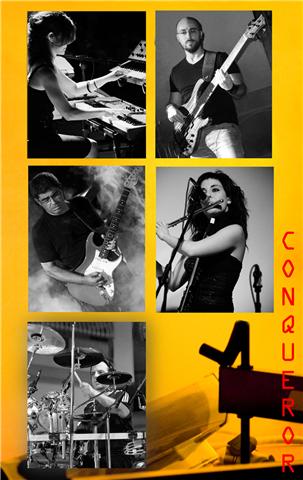 Conqueror is a contemporary Italian group. The line-up in their debut album is: Simona Rigano (keyboards & vocals), Gaetano Scarcella (guitar), Natale Russo (drums) and Tony Rose (bass). The history of this Sicilian group dates back to 1994 although the debut album was released only several years later. Before the debut album there had been many line-up changes and founder Natale Russo has remained the only original member of the group. The music of this group can be compared to an updated APOTEOSI because of the similar female vocals and overall melodic sense.

They have so far released four albums and one ep. I got in touch with the band and their vocalist Simona Rigano answered my questions.
############################################################################
Your biography has been covered in your ProgArchives profile so let's bypass the biography details. But why did you choose that name and which bands were you influenced by ?

The Name Conqueror comes from an old Genesis song, it was included in their first album "From Genesis to Revelation": it is a sort of homage we felt like paying to this great band that we all love, and that somehow certainly influenced us, though each musician in our band come from a different background.
This is an archive based interview also intended for the fans you get well after both you and I have passed away so let's go straight to your albums. Please give us your long or brief views on your albums, starting with.......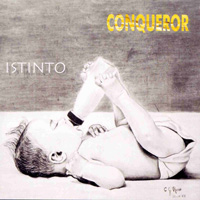 "Istinto" (2003)

In this album there are both tracks that have been composed a long way back (Conqueror exist since '94) and newer tracks, composed in 2002 - 2003. The title means "instinct" and shows our willingness to share music that we composed some time before, but that we felt was ready for publishing.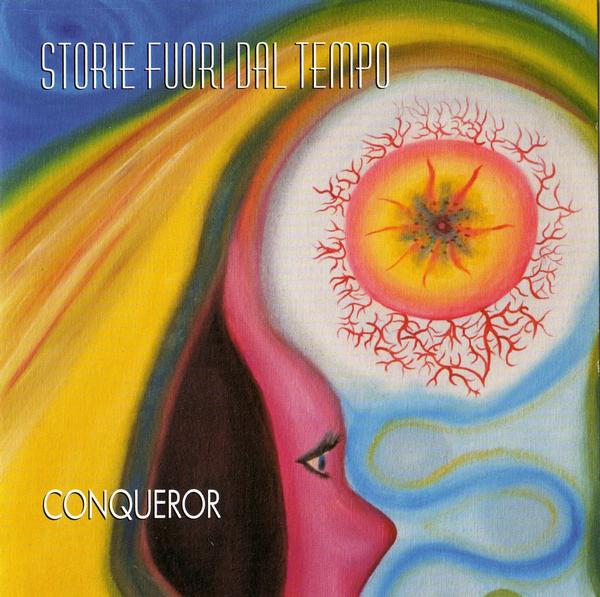 "Storie Fuori Dal Tempo" (2005)

This album contains a long suite, it is about 32 minutes long, and it is the album's main characteristic: it is dedicated to an optical phenomenon known as "fata Morgana" from the Stretto di Messina, a tract of sea that divides Italy from its island of Sicily. The cities of Messina and Reggio Calabria mirror themselves in the sea when the Fata Morgana occurs. In this album too there are tracks that have been written before Istinto was published, and other tracks instead were composed for this album. There is also the track Mosaico di colori, of which a videoclip have been filmed. We are very passionate about this CD because it gave us the chance to get so much better, regarding the increased quality of the production.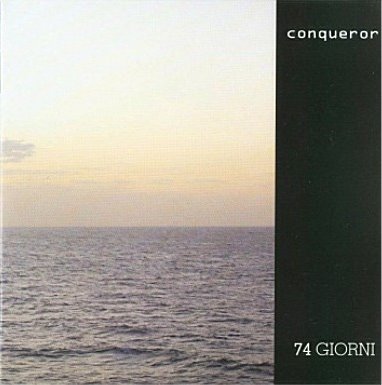 "74 Giorni" (2007)

A concept dedicated to an unfortunate event that occurred to two Italian sailors and adventurers at the end of the '70s, Ambrogio Fogar and Mauro Mancini: the shipwreck of the "Surprise" not far fro the Falkland isles. The title of the album means "74 days" and it is the lenght of time that the two men spent on a small enflatable emergency floating device, fighit for their survival day after day. Musically it is very varied, there are tracks like Maschere di uomini with a classic structure, (it is the opening track and tells the ante-fact) to tracks as Non maturi per l'aldilà, based on guitar and bass riffs, and then tracks like Cormorani or Miraggi that are more calm and reflective, to end with psychedelic ones as Nebbia ad occhi chiusi and Master Stefanos. This album is definitely caleidoscopic and undpredictable.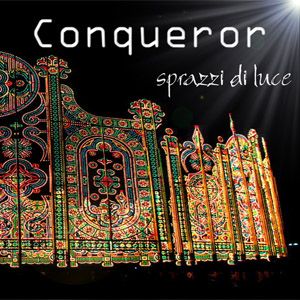 "Sprazzi Di Luce" (2009)

To use a single word, we can call this album a : "divertissement". It is an EP, containing 2 unreleased tracks, a cover and a live track (Pensieri Fragili) already included in Istinto. It was bornafter we were asked to compose for a theatre show the pop track Sprazzi di luce, the poener of the CD: we would never have included such a track in another project with a normal album lenght otherwise. Se we thought we could do a mini release, with an acoustic track too, a cover we had fun to remake and a live track.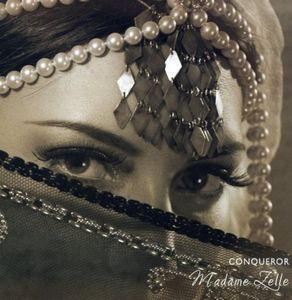 "Madame Zelle" (2010)

This album is another concept, it itells the life of the famous dancer and spy from Holland, Mata Hari: we were struck by her story, rich in conrasting feelings and episodes that in various occasions completely change the protagonist's entire life. Surely this album is more even and whole that the previous ones: there is a fil rouge that leads one through the whole CD and it influenced us as composers, starting with Margaretha, a track that pictures the protagonist's infancy in Leeuwarden, Holland, to the track H21, that tells of the training as international spy, until the epilogue, Ad occhi alti, the final execution. Certainly the story has led us very strongly and given us a predominant inspiration to compose the music, keeping the feelings that chronologically accompany us through the life of one of the very first female icons. A very homogeneous record, in its wholeness, with beautiful sounds that come from original vintage instruments.
How would you describe your musical development from Istinto to Madame Zelle ?

In every musical project that we decide we'll embark on there is a will of seeking new harmonic, melodic and rythmic solutions, that may give to our music a sense of freshness and novelty: of course we look for a more mature and effective way of composing. With this I do not mean that the last album is better than the first, but certainly our attitude towards composition has changed: it used to be more instinctive, then it became more thought over. Also our line-up changes brought new elements in style and composition to our music.
Your music has been described as melodic prog in the vein of Izz. But how would you describe your music ?

It's not easy to catalogue yourself when what you create is something that, thought it comes from a range of influences, you consider personal. Anyway, surely the way we use keys, out vocal lines and the solo lines of wind instruments, or of moog, or of guitars, do privilege the melodic aspect of our prog style.

Seen from a far, the Italian prog rock scene looks very vibrant at the moment. How is it to run a band in Italy these days ?


Yes, it is true, there are many prog groups currently active in Italy. Unfortunately, it is hard to survive: it is a really weird time for music, especially in Italy, there is little room to promote projects such as ours (in radio and TV even less), plus you sell fewer records. We strongly support the concerts that we do, where we often have to compromise by mixing our footage with covers of famous bands, trying to remain within the prog.

What are your plans for this year and beyond?

Given the chronic lack of "live", we are already thinking about the next job, so our meetings are aimed at writing new material that could take part in a new album. Our desire would be to try to bring out, even from Italy, our music, maybe physically reach places where there's our albums ...
To wrap up this interview, is there anything you want to add to this interview ?

PROG ARCHIVES ---- Thank for giving us this space, and thanks for the tremendous work done by so many years to promote world PROG.
Thank you to Simona Rigano for these words and
Domizia at MaRaCash for the translations


Edited by toroddfuglesteg - April 08 2011 at 06:23