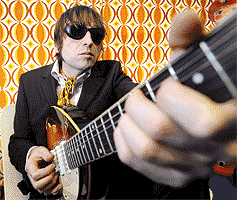 German act VIBRAVOID was formed in 2000, with a central core consisting of Christian Koch (vocals, guitar), Robert Braune (drums) and M. Lammert (bass).

Their musical output blends influences from early Pink Floyd, Strawberry Alarm Clock, The Electric Prunes and Spacemen 3 into a heavy variety of psychedelic progressive rock, and have so far resulted in three full length albums, four EPs and a variety of split releases with other artists.

I got in touch with them and here is their story.

#####################################################################
When, where and by whom was your band born ? Did any of you, past and present members, play in any other bands before joining up in your band ? Why did you choose that name ?

It started with Motley Motion in the very early 1990s that around 1993 transformed into the Void Forum with two guys from a local metal band Assassin. This group split ca. 1995, I was working on some tracks like Void Vibration, Void Vibrato, Embryo Void and Vibra Void that should make the first Void Forum album. I thought it is good in terms of progression to go on with a cooler name and Vibravoid seemed perfect.
The band never had a stable line up – it is impossible to find guys that know and like psychedelic 60s music at my place – so naturally I work a lot with professional musicians who just play maybe one or two shows or stay longer with the band, usually we all play or played in various groups. For myself, I do nothing else but Vibravoid.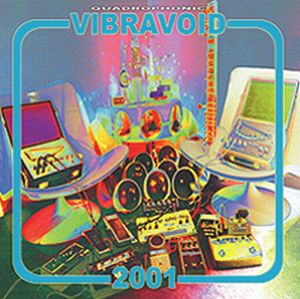 Over to your four albums. Your debut album 2001 was released in 2000. Please tell us more about this album.

I think most of the Vibravoid releases are connected to kind of odyssey that makes the album what it is. The first album was recorded, re-recorded and mixed over a period of 3 years, I think. It took ages because the equipment
was kind of rubbish (and I say this with respect) and it was hard to make the music sound really good. Anyway the recording sessions were like an amazing journey with all these people dropping in, maybe playing on it, taking us to places and so on. There is something like a complete story about this album on our website, so if like you can read a lot there.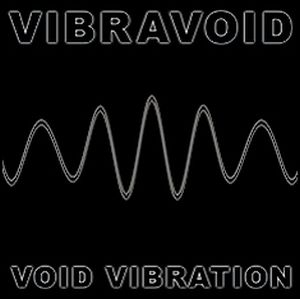 Your second album Void Vibration was released in 2002. Please tell us more about this album.

This album is a one of a kind for the group as it actually features all the guys that played in the Vibravoid at that time. It was recorded in just one day and I think it is a little bit more "compact" and a bit more "rock" compared to "2001".
I think it got a lot of MC5 and Stooges attitude as well as cosmic space rock.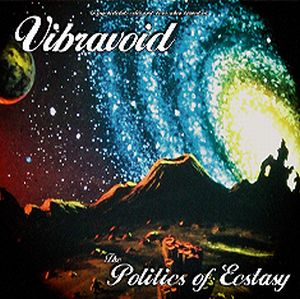 Your third album The Politics Of Ecstasy was released in 2008. Please tell us more about this album.

"Politics" was a very complicated release; it took about 4 years to record and was nothing but trouble and hard work, it could fill a whole book. Anyhow I still think it is a great album with great psychedelic pop songs.
This was the first album we choose to go for only 1 long song on side B – like they did in the old days what works pretty well. Your Mind Is At Ease is a fantastic acoustic journey… travelling without moving, you know.


Your fourth album Distortions was released in 2009. Please tell us more about this album.

This album is fully blown. After Christmas On Earth EP and Krautrock Sensation EP we thought it could be nice to have these EPs put together on an album. Many people do not have record players anymore, so we wanted to make this EPs available on CD, too and put the tracks into a more produced album format. It also contains a long version of Mother Sky and different and longer versions of the tracks from the two EPs. There is also Random Generated Future that was not on the EPs. Anyhow we later released the EPs also on the Triptamine CD, people always kept asking for the original EP versions on CD.

You have also released five Eps in between the studio albums. Please tell us more about these Eps.

I still like 7" records very much, especially in terms of extended play what makes them like small albums. They were all very enjoyable to do and because of the audience that buys singles more adventurous. All EPs have in common that they more or less happened, there was no real plan or idea – they all came like: Hey let´s do something like this, what do you say? Great! Cool, let´s go for it! …and there it was.

How would you describe you music and which bands would you compare yourself with ?

I think we play psychedelic and acid rock – what ever that means; we try to stay close to the original concept of Psychedelia. I think that there is no band that begs comparison with us, we try to be ourselves and honest with the music – so it must be highly individual.

How is the gigs scene in your area now ? Is it easy to get gigs for you ?

Well, we do not have problems to get shows and play a lot, also big places but in general: it is all really f**ked up, you know!

What is your latest update ? What is your plans for this year and beyond ?

We will have the new album "Minddrugs" released April/May and we will see where it takes us. I hope it will be a good trip!

To wrap up this interview, is there anything you want to add to this interview ?

Yep, thinking of Japan, we should do a cover of Kraftwerk´s Radioactivity.
Thank you to the band for this interview