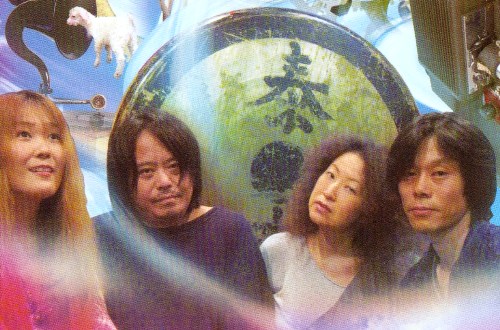 MAMMAL MACHINE
were formed as a four-piece Japanese rock project blended with Psychedelic / Canterbury / Krautrock textures in 2010 and released their debut album "Mitsugi (Esoteric Rituals)" in the same year. The members are Yumi Hara CAWKWELL (voices, keyboards), Mitsuru TABATA (guitars), Yasuyuki WATANABE (drums, percussion), and Rie MIYAZAKI (bass).
I (Keishiro Maki aka
DamoXt7942
) have asked an interview with the founder of this project Yumi Hara CAWKWELL ... she's accepted very willingly.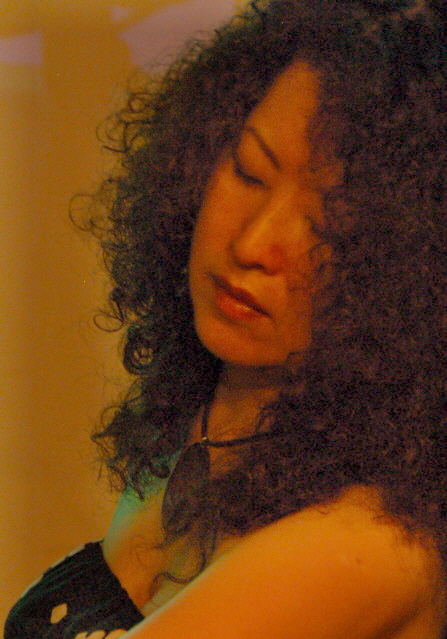 Keishiro Maki (K)
: Glad to see you Yumi, and many thanks to you for your terrific work in Mammal Machine, and for joining Progarchives. Honestly, let me say what a happy guy I am to get your "thankyou" mail for my review (and apologize to you for my bad EngRish ... LOL). And anyway, I have listened also to 'Dune' by HUMI ... I thought it was a truly wonderful album.
Yumi Hara Cawkwell (Y):
Thank you very much, I feel like the work is growing by being listened to. I also feel that the meaning of the work also gradually emerges by being listened to. There is no meaning attached when the music is performed, as the performers create the sound we think the best at the moment of the performance. We use our brains so much just to make the best sound that we can't think anything else while we're performing. But by being listened to, the work grows inside of the listeners' imagination.
K:
I take it very seriously when you say 'the listeners grow the work'. I have been listening to 'Dune' over and over again, and while we are overwhelmed by the enormous energy from both of you, we 'enjoy' and receive important messages and thoughts in it.
Y:
Well, there was no 'message' and no 'thoughts' on the performers' side when we recorded, that's why I came to the idea of 'listeners nurture the work'. Of course, there may be some musicians who regard 'message', 'thoughts' or even 'the way we live' as important, I personally feel such attitudes are rather disrespectful for 'sound'. 'Sound' is a good thing as it is, and it transcends human existence. So I feel using 'sound' as a vehicle of 'thoughts' of a tiny existence such as 'me' is not a right thing to do. What I am doing is to create the best sound I possibly can at the moment of playing, that's all I can do. When I perform with musicians like Hugh Hopper, I can create better sounds than I do on my own.
K:
I've been struck by the idea of 'Sound' is good thing as it is ... for me, absolutely an unexpected matter, why do you consider so? And what has influenced much upon your idea in this manner?
Y:
Isn't it a great idea?
I used to study Indian Classical music, and in their tradition, the universe is already filled by vibrations, and musicians are media to transform the vibrations into sounds thus enabling gods and humans to listen to the universal vibrations. I feel this idea is very understandable. People with such ability must do what they can. When I was young, I didn't really know about myself, so I became a doctor because my parents and teachers pushed me into and I wanted to leave home too (it was easier to leave home if you go to medical school), and I didn't do what I should have done. When I was a doctor, I didn't feel it was real. I always felt that 'why am I doing this? I don't feel like it is me doing this'. I am happy now as I am doing what I should do, so does everyone else around me.
K:
Oh, as you were, I'm a medical doctor (not a psychiatrist but a homecare practitioner) now, and simultaneously involved in progressive rock scene just 'here' (LOL). Joking aside, and returning to our main topic "Mammal Machine" ... please let me know more about the production process of 'Mitsugi: Esoteric Rituals' by Mammal Machine?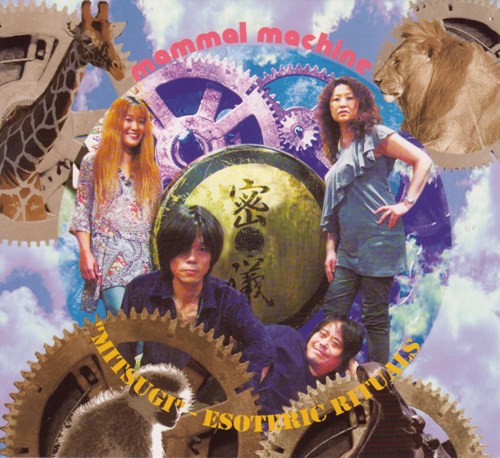 Y:
The big problem about music is that it will not reach the audience by sound itself. I wish it could, but unless it is heard over the radio, heard by chance in a record shop and someone buys it by asking 'what are you playing?', or your friends let you listen, most often you encounter is the jacket design. Or a review written by someone. Or the promotional text written by myself. These visual and verbal bits of information would be the first things to reach audience before the actual sound. Of course, even in the cases of radio broadcast and record shop BGM, the person who plays the music is responding to visual or verbal information. That's why there might be misunderstandings that some kind of 'intention' outside of the sound itself is important.
K:
A problematic issue about the feature of "sound" itself ... the relation between "sound" and "media", you mean?

Y:
Of course we musicians make every effort to provide the most effective visual and verbal information in order to reach the audience (although difficult). But such visual / verbal information is always 'afterthoughts'.
K:
Hm, well you say the media strategy be upon a different turf from sound?
Y:
I don't mean to say visual / verbal information is not important, rather, I actually think it is the most important element in the music industry. In other words, it is important as the necessary means to package the work and sell as a product. However, there is only sound for a piece of music before being put into a package as a product.
In order to package as a CD, you will need a title, and it is difficult thing to find. Creating a title itself can be called an art. If we bring in some story to add, a complete picture of the CD as a whole emerges, then the jacket design will be materialised.
K:
Got it.
Y:
In the case of Mammal Machine, the CD title came from a fan's remark 'it is esoteric rituals, secret rituals', watching videos of our debut performance (although we only had sound recording, Rie Miyazaki (bass) added some still / moving images afterwards and uploaded them onto YouTube). I really liked what he said, and we decided to use 'Esoteric Rituals' as the title. What we did was just performing music, but a listener found something characteristic of secret rituals in our performance. Then we decided the title for each piece around the image of esoteric rituals. Rie and I exchanged discussion in depth by email. Rie first made draft versions of the title of each piece, then I suggested alternative wordings and ideas, then she would say 'that's great' or 'that would put off rock guys', and finally we agreed the titles we have now.
K:
Exactly "afterthoughts" ... and some fans wonder why you've used some German song titles, anyway.
Y:
Actually, Rie is fluent in German and I live in an English environment, so German and English words are employed naturally. German Rock influence is felt in the music as much as UK Prog and Canterbury as you know, so I think using German titles as well as English is somewhat appropriate. But I can't improvise in German, so the lyrics are only in English and Japanese regrettably.
K:
Heh. feel as if I would have been among your mailing list.
Y:
What we mustn't forget is that we never played thinking that 'this is going to be a CD called 'Esoteric Rituals!' while we were recording. What we were thinking during the breaks on the day was perhaps, 'We must finish the recording of a CD's worth of music by the end of the day!', and during the playing, we just responded to others' sound and made the best sound on the perfect timing, that was all, I suppose. Actually, we have more good tracks recorded on the same day, but they were not included in the CD only because they were not appropriate considering the 'Esoteric Rituals' theme.
K:
Wow, lots of gems without seeing the light under this album.
Y:
About the first track 'Das Glasperlenspiel', as the German reviewer pointed out, it is indeed taken from the title of the novel by Hermann Hesse which won him a Nobel Prize, and the name of the imaginary artistic game developed in the future when artistic activities completely died down.
The lyrics are improvised during the recording. It really follows my actual experience on the day: I came from my brother's in Tokyo to the recording studio. I took a limited express train with a seat reservation as I had a big luggage with my keyboard, then I took a bus from the train station and I asked the driver whether the bus stop I was looking for was before or after the bridge, and I was able to find the studio rather easily, so it goes:
"I took the limited express
from the station to come to the studio
it's the north of the river
The river was flowing slowly
It was not difficult to find
Small studio, it's a small studio
Finding it is not difficult
Together, together
One day in the autumn,
it is that one day in the autumn here"
But with the title 'Das Glasperlenspiel', it sounds rather profound, doesn't it?
K:
Good point indeed.

Y:
This is the first track we recorded on the day, and I immediately felt that everyone was great as we began to play. The rhythm of the first part of the track seems like led by the vocal, but it is the result of the process such as the drummer Watanabe responded instantly to the groove naturally created by my English lyrics, then everyone else quickly followed him.
For example, in 'One day in the autumn, it is that one day in the autumn here', 'One' and 'autumn' are strong syllables and 'in the' creates a certain rhythm, then in 'together, together', the second syllable 'ge' is strong, and the timing of the first syllable 'to' and the second 'ge' creates another rhythm. Watanabe immediately picked up these and created excellent drum pattern from these.
I was really impressed that everyone responded to the rhythm of the words such as 'it is the north of the river' and 'it was not difficult to find', and I was sure that the recording would go definitely well.
K:
Your opinions serious and sincere for music and sound themselves can notify us why "sound" can be born, where "sound" will go, and how "music" can be created, I'm sure. By the way, Rie (Miyazaki) has told me that Yumi's talk is technical, theoretical, and much amazing (I hope Rie can give an interview for us in near future).
Good luck for MAMMAL MACHINE and their coming production, and again thanks to Yumi for the interview. ٩(̾●̮̮̃̾•̃̾)۶
Mammal Machine's artist page is here, and Yumi's MySpace Page is here.