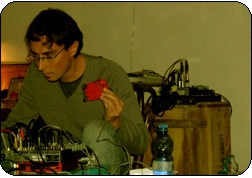 Hue is the name of a multifaceted droning electronic project founded by Matteo Uggeri back in 1994. On the label Greysparkle, he signed a vast catalogue of attractive, interlocking & bodily ecstatic electronic efforts. His first called Un'estate senza pioggia (2006) announces his own musical genre, various-weird-mnemonic sound collages covered by moving loops and organic textures. His last effort (Erimos, 2007) in collaboration with the great Maurizio Bianchi and with Fhievel is a mystical peak experience, an entrance into the realm of purification built on turntable, eerie drones, manipulated conrete noises and objects. Matteo Uggeri is also known for his collaboration with Telepherique, Giuseppe Ielasi (...)

Hue delivers intimate-poetical explorations on acoustic phenomena and on visual interpretations of sounds.

I got in touch with Matteo and he answered my questions.
###########################################################################
Your biography has been covered in your ProgArchives profile so let's bypass the biography details. But which bands were you influenced by?
I'm influenced by a lot of musicians, mainly for my youth listenings: when I was a teenager (good times!) I was really fund of new wave and electronic music, and then, alter on, by industrial. So I may say that The Cure, Joy Division, Bauhaus and more obscure bands like Cindy Talk, And Also The Trees, Wire and Tuxedomoon somehow influenced me... and afterwards mainly Controlled Bleeding (which in this list I think are the only ones close to the idea of 'progressive music'), SPK, Clock DVA and Cabaret Voltarie...
You use the artist name Hue. Why that name?
Well, I don't use it anymore except for my graphic works usually... Now I prefer my own name, sounds maybe a bit more 'serious'. By the way, I choose that nickname because I had a strong interest in the concept of synaesthesia: and as "Hue" means at the same time "scream" and "colour" I loved it... It reminds also to my surname first letter, "U".
It's a pretty teenager thing too, I must admit!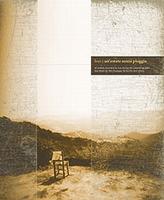 Let's go straight to your three albums. Please tell us more about "Un'estate senza pioggia" from 2003.
Looking back to it now, it sounds a bit "immature", and in fact it was a sort of my first solo album as Hue (I've made completely different experiments as Der Einzige and Normality/Edge before). The idea of doing such an album came during a trip through Italy central regions in 2003. It was the hottest Summer of the last century, and it didn't rain for months. So I had my microphone and my minidisc and I recordered a lot of sounds all around in places near Bologna, Arezzo, Roma and L'Aquila, where I met family relatives and friends. As most of these friends are also musicians (Logoplasm, Aal, giuseppe Verticchio...) I asked them to play something that I recorded. At the end I mixed everything together in chronological order, so I somehow reproduced the experience of that sultry travel.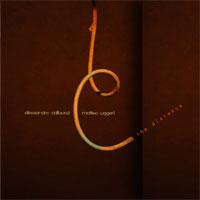 Please tell us more about "The Distance" from 2008.
That's a completely different stuff, just a collaboration started by my friend Alessandro Calbucci which is a drummer and a guitarist and asked me to send him some field recordings to play with. I sent him something I thought he could like and then he played his guitar drones on them in a very good and creative way, mixing everything together. Then he gave me back that stuff and I made a further mix. I love the quantity and quality of harmonics he created with the guitar. The only problem is that the record was issued by a more than tiny label in Malaysia and reached very few people. We would really like to re-publish it on a more active label, if possible.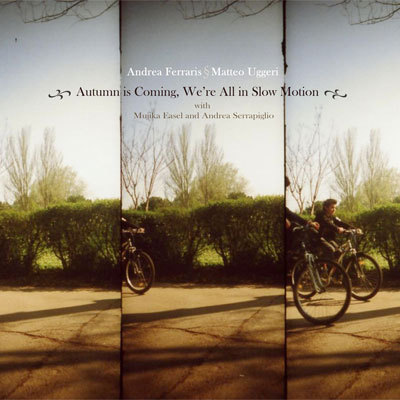 Please tell us more about your most recent album "Autumn Is Coming, We're All In Slow Motion" from last year.
Me and Andrea worked a lot on that record. And in a strange way: I prepared the field recordings with some tiny background tone and then he played the guitar parts later on. This means that he played following the field recordings, so they are the real basis of the record. He did it very well, in my opinion, and it wasn't easy at all.
He then asked to Mujika Easel to add some piano and vocal part, and to Andrea Serrapiglio (who plays with Carla Buzolich' Evangelista) for the cello... and they gave us sounds that perfectly fitted into the idea we had.
Later on me and Ferraris met to make the final arrangements, adding some new instruments (bass, snare, electric guitar) to complete the record. Then I mixed it for a long time, always with Andrea's feedback... a long work, but the result made us really happy.
How would you compare your albums, music wise?
It's a pretty hard question... I dunno... especially if I consider the other projects I play with (Sparkle in Grey, Der Einzige...) I think it's pretty hard to find a common line in them. I like to play different musics, and probably I'm not excellent in anything, but I like to change, to experiment, to try. If I compare my albums I see different influences, different styles sometimes.
What inspires you to create new music and what is your recording technics?
It depends. Time ago I was inspired by my personal reflections... lots of speculative maybe teenager thoughts. Now I'm often inspired by political views, but I can't say I do political music (there are no lyrics in it usually in fact!).
I'm a lot inspired by what I listen too, especially other musicians.
My recording technique... it changes too. I often walk around with my binaural mics and a digital recorder to quickly 'capture' some interesting sound. But with the band we normally go to a rehearsal studio (a place called 'Silos', a sort of old factory) to improvise in the creative phase and then to a professional studio to record the albums.
Just to give those of us who are unknown with your music a bit of a reference point or two: how would you describe your music?
That's very difficult. Experimental and melodic at the same time perhaps?
What is your latest update & plans for the rest of this year and beyond ?
There should be quite a lot of releases this year: an album of Sparkle in Grey ("Mexico"), a solo release on the British Fluid Audio label ("Four Steps on Points") and a collaboration with Luca Mauri and Francesco Giannico on Boring Machines and Dead Pilot, that will close the Between the Elements Quadrilogy I started in 2007 with MB. It's called "Pagetos".
To wrap up this interview, is there anything you want to add to this interview ?
Thanks a lot for your interest in my music. I'm pretty surprised by the interest you have at ProgArchives for my works, I don't consider myself exactly a 'progressive musician', and I'm not really into the stuff usually related with this genre (Genesis, King Crimson... not even the Italian ones like Battiato, Balletto di Bronzo, Banco or whatever). I grew with industrial and new wave. So that's funny to be here. I think that "Mexico" will fit more with your readers taste!
I appreciate a lot your open-mindness (if this word exists in English)!
Thank you to Matteo for this interview
His PA profile (Hue) is here and his homepage's here