Marygold started in Verona, in the autumn of 1994, on the ashes of Wildfire, a cover band focused on MARILLION of the Fish period. The Wildfire survivors, Jack (drums), Stefano (keyboards) and Massimiliano (bass), were joined, in unexpected way, by Michele on voice and Massimo on guitar. The band has released one album so far.
I got in touch with them and Stefano answered my questions.
Your biography has been covered in your ProgArchives profile so let's bypass the biography details. But which bands were you influenced by and why did you choose that name ?
We would like to think that we were not influenced by any band! But sure, we had listened to a lot of kind of music and probably we were inspired by what we appreciated most… During our music making process, we are never thinking about a particular kind of music or band, we feel free to follow our heart, our soul without thinking about the consequences.
However in this period we are listening to Porcupine Tree, Marillion, rare italian prog bands like Chiave di Volta and Alphataurus, Jethro Tull, Peter Gabriel...
Regarding the name … we don't know why we chose Marygold: probably because it was the title of a song of ours and we liked its sound.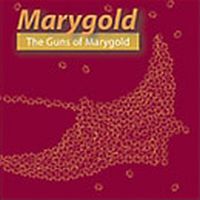 Your debut album The Guns Of Marygold was released in 2006. Please tell us more about this album.
We had recorded that album by ourselves, with unprofessional gear and without any knowledge of recording technique. Our aim had been only a demo including all the song composed during the last ten years. A friend of ours, a sound engineer, listened to the recordings and told us that it was more than a demo. So, he mastered the record and we had started sending copies to hundred persons around the world. Since that moment we have sold our cds and we have had good reviews from important prog websites.
We like very much the songs of "The Guns of Marygold", they represent who we were at that time but we think that they are immature, a little bit non homogeneous: we would like to re-arrange all the songs…probably the future!
For those of us unknown with your music; how would you describe you music and which bands would you compare yourself with ?
Our music is romantic, a bit sad with an awareness of a positive and better future. We are not virtuous but we look for a warm ensemble. We prefer a melodic approach instead of an impressive technique.
Sorry… we are not able to compare to any other band...
What have you been up to since 2006 and what is your latest update ? What is your plans for this year and beyond ?
After the 2006 we were very busy with our jobs and families… Four new babies arrived in the band between 2005 and 2008 so …. you can understand!
We have continued to rehearse every week and since last year we have started a very prolific period.
We are now very inspired and, at the moment, we are working on seven new tracks. We are enjoying a lot playing together and probably the new songs reflect this feeling. It's very strange but they sound very different in respect to our first album...
To wrap up this interview, is there anything you want to add to this interview ?
Oh, we hope to record our second album in 2012 but before that…. we need a new bass player because Baro, one year ago left the band due to his personal commitments. Could you help us to find a good guy?
The challenge goes out there to everyone in ProgArchives.......
Thank you to Stefano for this interview