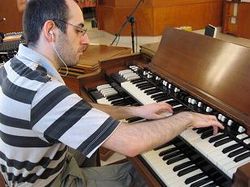 Born in Genoa, Italy, LUCA SCHERANI started playing at the age of 5 a little Bontempi organ. Hearing quite good results his parents allowed him to play more seriously buying a real acoustic piano. Afterwards he was taught classical music for several years. During the secondary school he played with several bands rock, blues, soul music and later joined the italian progressive band TRAMA which recorded the album 'Prodromi di finzioni sovrapposte', released by Mellow Records in 1999.
I got in touch with him for his story.
######################################################################
Your biography has been covered in your ProgArchives profile so let's bypass the biography details. But which bands were you influenced by?
I think that my music has two souls, and each of them has equal dignity in my heart: neither of them could win a hypothetical contest.
The first is an electronic/electromechanical soul, which loves keyboards (both vintage and new) and programming. This soul has started drawing its inspiration from artists such as Emerson, Wakeman and Banks 15 years ago… but now also listens to Tangerine Dream, Kraftwerk, Cocteau Twins, Air and many others.
The second soul likes acoustic and orchestral sounds, especially from contemporary/minimalist authors. I try to learn as much as I can from Aranis, Philip Glass, Sakamoto, and I like some original use of orchestral elements by artists such as After Crying, Anthony Phillips, Loreena McKennitt, Sigur Ros, and so on...
But we, music lovers (and I think all readers of ProgArchives feel great love and respect for music) are always looking for new music and new sounds to feed our curiosity… I think that if I'm asked this question next year, I'll mentioned different names and different artists! :-)
You have worked on some really well respected and well known projects in Italy. Finisterre for example. Please tell us more about these projects and your role in them.
In 1996 and 1997, when I was 18, I played in two works released by Mellow Records: a song for the 4cd box tribute to Italian progressive rock (called "Zarathustra's Revenge") and "Prodromi di Finzioni Sovrapposte", my first whole album, with a band called Trama. Those were my first prog experiences. Then in 1999 I met Fabio Zuffanti: he was looking for another keyboard player for his forthcoming musical "Merlin - The Rock Opera" (the keyboard-wiz Agostino Macor was already in the cast).
That was a lucky break for me: we did several gigs, some with the musical Merlin and the whole cast, and some with a "reduced version" (some of the main characters and all of the musicians) under the well-known name "Hostsonaten". Then, without realizing what was happening, I became part of Hostsonaten. Some recordings we made at that time were included in the double album "Finisterre - Harmony of spheres", and so I was a "sometime member" of Finisterre too!
I think that for Fabio Zuffanti music is first of all a way of being "family" with friends/brother musicians. Since 1999 I've really felt as if I'm a part of a great big family.
Last year I started working with Fabio again: I wrote string quartet arrangements for the albums "Aries - Double Reign", "Hostsonaten - Summereve" (in which I also play all the keyboards) and "La foce del ladrone", Fabio's third solo album.
I recently recorded some new material with another Finisterre member: guitarist Stefano Marelli.
When and why did you decide to release a solo project ?
In 2003 I started writing music for mainly instrumental purposes. I wasn't really thinking of a whole album. But in 2006 I realized that I was near to the "standard album duration"… approximately 40 minutes. Then I tried to assemble all this material in order to obtain a story, a sort of scoreplay.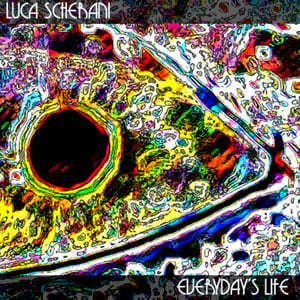 The end result is the Everyday's Life album from 2007. Please tell us more about this album.
Mmmm… I don't think I've listened to my first album since the first half of 2008! I found the label that released my album when I was already writing songs for my second album. And now that I've finished recording my second album (in a few months it will be released!) I'm already writing the songs for my third album!
But I'd be happy to tell you something about "Everyday's life"! It is the first part of a three-part project: my second album will be called "Everybody's waiting", and the third will be "Everything's changing".
The sound of the first is 90% keyboards and 10% orchestral guest elements. In the second you'll hear a 50%/50% proportion of these two components, and in the third I'll have string quartet, a 16-member orchestra and only a few keyboard sounds.
Getting back to "Everyday's life": it is intended to represent a normal day in the life of a common man, like everyone… but also like me: there are many biographical links to my real life. "In the darkness" is the very beginning of the day, the gloomy atmosphere intended to represent a bad dream. The second track is "In the morning", starting with my baby daughter crying, with a brighter atmosphere. "Anonymous" and "Everyday's life" are quite tormented, and talk about my dreams and failed projects.
Then, in my day, there are moments in which I remember my past. And I also think about bad episodes in my life: these moments of remembering are described in "Il dono", "Solo chi ha sofferto" and "In the evening".
Then we come to the evening... and the dark pop closing song, the only one that has a proper song structure and is fully sung. Not by me… By my wonderful cousin Nadia Scherani, I'm not a good singer! And this song is a cover. In some of my forthcoming projects I tried to write songs too, not only long and instrumental compositions. But in this first solo album something strange happened… it was as if I wasn't able to write a normal song, so I chose a cover. But I think it is a great cover: the song is "Soli", sung in Italy by the great singer Mina in the sixties.
How would you describe the music on this album ?
I think that the music I wrote for this album is quite bizarre; I really did not try to find a theme that could be remembered. The arrangements too are a sort of challenge between me and my keyboards: I wanted to use all those sounds that often remain hidden in the memory of our instruments. People ask me for arrangements, mainly of pop music, don't like sounds to be too strange. But I have several beautiful sounds in my keyboards, and I want to play them too! That's why I started writing music for my own purposes as well.
What inspires you to create new music and what is your recording technique ?
I think that creating music is like eating: we eat to feed our body, but eating is also a pleasure.
I listen to music as much as I can: this is a great pleasure for me, but it also feeds my heart and my mind. My mind starts combining the most exciting things it has heard, as if I'm cooking something good. I think all musicians write this way, and music has evolved this way for centuries: great composers put old things together to say something new.
Once I have written some music (hopefully something new and original), here comes the second part of the question: the recording techniques. "Everyday's life" is a kind of lo-fi album, I recorded it somehow, but I wasn't looking for absolutely pure quality. My equipment was not as competitive as it is nowadays, but I didn't worry about it at the time. All the things I published after "Everyday's life" sound better, and my future works will have the support of great studios and technicians. But I love "Everyday's life" as it is: I look at it as a starting point, when I recorded all my keyboards and guitars at home, and the other instruments in many other places… but none of them was recorded in a real recording studio.
What have you been up to since 2007, what is your latest update & plans for the rest of this year and beyond ?
Since 2007 I have worked on many projects that I found really interesting: for example there is a progressive group in Italy which is quite unknown… but they are really great, and their name is great too! They are "The Great Complotto", I suggest anyone interested in their music should visit
their site.
I played in two songs on their second album, a self-produced work presented during 2008.
In the same year I played all the keyboards, wrote all the arrangements and directed a 16-member orchestra for a benefit project: "Racconti… Raccolti", a project released under the name "Buoni Konsigli" and promoted by "AGERANV", an association of families of the sight-impaired based in Genoa.
In 2009 I also wrote an anthem for a local football team!
In the meanwhile I met some wonderful people who have become stable collaborators of mine: Sylvia Trabucco (violin), Joanne Roan (flute), Nicola Peirano (violin), Chiara Alberti (cello), Christian Marras (bass, stick) and I started playing live with old and new friends from Hostsonaten (Fausto Sidri, vocals and percussion) and La Maschera di Cera (Matteo Nahum –guitars- and Mau Di Tollo -drums-). So live projects took form, such as
"Periplo"
() and the Peter Gabriel tribute band
"Wallflower"
.
In 2009 I started working with Fabio Zuffanti again, I involved all my new collaborators in Fabio's projects, and so we come back to your second question!
This year I finally finished my second solo album, and I'm currently recording the first Periplo album, the second Trama album, and a simil-pop album for acoustic piano, flute and string quartet. I'm also writing new music for my third solo album and for an instrumental album which will be piano and violin only (played by me and Sylvia Trabucco).
I'd like to spend some words on my second solo album, "Everybody's waiting". The music is more complex. I tried to compose following Bach's counterpoint algorithms. Sometimes using mostly keyboards, sometimes helped by guests and friends who are also good classical musicians. Many of these guests are known in the progressive genre too: for example I had wonderful contributions from Bob Callero (well-known in the ita-prog of the seventies for playing bass with "Il Volo", "Duello Madre" and "Osage Tribe"), from Andrea Maddalone (New Trolls) and from Matteo Nahum (La Maschera di Cera, Hostsonaten).
An album which is mostly instrumental, with only a few lyrics and, again, several autobiographical links. I'm very proud of this second album, and I hope that people will enjoy it!
To wrap up this interview, is there anything you want to add to this interview ?
Yes! I really like to thank ProgArchives, because googling my name or my works you can find many reviews and pages about me. But ProgArchives has been one of the first, and I think that the PA staff have been very kind to me and my beloved "ugly duckling" Everyday's life! :-)
And now, after two reviews and a biographical page I've been asked for an interview in this period so close to the birth of my second album!
I'd also like to thank PA for the service they offer the community: when I need information on an album or a prog group, I look there first!
I'll be sure to send my releases to you again, in order to have your "judgement" and rating… Hoping that the staff will enjoy my future works!
Thanks, thanks, thanks again! May all of you have a fine progressive year!
Thank you to Luca for this interview