ALTAVIA formed in 2008 in a small town in northern Italy, when after leaving his former band, Andrea STAGNI (keyboards, voices) started searching for new musicians. Davide, a local musician and friend, introduced him to Marcello BELLINA (drums, voices), Mauro MONTI (guitars, voices) and Giuliano VANDELLI (bass), who accidentally were looking for a keyboard player for a new project. That just seemed to be a perfect match for everyone.
...... and so started their story. I got in touch with the band and this is their answers.
When, where and by whom was your band born ?
Andrea Stagni: In late 2007 my ex band split up so I started looking for musicians to join me into a new project. At the beginning of 2008 a mutual friend, Davide Valmori, suggested me to contact Marcello, who I knew was a good drummer so I rang him.
Marcello Bellina: I was already working with Mauro and Giuilano. We were playing a few prog covers. We were wondering about including a keyboard player when I received Andrea's call. He said he wanted to write original music rather than being in a cover band, and we all agreed. Let's just say we were lucky enough to find each other just when we were all looking for the same thing!
Mauro Monti: we all live in different towns around the city of Modena, Italy.
Did any of you, past and present members, play in any other bands before joining up in your band?
Andrea Stagni: I've been playing in a prog band called Zabov for several years. We never popped out from our rehearsal room, but we had two records ready to be released when we disbanded.
Mauro Monti: I've played in a few bands in the past, I am currently part of "Tacchini Selvaggi" a south-western rock cover band. I really enjoy playing with AltaVia: it's giving me the chance to play music that I've never played before.
Marcello Bellina: I play drums for "Froggers" a cover band and like Mauro I have a few experiences in rock bands/cover bands.
Giuliano Vandelli: I played in a rock band called "The Red Kings". We featured covers and also some original stuff.
Why did you choose that name ?
Andrea Stagni: It's been very tough to find the right name for this project, actually. We wanted something "musical" but at the same time with a deep meaning, and even if we choose an Italian name we thought it had to be easy to speak for non-italian speaking people.
AltaVia meets all those criteria: it refers to long and stunningly beautiful paths in the Alps, everyone should have a go...
For those of us unknown with your music; how would you describe you music and which bands would you compare yourself with ?
Giuliano Vandelli: I think our music is a fusion between different styles.
Mauro Monti: Yes, we come from different backgrounds, "prog" was probably the only label in which we could find ourselves together.
Marcello Bellina: Rather than comparing us to other bands I would name a few artists we really love, such as Led Zeppelin, Genesis, Rush, Kansas, It Bites, Porcupine Tree, Deep Purple, Yes, Uriah Heep… and many many others. I'm quite sure that having listened so much to their music this must have affected our playing in someway.
Andrea Stagni: I think that our music is a research, but it just began so it's impossible to tell where it may lead. You may feel it by listening to Girt Dog, I guess.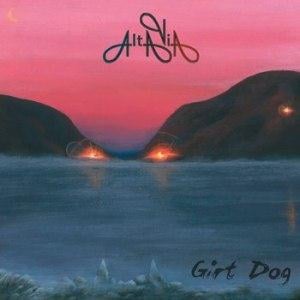 Your one and only album so far; Girt Dog was released earlier this year. Please tell us more about this album.
Andrea Stagni: When we met we started immediately to work on this record, I remember that during the very first rehearsal session we were already playing the main riffs of "Picture Frame", the album's opening act. We did not "warm up", we simply started writing and recording. Strangely enough the order of the songs follows (with a few exceptions) the order in which they were written, so I can feel an evolution, if not in a strictly technical sense, in the way we learnt to interact with each other. We are still learning, actually.
Mauro Monti: The album has been entirely recorded in Andrea's home studio, this means we had no pressure, which is particularly good because to me this was my first recording experience. The whole process was very natural.
Marcello Bellina: Songs were written mostly during jam sessions, everyone contributed to the arrangements, so this album reflects everyone's personality.
Giuliano Vandelli: We are also very proud of the artwork. The cover is an actual painting made by a very talented artist named Ambra Pedergnaga.
What is your plans for this year and beyond ?
Mauro Monti: We're currently rehearsing for live shows. Unfortunately some of the gig we were invited to have been cancelled due to the crisis involving the music industry (especially in Italy!) , but fingers crossed: we should be playing around here in the summer.
We're also writing some new material.
Andrea Stagni: Yes, We are starting to think how AltaVia's new album should be, I am also working on an acoustic project with my girlfriend Benedetta that should be published by Aquariannation, Francis Dunnery's own record label.
To wrap up this interview, is there anything you want to add to this interview ?
Marcello Bellina: You are very welcome to visit
www.altaviamusic.com
there are a couple of complete songs there for you to listen to!
Mauro Monti: Have a go with our cd. We are very proud of it and we hope you like it!
Giuliano Vandelli: We wanto to thank our mates Will Mackie and Rob Reed at WhiteKnight records!
Andrea Stagni: Thank you Torodd, and thank you all at Progarchives!
Thank you to the band for the interview