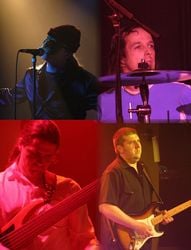 RED SAND was created by guitarist Simon Caron, a self-proclaimed David Gilmour, Andy Latimer, Steven Rothery, IQ, BB KING and Albert COLLINS fan. At age 18, he started a couple of progressive rock bands (F…NIX and OC…AN) and then left the music scene for a while. Unable to stay away from prog very long, however, he started to write again, searched for a band to perform his music and was soon surrounded by seasoned musicians most willing to oblige. Thus RED SAND was born. There has been a few personnel changes since and the band now consists of Caron himself on guitar, assisted by classically trained vocalist Stťphane Dorval, ex-DAGMAHR keyboard player Pierre Massicotte, renowed Quťbec bassist Mathieu Gosselin and (newcomer) drummer Perry Angellilo. They released a first album in 2004 titled 'Mirror of Insanity" and then a second a year later called "Gentry". All music and lyrics are penned by Caron.
I got in touch with Simon Caron for the Red Sand story.
##################################################################################
Your biography has been covered in your ProgArchives profile so let's bypass the biography details. But which bands were you influenced by and why did you choose that name ?
Many people think that my main influence is Marillion but I have to say that Camel has been my first inspiration as a musician. Marillion has been one of my favorite progressive-rock bands but also Pink Floyd, Genesis, IQ and Pendragon.
Were any of you involved in any other bands before you started Red Sand ?
Yes I was. My first band was one with original material only. The style reminded the French Canadian band called Harmonium. After that, Iíve been involved in a more progressive rock band called Ocean. I was building the main part of the songs and so all the other musicians were contributing to the songs I was bringing. It has been a wonderful experience for me. Once that band split, I have done some jingles for the T.V and so Iíve been taking a break of four years without any band. Iíve been back playing in some tribute bands to Pink Floyd and Marillion too but my last band before Red Sand was a pop music band. I didnít like that experience. So I stopped playing in bands for seven years before building up Red Sand.

Let's go straight to the first album. Please tell us more about Mirror Of Insanity from 2004
Mirror of Insanity has been the first Red Sand album, this album has taken a strong place in the progressive rock community and I am proud of it. In the beginning I was happy to see my music being compared to Marillion but further I found difficult to get rid of that image. Even after four albums, Mirror of insanity is probably the key album for Red Sand. Unfortunately, some fans didnít understand that Red Sand had an evolution and became something else but I understand.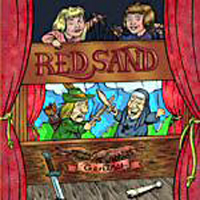 Please tell us more about your second album Gentry from 2005
Gentry is the album which I had the most pleasure to work on. There was many fans attending that album and I felt a lot of pressure. So Iíve been hiring Andrť Dorval, an experienced albums producer. He brought new colours in my music at my own surprise. He knew that I didnít want to be compared to Marillion anymore. Also, I decided to find a new singer and I found Stephane. What a great singer. He can go from classical opera to hard rock. Then, Andrť decided to add some acoustic parts in the songs with 12 strings guitar and voice. He knew where he wanted to go. He has been very demanding but the result is something different from the first album. It is a great album. Probably my favorite Red sand album.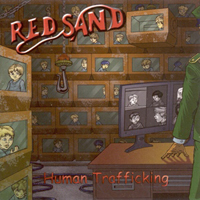 Please tell us more about your third album Human Trafficking from 2007
Human Trafficking has been a darker period. My inspiration was a movie that scared me. It is about childrens abused by adults. Difficult to believe that human being can do things like that. I produced this album on my own but now I realize the advantages of having a producer to get a second opinion of what we do.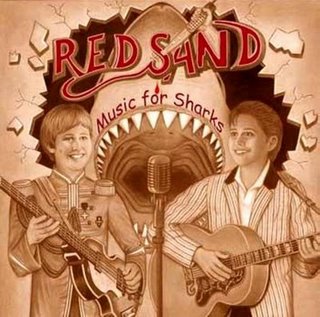 Please tell us more about your fourth and most recent album Music For Sharks from 2009
To me this album is a way to express some experiences that I lived with Red Sand. In that industry I met some people who are ready to do anything to ruin my carreer. Theyíve been frustrated because I didnít sign an album contract with them. Now they are jealous to see that Red Sand succeed without them. I decided to call them sharks. This album has been produced by Mathieu Gosselin. This album is different from the previous one, it is more punchy. Iím very satisfied with the result.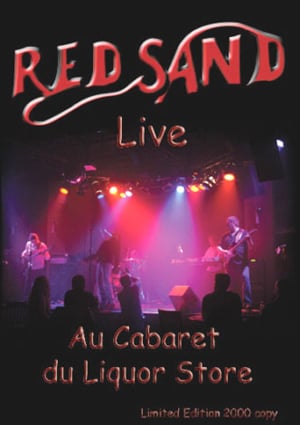 Please tell us more about your DVD Live Au Cabaret du Liquor Store from 2008
This DVD is a gift that I wanted to offer to the fans who cannot see Red Sand live because for now we donít have any shows in Europe and we have a lot of fans over there. This DVD is recorded live in Quebec City in an intimate hall called The Liquor Store. I prefer the Gentry tour(made previously) but I think the fans will be pleased with that DVD.
How would you describe the musical developments on the four studio albums ?
I think these four albums are linked, they are all homogeneous. They are denouncing injustice. Once, a guy from a French magazine didnít like my lyrics but I think that from the start he had no objectivity because he didnít like my music. I wrote clear and simple lyrics to make my message understood by everyone. I am very proud of all of my four albums. Maybe I could have done some things differently but if we always want to do some changes, things never get done.
Just to give those of us who are unknown with your music a bit of a reference point or two: How would you describe your music ?
I think that Red Sand tried to get back a sound that has been very popular in the 80ís with a lot of respect for that era. To me a band like I.Q is among the best of the moment. Their sound is pure progressive-rock. In the 80ís, many progressive rock bands did some stuff as strong as Yes and Genesis etc. Unfortunately, some people think that style of music belongs to the 70ís only and stopped following the progressive rock scene. That is why we find ourselves with so many tribute bands. I think this is sad. Today It is hard to take a place in the music industry, especially in the progressive rock world.
How is your gigs situation ? Do you play many gigs ?
For 2012-2013. I can not say anything for now. But this We are now preparing something will surely a great expťrience.
What is your experience with the music industry and the new internet music scene ?
Red Sandís experience is not complicated, we do our best to follow changes. We are in a world where things changes very quickly and not always for the best. I see my daughters asking for ipods. In years before, we were buying sound systems with c.d players. So it was easier for the artist to sell albums. Today, many artist struggle just to pay the cost of the album production.
What is your latest update and the plans for the rest of this year and next year ?
Now I am working on a new album who will be released somewhere in late 2011 or early 2012. The album will be called Behind the mask.
To wrap up this interview, is there anything you want to add to this interview ?
I want to thank the people who are surrounding me: Mathieu, Stťphane, Jean-Louis, for their great work during these six years together and also all the fans who support us from album to album. Thank you all.
Thank you to Simon for this interview