Epic progressive electronic/krautrock duo Zombi have been creating cosmic rock for about a decade by combining soaring analog synthesizers, powerful drums and heavy bass for about a decade now, and their new album, "Escape Velocity", is to be released on 5/10/2011. Zombi's music typically takes on a form similar to a combination of Goblin, Tangerine Dream, and sometimes tinges of Rush and Yes, creating their own special brand of symphonic electro-kraut. I was able to get in touch with the A.E. Paterra and he was kind enough to agree to an interview.

+++++++++++++++++++++++++++++++++

We've got an brief biography of Zombi on your band page on our site, but where did the name Zombi come from? Any connection with the Romero/Argento movie title, Fulci movie title or the band Goblin?

A

EP: When naming the band, we really liked the name Zombi, which was taken from the Italian release title of Dawn of the Dead. We really wanted the name to represent the music of that era - we felt the name Zombi was the embodiment of a particular sound - it has nothing to do whatsoever with actual zombies.

Could you give us some detail about the musical background of the two Zombi members?

AEP: We are well versed in jazz, no-wave, fusion, rock, prog, electro, and metal.

Which artists (musical/non-musical) have had the largest impact on your decision to begin writing music? Have any artists had a particular impact on your style of sound?

AEP: As a kid, I was really taken in by Rush - their touring/recording schedule from the mid 70's - mid 80's was inspirational to say the least. I saw "Bladerunner" when I was 11 or 12, the Vangelis score really influenced me, as well as Goblin's "Dawn of the Dead" score. The combination of these three influences set me off on a rather good start. A solid primordial ooze so to speak.

Some listeners have compared your music to that of Goblin or Tangerine Dream. What do you think about that? How would you describe your sound to someone who has never heard Zombi's music?

AEP: I think comparing Zombi to Goblin or Tangerine Dream is an astute observation. If I was describing our sound to someone who had never heard Zombi, I would say that we sound like Goblin and Tangerine Dream.

Zombi's music has a tendency to be beautiful and atmospheric while also maintaining a fairly high level of energy. Is forming a certain atmosphere through sounds something that Zombi has done intentionally, and if so, what type of atmospheres or conceptual settings are you trying to convey to the listener?

AEP: Very intentional. We simply like to get the listener into a nice headspace. Relaxing, sonically interesting. Sometimes terrifying. Depends on their state of mind.

Since Zombi's music frequently displays high levels of energetic passages, how do the fans in a live setting usually react?

AEP: By absolutely losing control. I once saw a guy take his hands out of his pockets and cross his arms. I've also seen a few heads bob.

Could you briefly share a little bit of information about your previous album, "Spirit Animal" (fantastic album, by the way), and how it might be similar or different from your upcoming album, "Escape Velocity"?

"Spirit Animal"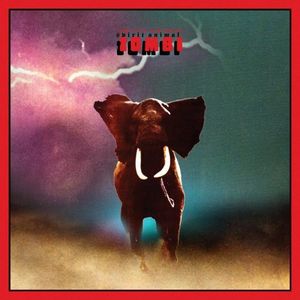 "Escape Velocity"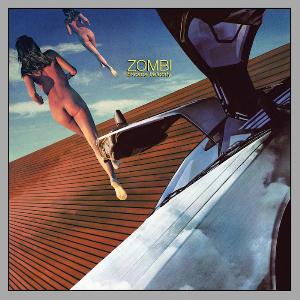 AEP: "Spirit Animal" was a huge, lumbering beast with many stringed instruments, whereas "Escape Velocity" is trim, sleek, and efficient. And for Zombi, a nine minute song is efficient. We do have, however, a two and a half minute track on "Escape Velocity", which is one of my favorite pieces - I really like what we communicated in such a small amount of time.
In the future of Zombi, do you foresee any additions of vocals or any other elements that Zombi has not yet applied? Besides the new album, what else is there to look forward to in the future of Zombi?
AEP: There is absolutely no way we would ever apply vocals. This is why the Mellotron exists. Mr. Moore and I are teaming up to start our own cassette/vinyl label, VCO Recordings. We will be releasing a lot of our solo material, the Zombi back catalog, and music of fellow artists. Running our own label insures that we won't have to sit on our music for a year while we solicit others.
The term zombie is generally defined as a human who has been raised from the dead, typically by another person or situational force. Is this an art-form that Zombi might be interested in pursuing for publicity or stage-theatrics?
AEP: Hell no.
Thank you so much for the time to do this review. Is there anything else you'd like to say to your fans?
AEP: Thanks for keeping us around for 10 years.


Edited by colorofmoney91 - May 10 2011 at 13:42