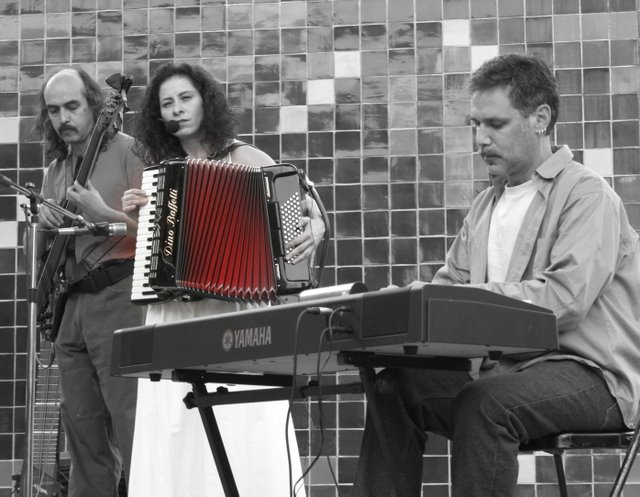 SAENA is one of the most recent wonders that have come out to the world of symphonic rock. Founded in Mexico by lifelong musical partners José Luis FERNÁNDEZ LEDESMA and Margarita BOTELLO, SAENA gathers five experienced and skillful musicians whose separate résumés are rooted in the areas of academic music, progressive rock, theatre soundtracks and fusion. All other three musicians have collaborated in FERNÁNDEZ LEDESMA's albums at one point or another.
I got in touch with the band and Margarita Botello kindly answered my questions.
##################################################################################
When, where and by whom was your band born ? Did any of you, past and present members, play in any other bands before joining up in your band ? Why did you choose that name ?
Saena was born in 2008 in México City around José Luis Fernández Ledesma´s music. The members at that moment were José Luis Fernández Ledesma,guitars and piano, Margarita Botello, accordion, piano and voice, Alejandro Sánchez, violín, Hugo Santos, stick and fretless bass and Adrián Zárate, drums. Actually Saena are José Luis, Margarita, Alejandro, Jesús Ibáñez bass, acoustic bass and stick, and Darío Solís, drums.
José Luis have been in several bands, was co-founder of Nirgal Vallis, Arca and with Arturo Meza among others. Margarita played on the last Nirgal Vallis edition in 2000 year and also in Arca. Alejandro Sánchez played in Decibel and Nazca and with many chamber music groups. Jesús plays with Ibánez-Villa trío. Darío plays with Execror Vecordia.
About the name, Saena, it refers to a sufi´s mithology:
Birds are convoked by a splendid feather fallen from sky. Thousands of the undertake a journey to meet Saena, king of birds and owner of the feather who lives on the mountain Haraiti Bareza.
The quest takes many years. Most of the birds die in the way, some of fatigue, others frozen on the top of the mountains, some others go insane or just stay on the paths, contemplating the beauty of the landscape; many more abandon the cause. Those who finally arrive have had to pass seven huge valleys called: Search, Heart, Knowledge, Annihilation, Unity, Astonishment and Realization.
Eager to know Saena, they discover that there is no one in that mountain but them, the thirty birds purified by the journey. With the last light of the sun on their faces they find out that Saena is each and all of them.
Which bands were you influenced by ?
There´s not a predominant influence. It´s more varied information that affects every one of us and shapes the music. Each listener will find different influences depending on their own information.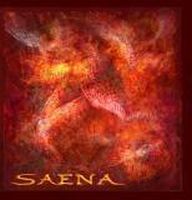 Your one and only album so far; Saena was released in 2008. Please tell us more about this album.
Our intention was to make a record that were timeless in a way, a record that would have been done 20 years ago or 10 ahead; that have aa voice that were both local and global. We wanted to put emphasis on the combination of acoustic and electronic colours, without ising many effects and giving more weight to the music itself and the arrengements.
What have you been up to since 2008 ?
After the album the band went trough two complicated processes to change firs to the bassist ant later to the drummer. Anyway,we have being working all this time and now we have all the material to record our next album. Paralell to the activities of the band, the members of the band have other projects: José Luis has also been dedicated to the photography, he had an exhibit of his work last year. With margarita and Jesús has launched a multimedia project called milenrama (Yarrow), with José Luis´s images amd live improvisation. Margarita works at Mexico´s National Company of Opera an besides the choir have singed as a soloist too. Lejandro plays in a chamber orchestra, with whom he has also participated as a soloist; he also plays with a Danzon orchestra. Jesús continues with his trio and Darío just arrived to Saena.
For those of us unknown with your music; how would you describe you music and which bands would you compare yourself with ?
It is very difficult to describe the music; just listening to it and yet, as was said, everyone would describe it as his sensitivity and his baggage, but could be said it´s a semi-acoustic camera rock, with progressive, folk, jazz and rock in opposition elements...and what everyone likes to add.
What is your plans for this year and beyond ?
We have material to release two albums. We just started recording the first of these and hope to finish it this year.
To wrap up this interview, is there anything you want to add to this interview ?
Saena does not follow any rule of the market, fashion trends or labels. Looks for voices from the past and the present in a free manner.
Thank you to Margarita for this interview