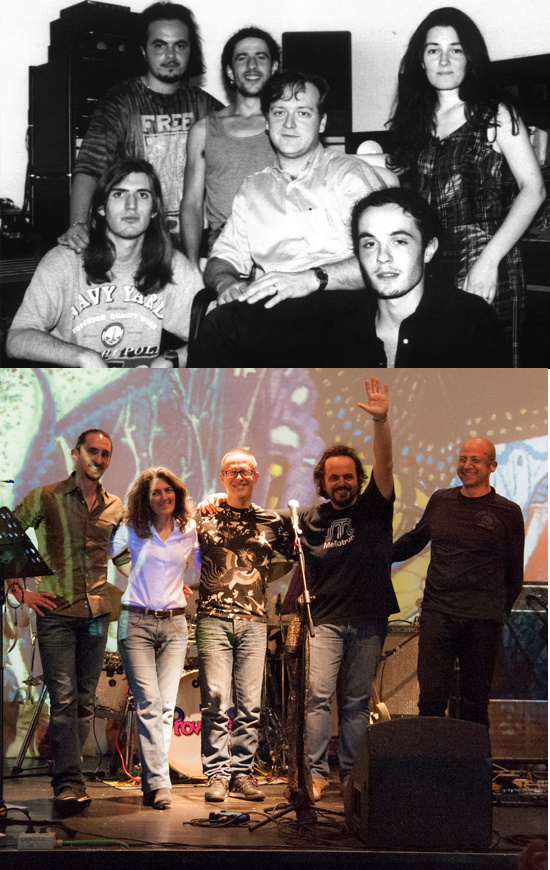 Prowlers was an Italian prog rock band. this is a short story of our band and our music. thirteen magic year.... In 1985 Laura Mombrini (vocals), Gianni Radici (Guitars) and Roberto Biglioli (drums) met Fabio Dehň (bass) and Alfio Costa (Keyboards) and took the decision to play Great Music !........
After a long break filled with other bands and projects, Prowlers has returned again with a new album. I got in touch with Alfio for the Prowlers story.
################################################################################
Your biography has been covered in your ProgArchives profile so let's bypass the biography details. But why did you choose that name and which bands were you influenced by ?
On 1985 we're great fans of hard rock and blues bands like Led Zeppelin, Free, Yardbirds, Cream and some psychedelic monsters like Pink Floyd, Syd Barret, and Jefferson Airplane. We think in that music we've found our first models and inspirations. The name Prowlers was chosen by Alfio and Roberto (the first drummer of the band) one night in a Heavy Metal Pub and was inspired by "Prowler" an Iron Maiden's track… maybe we were drunk that night….

How was the music scene in your local area when you started ?
It was a very different scene here, when we started on 1985. Many chance to play live music (original music and not only cover !!!) in many places like cities festivals, private parties, music halls, and pubs. People was very interested in music and especially in original music. In that period we often play a mix between cover by Led Zep, Clapton, Doors and our first original songs.



Over to your three first albums. Your debut album was Morgana from 1994. Please tell us more about this album.
Oh … We regret for the sound quality of that album! Morgana 's tracks was good, but we recorded all the album with an old "8 tracks recorder" by Tascam and it had many problems!!!!. Anyway, we start recording Morgana on 1991 like a demo tape (!!!) for our friends and fans to sell in our concerts and live performances. We've self produced 300 copies like demo-cassettes and on 1993 we sold all the demo- cassettes in our concerts. One of these copies has finished in the hands of a great man and a great friends of Prowlers: Mauro Moroni of Mellow Records, one of the most important Italian prog labels. Mauro called the band after some days and take us a chance to print the Morgana demo as our first official album. So it was done. The music of Morgana is a mix between psychedelic rock, hard rock and progressive rock, with some classical influences. The sound quality was no good, but we think that was our most "honest album"….. the album was sold out and today it's very difficult to find one copy for sale.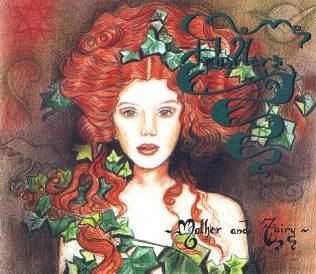 Your second album was Mother & Fairy from 1995. Please tell us more about this album.
As Morgana, Mother and Fairy, our double album, was conceived as two demo tapes. At that time we was very inspired by fantasy books themes and we wrote many tracks about fairy, kings, witches, gnomes etc … too many !!!! J … so in the end, on 1994, we had about 25 songs composed and arranged and we had recorded two demo tapes to send to Mr Moroni at Mellow Records, to chose some tracks for our second album. Mauro was very enthusiastic about our works and he propose to the band to release a double album with all the entire material of the two demos. We wasn't agree his decision, 'cause we was just a little italian prog band and a double album wasn't a good commercial idea for us…. We're not Pink Floyd !!!! In the end Alfio Costa (composer and keyboardist)and Giovanni Vezzoli (drummer) went to Sanremo in the Mellow Records Studios with mr Ciro Perrino (a great and famous italian musician of progressive rock) to get a new mix of the two albums. The music of that works was more progressive than Morgana's music. Many long tracks and change of time and atmospheres with the fantastic female voice of Laura Mombrini were the characteristic of "Mother and Fairy". Artwork and cover (painting by Alfio's mother) was superb. The band in that period had two guitarists: Flavio Costa (just seventeen, the young Alfio's brother) was the second guitar of Prowlers.



Your third album was Sweet Metamorfosi from 1997. Please tell us more about this album.
On 1995 Alfio and Stefano Piazzi (guitarist) start to compose the new album: a concept album. They wrote some ideas for the music and Alfio some new lyrics for some new song. After some months Stefano left the band 'cause some personal trouble. So Alfio, Laura, Flavio and Giovanni, with the new bassist Alan Ghirardelli, start to work together the new album. After one year we went to a professional studio (finally!!!!), the Sonica Studios of mr Marco Olivotto to release a track for the progressive Italian tribute by Mellow called "Zarathustra's Revenge" and to produce our new album: Sweet Metamorfosi. That was a great experience for us!!! Marco's a great guy and an excellent sound engineer. We've worked very well together and in the end we've realized our masterpiece: Sweet Metamorfosi. The music of that album is a fantastic combination between our first influences and our psychedelic and prog sounds. Arrangements, sounds, melodies, was simply perfect! In the end we've released a 67 minutes long prog rock suite!!!! We were many satisfied, but Alan left the band just some weeks after, out of the studio… something wasn't so good…. Anyway, Sweet Metamorfosi was a great success and was sold out within' some time and we start to play live our new album with another young bassist, mr Roberto Aiolfi….

And then the band split up and it seems like Prowlers was history. Your first three albums is very difficult to find too. Why did you split up, what were you up to during these 13 years and why did you come back again ?
After our first live performances to support the new album, Laura and Giovanni told us that they wasn't so happy to continue to play progressive music. Today, we think they was simply tired. We've started to work to Sweet Metamorfosi on 1995 and released it two years after on 1997. On 1998 we went to play live a 67 minutes long suite, but maybe we'd must take a little break ….. So they left the band and Alfio, Flavio and Roberto take the decision that Prowlers without Giovanni and Laura wasn't the same band, so born Tilion.
Prowlers is, before all, a group of Great Friends. In this 13 years we have talking many times to come back together to play our music. Alfio, Stefano and Laura released a track for the King Crimson Tribute released by Mellow on 2003, Alfio play live some gigs with Reoplano big band, the blues band of Giovanni Vezzoli. And yes, Flavio, Alfio and Bobo come together on 1998 in a new, important prog band called Tilion. On 2008 after the Alfio's marriage party, Flavio, Giovanni, Alfio and Laura taken the decision to come back together to release a new album. We talk about it with Roberto and Stefano, and they agree our decision…. But just for an album….(?)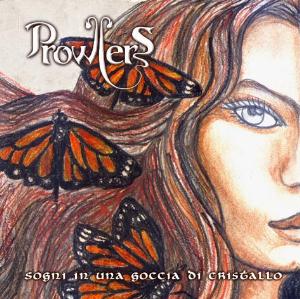 Your brand new album is named Sogni in una goccia di Cristallo. Please tell us more about this album.
Sogni in una goccia di Cristallo was composed by Alfio and Laura on 2009. It's a concept album inspired by Laura's dreams. Thanks to the new digital technology, we recorded and mixed the album in the TL studios, the new Alfio's home recording studio. The music is another step more "original" and it's the worthy successor of Sweet Metamorfosi. Entirely sung in Italian the album is full of all our influences and sound's really f**king great, thanks to legendary instruments like Hammond organ, Mellotron, Minimoog etc. We're really proud of this new album and we're sure that our fans will be satisfied! For the release we've called Mr Moroni and his label Mellow Records to continue our friendship and to celebrate 17 years of collaborations. As all the Prowlers' albums, also for Sogni in una goccia di cristallo, the cover is still painted by Mrs. Mariella Marino (Alfio's mother).
For those of us unknown with your music; how would you describe you music and which bands would you compare yourself with ?
Our music is simply the music of our dreams. Psychedelic, Folk, progressive rock….? We think that it's just a mix of our experience from blues to classical music. We play honest music, 'cause we think we haven't a specified model to follow. We don't like to resume the glory of the past of the prog rock…. We would to walk in the future of the rock music…..
You are involved in a serious of bands, including Daal. Where does Prowlers fit into your life, music and plans for this year and the next years ?
Prowlers isn't just a rock band. Prowlers it was my life, my friends, my family for many years and it's still today! My brother Flavio, my great friends Giovanni, Laura, Stefano and Roberto are parts of my life. We starting Prowlers on 1985 … 26 years ago!!... so you can understand what I'm happy to be here again today to talk with you about a new album of Prowlers. All the other projects are very important for me, but Prowlers…. Is really my life.
We haven't so many plans to play live our music, 'cause the musical scenes here in Italy is very different from 13 years ago. We'de like to come back together to play our music live….. and we hope so….
To wrap up this interview, is there anything you want to add to this interview ?
I thank you and
progarchives.com
for this interview. I hope all the good and unknown music, not just progressive rock, could have always a chance in the music history …. It will mean that we're still free…
Thank you to Alfio for this interview