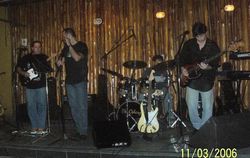 Spin XXI is a Brazilian band that is rooted in the Seventies and made history in the city Niterói. They played together in schools and amateur rock festivals. Spin (as they were then called) had a very special presentation by giving anthological gigs and sold out the Fluminense University Theater three times. They disbanded but later the members teamed up again some years under the name

Contraponto. To complete the confusion a few years ago they regrouped as Spin XXI. Their debut CD entitled Contraponto was recorded between 2002 and 2006 and released in 2006!

I got in touch with the band and Kakao Figueiredo answered my questions.
##########################################################################
Spin XXI began as Contraponto. Please tell us more about its history and why you chose the name of Spin XXI.

Actually the band began in 1972 with the name SPIN ...
We were students of secondary schools and we wanted a name Universal, one of the members suggested " SPIN", he had heard in chemistry class, the rotational movement of electrons around themselves, associate with the spin and English with music wanted to do, which turned, walked and not kept quiet ...
In 1979 the band had its third change of training and decided to change the name to Contraponto, then made a series of concerts in Rio de Janeiro and neighboring municipalities and then stopped by personal problems of some members ...
Then we returned to be tested in 2001 and we decided to return to the original name of the band, but now in a new century, the Century XXI, then SPIN XXI ...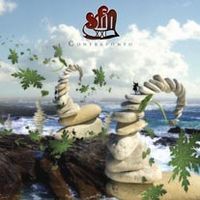 You have so far only released one album in 2006 called Contraponto. Please tell us more about this album. Please tell us more about this album.

This first album has four songs, that were born in 70 years, while those for the Conflitantes Paranoias (Conflicting Paranoia), we wrote a second part, a continuation of the story, for the new twenty-first century.
We work on all the songs for a long time, until we get the desired result, seeking to maintain the sound and spirit of the 70s, where music and the band were born.
Ventos do Passado (Winds of the Past), also won an answer to your original idea, developed the music and lyrics in response to the new century ...
In Sensaçőes Diversas ( Others Sensations) and,Buscando Algo de Novo (Seeking Something Different) we worked hard to keep the same spirit and ideas of when they were composed in the 70´s years…

The artwork is very special. Please tell us more about it.

For us our music is treated with much care and hard work, hundreds of hours of dedication and attention to detail, we play the songs in full and then burn them, because only after some of the work plays in their total can we have total understanding of it.
Care then adds to details that are reflected in the final result ...
Melody, harmony, rhythm and lyrics are cared for with the same weight, as well as the mix of all elements.
The Graphic art was made By Gustavo Sazes after a lot of brain's storms with the band, tring to keep the Spirit of the music and the 70´s…

What happened after the release of this album and you so far?

We did some gigs around Brazil with bands like Lotus, Anagram, Tetrioarrigra Griget ', etc ... from there, we started preparing our second album, beginning with a suite of 25 minutes with ideas born in the 70 (Salt, Cynthia).
We had to take a break, for particular problems, now back in full force rehearsing for a great new show that will start at the Teatro Municipal de Niterói on 01/09/2001.
We hope this show becomes a tour of several other ...
Where besides Sal de Cynthia will present a suite of 15 minutes Gargulas XV century. All songs were composed in the '70s and are now being rearranged and tested on average 15 hours per week.
Work is hard, but this having positive results.

How would you describe your music and what bands you compare your music?

Our music is the result of everything we hear and study, mixed Classical Music, Classical, Jazz, Rock, Brazilian Music and Folk ...
Comparing with other bands , we can talk about PFM, YES, Genesis ( 70´s),VDG,
Gentle Giant,Gryphon, Mutantes, Terço and others…

What is the pros and cons of relying on Brazil?

I think we have that for Wonderland with year-round sunshine and plenty of friends, we are away from the circuit of international shows and away from the market ...

What is your plan for this year and where you want to take this band?


We are rehearsing a new show with two songs from the new CD, we want to finish the 2007 DVD and burn a new DVD at the Teatro Municipal de Niterói Sept. 1 on 01/09/2001. After that we want to finish our new album, and play a lot in where it´s possible, may be a European Tour…

Just to wrap this interview up, you have any regrets in your music career?

The stops that life has forced us to give up the project ...
Without them, we would have evolved much more musically ...

What is your alltime favorite five albums?
Genesis Nursery Crime
Genesis Foxtrot
Yes Album
Yes Close to the Edge
Gentle Giant:
The Power And The Glory
Anything you want to add to this interview?
Our group is more united than ever and we have material for several other works, we are itching to hit the road and show our work to the world, we seek for partnerships, representations, invitations and minimal structures to which the band SPIN XXI may arise.
Anything just contact us. kko.studio @
gmail.com
Thank you to Kakao for this interview