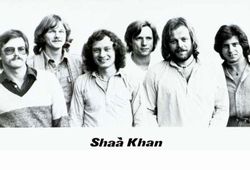 SHAA KHAN are a german heavy prog rock band which produced two LPs and two singles. Drummer Walter Kaulhausen and guitarist Roland Soltysiak started at the beginning of 1970 to play hard rock songs from Led Zeppelin and Deep Purple. The band name has no common sense - just a pun which pleased the musicians. After some line-up changes Jochen Gutermut (bass) became a permanent member. Because they were participating at courses of the Akademie Remscheid their style changed to a jazz rock direction more and more. During the years 1973/74 they played gigs as the supporting act for Earth & Fire, Sweet, Smokie, UFO und Nektar.
I got in touch with Heiner Waldman from the band for their story.
@@@@@@@@@@@@@@@@@@@@@@@@@@@@@@@@@@@@@@@@@@@@
Your biography has been covered in your ProgArchives profile so let's bypass the biography details. But why did you choose that name and which bands were you influenced by ?
Shaa Khan is a phantasy word without a meaning. At the time the band was founded there was a Disney movie in the cinemas, 'The Jungle Book'! There was a tiger in this movie called 'Shere Khan'. Some former members of the band thought it was a good name and changed it into SHAA KHAN. By the way the word Khan is an Indian word for lord (master, mister).
The band was mainly influenced by the British music scene of the late sixties and early seventies. For example: Deep Purple, Genesis, Yes, Audience, Black Sabbath any many more. Every member loves different music. I was deeply influenced by the Blues, especially by British Blues ( John Mayall, Eric Clapton…). So I think our sound is a mix of it all.
How was the music scene in your local area when you started ?
We come from Duisburg an industrial town in the Ruhr area. There weren't many important bands at the time when Shaa Khan was founded (only 'Alma Ata' and 'Die Bröselmaschine'). And it was very difficult for a German band to make a record and find a record company to release it. We have to earn money to pay the recordings of our first long player 'The world will end on Friday'! We recorded the album at Dierks Studios near Cologne. At the same time the German Hard Rock band 'Scorpions' recorded there.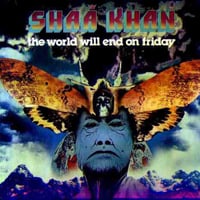 Over to your two albums. Your debut album was The World Will End On Friday from 1977. Please tell us more about this album.
We've got 3 CDs out at the moment. Beside the two rereleases of our 2 LPs from the seventies there is a Live-CD of our comeback concert in 2009. But back to our first album 'The world will end on Friday' from 1978: What can I tell you about it?
You can find many facts about the songs and the history in my liner notes in the booklet of the CD by Sireena Records. How I told you above, we had to earn the money to record this album and recording it took us three days in the summer of 1977.
The mixing took us another two days. The recording engineers changed several times. But we've played the songs many times live on stage and it was no problem for us having less time! Of course I can tell a lot about each song but that would take a long time and you can look at the liner notes. If you want to I can send these notes to you.
Several weeks after the recording of the album we've got a contract with Sky Records a small but famous label from Hamburg.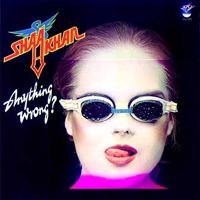 Your second and most recent album is 'Anything Wrong?' from 1979. Please tell us more about this album.
Let's come to our second long player! We've had enough material at that time for another album. So we recorded the second one in a small studio near Duisburg. We've got a little more time to do that. And this time Sky Records gave us the money to work in the studio. Although only a few months after the first recording our songs and sounds have changed. I think our music was brighter and lighter on 'Anything wrong?'! On 'World will end…' it was darker, more theatric. On both albums are some social and political statements but the lyrics on the second are little funnier I think.
What is the availability of your two first albums ? Where can they be purchased from ?
You can buy both records as remastered CDs (and the 'Live 2009! album) at Sireena Records Germany (www.sireena.de)! On some obscure internet sites you can order the old vinyl records, too.
How would you describe the music on these two albums and which bands would you use as a reference to those unknown with your music ?
As I told before the music is a little bit theatric with elements of Hard Rock. Most songs last about seven / eight minutes. You can compare it with the early YES or the early GENESIS. In former times some people compared us to the German band 'Grobschnitt' but I don't think that's right, I believe we've had our own style.
Then you disappeared from the face of the earth for almost three decades. Why did you split up and why did you reform again ?
In 1981 there was a kind of music revolution in Germany. They called it 'Neue Deutsche Welle' / NDW (New German Wave). That was a rather simple musical style and it makes the situation difficult for normal rock bands. We recorded 2 single records for the Bellaphone label in Frankfurt. The first one – 'Someone's Calling' was a little success in some areas of Germany but the second flopped. It was not NDW. About 1982 we didn't get many gigs so some members decided to quit the band (Horst and Klaus). We went on as Shaa Khan with a new keyboarder and only me as singer. The sound was harder now - no more Prog Rock. In 1993 we decided to split.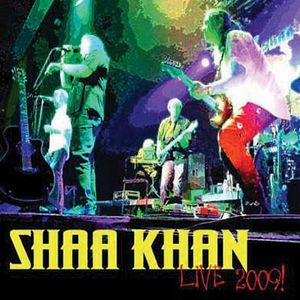 The first sign of life was the live album Live 2009! from 2009. Please tell us more about this/these concert(s) and this album.
Since 1993 many things have changed. Suddenly there was the internet. Many fans started to ask for Shaa Khan. They asked for CDs, lyrics and so on. Some wrote to me why there isn't a website. I answered on of them (his name was Rolf Flach) that we aren't able to make a good website and I asked him if we can do it. He answered: "Yes, please send me some material!" Well, I did. And he created that wonderful www.shaakhan.de site!
At the end of 2006 the members of the band met to talk and eat together. At the end of that evening we decided to try it again as Shaa Khan. Only Roland our former guitarist didn't want to play in a band again. We asked a guitarist Jochen, Walter and me have played with in a band called 'Kissing Shark'. He was excited and we started to rehearse our old songs. In April 2009 we had our comeback concert in Duisburg in front of 450 people! We recorded that and our label Sireena Records was so excited about the live session that they decideded to release it on a CD. So here we go again!
What is Shaa Khan's current status and plans for the future ?
As all the other people of course we're getting older (me, I'm 61!). Therefore we only play a few concerts in a year because everyone has got other jobs. Shaa Khan is a semiprofessional project you see. But there always are some highlights that make us go on. For example this year (October, the 14th) we play a concert together with Martin Turner's Wishbone Ash and Barclay James Harvest feat. Les Holroyd.
And maybe… there will be a studio album in the future – who knows!
Thank you to Heiner Waldman for this interview

Their PA profile is here and their homepage's here