Actualy, that was our debut album on RAIG Records but not our first release. Our first album 'Entering The Rainbow Light' was self released in 2007 and I think we only made 50 copies with hand cut sleeves.... very DIY.... When we were recording Space Man Bubblegum album for RAIG we were also simultaneously recording a soundtrack for a movie by Grant Wakefield and these tracks actually became the second Sendelica album entitled 'SleepWalker Fever' and was released on the Welsh label 'TidyLike Records'. It was released as a limited edition and came housed in a tin with lots of goodies inside........ hot on the heels of this release was Spaceman Bubblegum and other Weird Tales from the Mercury Mind' The Spaceman album was recorded in just one day in The Barn on a very cold west Wales February... recorded live and everything just fell into place... this was the first album we did with producer Colin Consterdine who is now an honourary member of our ensemble....
Well actualy again not strictly true!! After Spaceman Bubblegum things really took of for the band and we ended up in the USA not only doing a few gigs, including the legendary New York Knitting Factory, but also for a lot of recording including the sessions for the album that would become The Girl From the Future CD. But before this became our second album on RAIG we released two others.... first up was a live CD (ltd edt 75 copies) recorded at our New York gig and this was followed up by another Tidy Like CD entitled 'The Alternative Realities of the Re-Awakening Somnambulist' Again this was released in a tin full of goodies......
The basic tracks for 'The Girl From The Future album were entirely recorded at Providence Rhode Island and featured the four man line up of Pete Bingham, Glenda Pescado, Geoff Chase (drums) and Ed 'Vizzie' Guild (electronics). Guest musicians at the sessions included Brian Knorth on guitar and Bob Fish on percussion. The master tracks were then worked on in the UK with Nemesis contributing angelic voices, Roger Morgan (keyboards) and Lee Relfe making his debut with the band on saxophone. Their was also a limited edition version (100 copies) of The Girl From The Future CD that came with a DVD of the SleepWalker Fever movie........ still a couple of copies left in our mail order shop......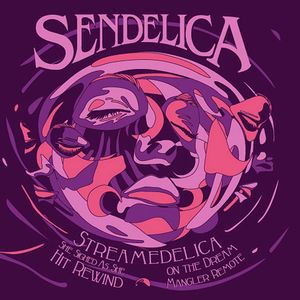 Your third album was Streamedelica, She Sighed As She Hit Rewind On The Dream Mangler Remote from 2010. Please tell us more about this album.
Again their was some other stuff that came out before this. We had done some recording with drummer Geoff Chase in his rehearsal/recording studio just outside Boston MA including this really long forty odd minute jam that was kind of cool.... we brought the tracks back to the UK where we had Nemesis & Lee add some bits and pieces to it and also had a guy called Craig High (ex-Psychos Mum) play clarinet on it....... This was released by Tidylike Records as another one of their tin encased releases.
The Streamedelica album was probably our most ambitous project up to that point and centred around the pivotal track 'Day Of The Locust'... an epic track. It also had a myriad of guests playing on the album including the amazingly talented Virginia Tate playing flute organ and guitar on two tracks, Nik Turner also playing flute, two drummers, Lee Relfe, Roger Morgan, Hannah Thiem and Nemesis to name but a few!! Parts of the album were also recorded outside in the Preselie mountains which definitely added a bit of magic to the proceedings. Again their was a limited edition (100 copies) of this album with a DVD of Sendelicas second movie 'Trillian Eight'.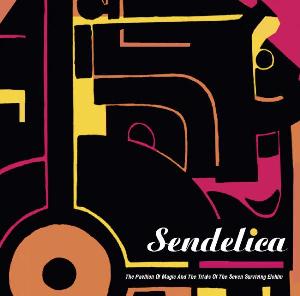 Your third album is the brand new (relative speaking...) The Pavilion of Magic and the Trials of the Seven Surviving Elohim. Please tell us more about this album.
I think I've lost track now of the number of albums we have released..lol.... Anyway before we get onto the new album we should also mention a couple of other recent releases....... 7" vinyl single on Fruits De Mer Records featuring covers of Velvets 'Venus In Furs' and Funkadelics 'Maggot Brain', we also appeared on the Fruits De mer compilation album Roqueting Through Space with our version of Hawkwinds 'Urban Guerilla' and we also appeared on the FDM promotional christmas CD 'A Phaze we've been through' with a version of Sabbaths 'Evil Woman' and Venus In Furs also appeared on the covermount CD of May 2011 issue of Classic Rock magazine.
Our latest album 'The Pavilion of Magic' was released on June 21st and again their is a limited edition (100 copies) with a DVD of Sendelicas third movie 'Ritual' This is the first album to feature Nik Danger on drums.....
Wales is known for the longest town name in the world (Llanfairpwllgwyngyllgogerychwyrndrobwllllantysiliogogogoch)
and it seems like you take a pride in some of the longest albums titles in the business too. Why these long album titles ?
LOL..... yes, our album titles seem to have become quite legendary..... well they just seem to fit the albums... these titles pop up in my head.... what more can I say.... obviously a weird head I have!!
You have also released three EPs. Please tell us more about these Eps.
First thing we ever released, way back in 2006, was an ep entitled 'THEOWLSHAVEEYES'. Long deleted but available as a down load on our sound awesome site. We also released a free 4 track download EP to promotoe our 'Streamedelica' CD entitled 'Screaming and Streaming into the Starlit Nite'. To promote our Russian Tour we also released a free download mini-album entitled 'Mellow Mushroom Cosmic Cow'. Both these downloads are still available at FMA
What is the availability of your releases ? Where can they be purchased from ?
Our three RAIG albums plus our new album 'The Pavilion of Magic' are all available as CD's at our Sound Awesome mail order shop.
All of the Tidylike albums, our first EP, our first album and Live at The Knitting Factory New York are all now available as downloads at this site too. Here is the link to Sendelica Heaven.......
http://sendelica.soundawesome.com/
For those of us unknown with your music; how would you describe you music and which bands would you compare yourself with ?
LOL... the sixty four million dollar question............... we sound like all the bands I have ever loved mixed together with a sprinkling of Sendelica magic.... love us or loathe us we are Sendelica....... the 21st Century version of the glorious 60's/70's/80's/90's/00's
What is your current status and plans for this year and beyond ?
Well we are very active at the moment with recording..... we have a track on the forthcoming Falling Down III CD compilation....... I believe also a track on a forthcoming Prog Sphere download album and hopefully a track on the next Fruits De Mer compilation....... some wild 60's cover version... :)
Also work has started on our next studio album and plans for an extended tour of Russia and the Baltic states is already afoot.... so busy times ahead.......
To wrap up this interview, is there anything you want to add to this interview ?
BUY OUR CD'S... COME TO OUR SHOWS.... AND ENJOY....... :)
Thank you to Pete for this interview