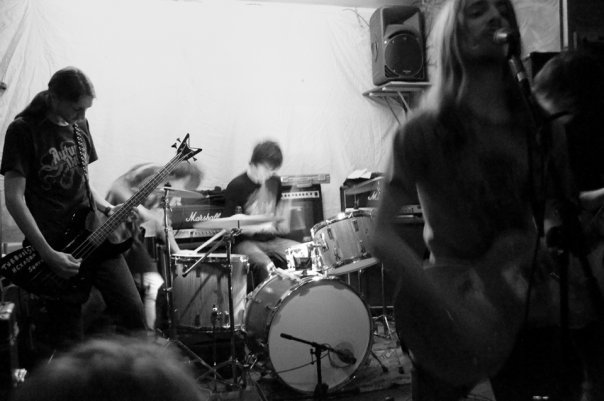 SENSUAL NOISE made its first steps during the summer of 2004. Four good friends started making music together and soon the first concerts followed. Their debut album was released last year and I got in touch with the band. Jarne answered my questions.
###########################################################################
When, where and by whom was your band born ? Did any of you, past and present members, play in any other bands before joining up in your band ? Why did you choose that name ?
The band started out somewhere in the summer of 2004, in the gardenhouse between Jarne, Yordi, Maarten and Ewoud as longtime friends. We just had our first contacts with harder music and the local scenes, and as 14/15 - year olds we decided to try out ourselves starting with poppunk covers. None of us played in other bands before
that. Maarten did sing in Look Forward To Failure ( rip ) for a while, and David before he joined us as a second bassplayer played in some nameless rock and blackmetal projects.
Sensual Noise was chosen as a bandname because in a scene filled with tough metalcore projects, it seemed fun to have a name that mocked that, that jumped out by not being tough. In that way it's more of an ironic "direction-pointer" to show we're not going to do the same as everyone else.

Which bands were you influenced by ?
The list of bands we were influenced by seems endless. We started out playing heavier and downtempo music thanks to our friends in .Maudlin. I think they are one of our biggest influences so far. Besides Maudlin you have the usual influences like Cult of luna, Isis, Neurosis, Overmars, Pelican and the last 2/3 years more stuff like Kylesa,
Grails, John Zorn ... We're also influenced by smaller Screamo and Hardcore bands but more for the approach to music than for the music itself. So we consider ourselves pretty syncretic, throwing everything together and trying to do our own thing with it, although I've got the feeling we're more and more creating our own atmosphere's.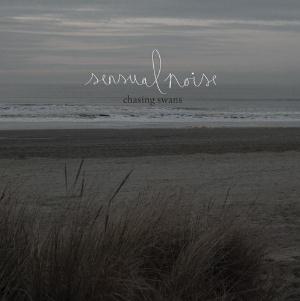 Your one and only album so far; Chasing The Swans was released last year. Please tell us more about this album.



Chasing Swans is the result of a selection of all our writing attempts since our demo "psychedelic bugtown". Lyricwise it is a poetical contemplation on the things that keep Ewoud busy. It has got some social criticism in it, but just some personal questions as well. It's about political activism and the liberating aspect of movement, So not
like how " I'm far away from home and I hate my life and miss my baby so". Haha not that kind of stuff.
The album itself is a puzzle and mix of styles and influences, going from hardcore riffs to long atmospheric pieces ,building up intensness breaking it down to start over again or to go to happy chanting or frantic shouts and percussion. The artwork is, just as the release itself, fully D.I.Y. The pictures you see are pictures from our hometown harbor and beach, connected with events where the lyrics where inspired on, we tried to make it
more or less match with the overall atmosphere of the album, if there is any.

What have you been up to since the release of that album ?

We're trying to appreciate and learn from the feedback we got, the more critical ones are really interesting overall and sometimes they do have good points. The positive ones are sometimes good analyzes, sometimes not. We've been busy with new songs but are in hibernation because of Jarne and Yordi doing an internship in a Polish company.
We've did a mini-tour with our friends from Sons of the Sand just before they left, and we've been trying to book a summertour in Germany and France for the end of july.

For those of us unknown with your music; how would you describe you music and which bands would you compare yourself with ?

Sensual Noise is an Experimental and Atmospheric Downtempo band from Belgium. We go for a creative approach to contemporary Atmoshperic music. Think in terms of layers and intensity, contemplation and outbursts of frantic enthausiasm, supported by 2 guitars and 2 bassplayers providing a spacious sound filled up with low-end
heaviness. As a band and lyric-wise, we stand for evolution and movement. We stand for a d.i.y approach and we reject the "cool" attitude that depends on the musical fashion of today. I wouldn't really compare us to bands. You will always hear some little influences but other than that we're really trying to do our own thing.

What is your plans for this year and beyond ?

Hopefully we'll do the summertour and write some more good songs :) Have a 'blast' on stage and meet some interesting people !
To wrap up this interview, is there anything you want to add to this interview ?

Well thank you for this interview, check out sensual noise for more info and eat your sprouts !

Thank you to Jarne for this interview