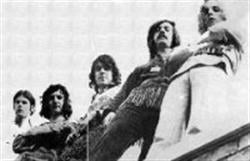 CRESSIDA were an excellent band of early British symphonic progressive scene. Their sound is mostly dominated by the most beautiful and symphonic Hammond organ (dirty, and mellow), piano, bass, guitar, and drums. The instrumental sections are equally good, and tend to be typical of early 70s English prog rock. Thanks to the captivating atmospheres and the technical ability of the musicians. Similar bands include FANTASY, BEGGARS' OPERA, CIRKUS, GRACIOUS, and SPRING.
Cressida broke up many, many fullmoons ago. I got in touch with Iain Clark for the Cressida story. This is a true prog archives interview for the benefit of our current and upcoming generations of Cressida fans.
#####################################################################################
When was Cressida born and how was the early days of the band ? How did you get a record deal with Vertigo ?
I suppose the origins of the band go back to 1968 when Angus Cullen and John Heyworth first met in a London band they were both in for a brief time. When that broke up they shared a flat and started writing songs together. They were keen to put a band together so put adverts in the national music press, and that's how Kevin McCarthy and myself came to link up with them. They had another keyboard player at the start but he left and through a mutual friend I got in touch with Peter Jennings who came for an audition. He fitted in immediately, so we offered him the job. Those early days were spent rehearsing and doing gigs around the London club circuit.
As for the record deal, Ossie Byrne who had been the original producer for the Bee Gees came to audition us. He must have liked what he saw and heard because he signed us up almost immediately. We then went into a small studio to make some demos. Initially there was a lot of talk about us signing for the Elektra which was a very cool label and we would have been the first UK band to sign with them. But in the end Philips, who had just set up Vertigo, offered us a deal which we accepted.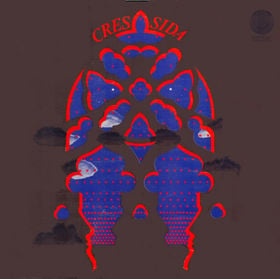 Your debut album was Cressida from 1970. Please tell us more about this album.
It was recorded at Wessex Studios in North London. The studios at that time were owned by George Martin. Over the years an amazing number of artists have recorded great albums in that studio; Queen, The Stones, King Crimson, Sex Pistols, Clash and Coldplay to name a few.
All the numbers on that first album were pretty well rehearsed as we had been performing them live on stage for quite a while. Nearly all the songs were written by Angus and John although we all contributed to the arrangements. Just before we went into the studio we were playing in Germany at the Star Club, Hamburg where we did a lot of those numbers so it didn't take long to lay the tracks down. They were mostly recorded live in the studio. There were some overdubs of course; harmonies etc. but it was pretty much live. Contrary to what has often been reported, the Mellotron never played a big part in our setup. There was one in the studio and I guess Peter had been playing around with it so we decided to use it, but it was only on part of one number as I recall.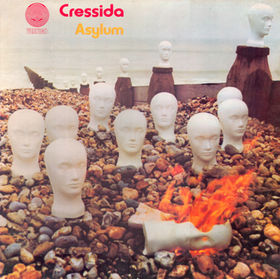 Your second album was Asylum from 1971. Please tell us more about this album.
We recorded 'Asylum' at IBC studios, again with Ossie Byrne producing, although by then we had become pretty experienced in the studio and were much more hands-on. John Heyworth had left the band in May '70, replaced by John Culley, and we started the second album in June '70. The writing duties had already begun to fall more on Angus and Peter, and with Peter's pieces such as 'Munich', the band were shifting towards more complex arrangements with different movements and time sequences.
The first album contained twelve numbers whilst the second had only eight, reflecting the increasing move towards longer more intricate numbers. The only number not written by Angus or Peter was the final track, 'Let Them Come When They Will' which had been written by John Heyworth. This had been a feature of our live stage show for a long time and we were keen to record it.
The other significant development with the second album was the use of a full orchestra on several of the tracks. Looking back now, whilst the orchestra undoubtedly added depth and texture to songs like Munich and Lisa, it was perhaps overused somewhat and in retrospect its inclusion on other numbers was less convincing. But I remember the thrill of being in the studio listening to this huge orchestra adding these arrangements to our songs. The other myth I want to dispel is that Paul Layton and Harold McNair were members of the band. Paul was a friend of ours and although he sang backing harmonies on one or two numbers, he was never in the band. Harold McNair was a renowned artist and session musician brought in to add flute to a couple of songs. He was an amazing flautist, one of the very best in the business, but he too was never in Cressida.
For those of us unknown with your music; how would you describe you music and which bands would you compare yourself with?
That's a really tough question. We knew at the time we were part of the 'progressive music' movement and we were happy to identify with that. Although the tracks on the first album were all quite short in length they were extremely varied in style and structure, ranging from quite heavy numbers to much lighter songs with a strong acoustic feel. We drew on all sorts of styles, rock, folk and jazz, but Cressida's music was principally based around melodic songs with strong instrumental sections and a sound heavily underpinned by the Hammond organ and piano. Peter's virtuoso Hammond work added a particular dimension to our sound, and Angus' voice was not your typical rasping rock voice; it was much more controlled and clean. Later we began to do longer numbers with extended instrumental passages. Some of these were very tightly arranged whilst others offered scope for pure improvisation.
Who did we compare ourselves with? I'm not sure whether we compared ourselves with anyone really. Our influences were wide ranging and we were listening to bands like Jefferson Airplane, the Doors, Quicksilver Messenger Service, Spirit, Chicago, Moby Grape, Steve Miller, Allman Brothers, Mothers of Invention etc. Of course, we had all been influenced by the Beatles and the Stones and were well aware what bands were happening in the UK, but it was mainly American groups we listened to at that time.
After September 1970, you moved to Uriah Heep, John Culley joined Black Widow and Cressida dissolved. What really happened and why did Cressida split up?
There's no doubt in my mind that Cressida broke up too early. The real problem was that we were not getting enough gigs to sustain the band's operation. It was one of the failings of the band's management that we were never taken on by one of the big booking agents. The gigs we did were good and the band's live shows were always well received but it was a struggle to maintain the momentum. I suppose we became a bit disillusioned and this led to tensions and the inevitable personality clashes. Peter in particular became very disenchanted with the music business and announced that he wanted to leave, so in the end the band broke up in October 1970. I don't recall there was any major falling out....... it was just a parting of the ways.
Looking back on it, it was crazy to break up before the second album was released. If we had kept the band together until 'Asylum' came out in February '71 things might have been different. The second album got very good reviews but it was already too late. We were gone.
Ironically, by the time 'Asylum' finally came out I was already in Uriah Heep, and Cressida's 'Asylum' and Heep's 'Salisbury' were released at the same time on the same label, Vertigo. That was a weird feeling.
What have the other Cressida band members been up to since 1970 and have you stayed in touch with the band members ?
Well as you know I joined Uriah Heep and was with them when things started to really take off in a big way. John Culley linked up with Black Widow and Kevin joined a band called Tranquility. Angus quit the business altogether whilst Peter took some time off before he started to play again. He linked up with various local London-based bands, did some interesting musical projects, but none of them came to anything. Kevin toured the States extensively with Tranquility in the early 70s before relocating there permanently and moving into writing and producing.
After several years of working with disadvantaged young people and setting up charitable organisations centred on music and the arts, I moved into information technology. I set up a company that pioneered the use of communications technologies to support rural communities across Europe before ending up as the CEO of a company that initiated early developments for the secure distribution of digital music. These were very early, pre-Napster day and I found myself back working in the music industry again. It was fascinating to renew acquaintances with industry execs who were just starting out on the ladder in my Cressida and Heep days but who had now risen to become the presidents and vice-presidents of Major record labels.
Angus and I have remained friends for over 40 years. A few years ago we got our hands on our back-dated royalties and set out to find the other guys in the band to give them their shares. Thanks to the web, we finally tracked them down. Kevin was living in California, John Heyworth in Oregon, Peter in London, Angus in France and I was living in Scotland. It was really good to be back in touch with each other again.
John Heyworth sadly passed away in January last year. What is your memories of him?
It was such a shock to hear of John's sudden death. I had been exchanging emails with him just a few days before he died. Ironically, one of the last things John did was to track down John Culley, his successor in the band, who we still hadn't yet located. John was always proud of his time in Cressida and he was a fine song writer. Some of the most memorable songs on the first album were his and he never forgot his days in Cressida. I've stayed in touch with his son who lives in L.A. He's a big fan of the band.
Is there any left-over Cressida material, including bootlegs, likely to be released under the Cressida name or is this it?
One of the consequences of us getting back in touch again is we have been digging out and exchanging old photos and memorabilia. We've also unearthed some tapes of demos we made back in '69 plus a few other things including a tape of a single we recorded that was never released and a copy of three tracks we played live on a BBC radio show. It was fascinating to hear them again after all these years. So yes, there is some left-over material but whether it will ever see the light of day is another matter. It's possible it may do. We'll have to wait and see.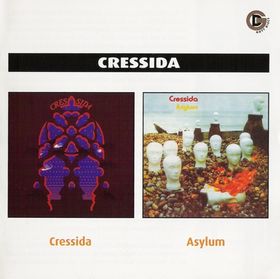 A couple of new generations has been born since 1970 and some of them has even discovered Cressida through your old albums and in particular the two-for-one CD with your two albums released in 2004. Do you have any contact with the new Cressida fans and what is your view on the resurgence of the progressive rock scene ?
It's very satisfying and extremely rewarding to see new generations of progressive music fans re-discovering Cressida's music. Over the last few years we have became more and more aware of this and the fact that Cressida was something of an enigma. A classic case of "whatever happened to....?
To meet this interest we recently put up an "Official" Facebook page for Cressida (
www.facebook.com/cressidagroup
). I was amazed at how fans from all over the world have hooked up with it; a few may have been around back in the late 60s, but the majority are from the new generations of progressive music fans. I've exchanged messages with several of them and they are obviously keen to find out a lot more about a band that, for them, has become something of a legend.
I think there's also going to be a Cressida web-site soon where we can put up new information and pictures of the band that have probably never been seen before. Who knows, we may even include a few audio clips of some of the old tapes we've unearthed. That might be interesting for people to hear..... purely from a historical perspective you understand!
I think the resurgence of interest in the progressive rock scene by young people is great. It all goes to show how cyclical musical tastes and interests are. From the mid to late 70s, progressive music became deeply unfashionable and it's fair to say that some of the music had become extremely self-indulgent and almost a parody of itself. But fundamentally progressive music has always been about pushing out the boundaries beyond the standard rock song format, drawing on diverse influences and exploring new compositional structures. That's been a challenge for each new generation of young rock musicians. It still applies today..... and long may it do so.
To wrap up this interview, is there anything you want to add to this interview ?
Only to say thank you for all the continued interest in Cressida, and for the opportunity to put the record straight about the band. Great web-site by the way!
Thank you to Iain Clark for this interview &
for the music Cressida gave us music lovers
The PA profile is here and their homepage is here