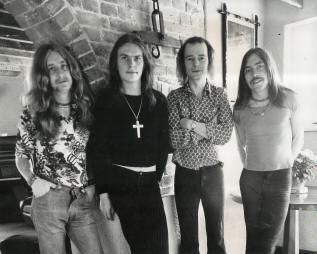 Irish guitarist, singer and writer Vince McCusker had spent some months in London to find musicians for his musical ideas. Disappointed he returned to Belfast and recruted musicians to play his material: Miles McKee (lead vocals), Stephen Houston (keyboards/oboe), Peter Farrelly (bass/vocals) and Martin Foye (drums).
This interview was done by Brian O'Neill, one of Martin Foye's friends who got in touch with throug a PM in ProgArchives. He interviewed Martin Foye and sent the handwritten interview in a mail to me. I have transcribed it to a file and added it in here.
I have been promised some breaking news about Fruupp in the coming weeks. I will bring them when I get them.
Here is the interview.
#################################################################################
Fruupp was set up in the middle of the civil war in Northern Ireland. How was the early days of the band and how did
The Troubles
affect your band ?
Fruupp was born in the small rural town of
Dungannon
, County Tyrone. Two brothers, Jim and Malaghy both played guitar and bass in a showband called "The Dynamic Sounds". They lived above the family greengrocers shop, which was always full of musical instruments + musicians. Pearse Kelly, who was still a school boy, was drummer in the band and later was to become the drummer with Thin Lizzy, Gary Moore Band etc. Idolised Pearse and used to practice on his drumkit. Played occasionally with "The Dynamic Sounds".
Fossets Sound came to town and needed a drummer, someone mentioned me so I played with them for a few days while they were in Dungannon. Then they offered me a permanent post and toured Ireland and England with them for a few months.
In 1969, the first civil rights march ever took place in Dungannon and that is really when The Troubles began. The "Summer Of Love" even affected those that were more interested in music and having fun than politics or religion. During those dark days very few of the big English bands visited Northern Ireland apart from the likes of John Mayall's Bluesband, Fleetwood Mac, Jethro Tull etc.
Belfast had become the place where we looked to for regular appearances of Van Morrison and Rory Gallagher who thought of it as his second hometown. Went to the Isle Of Wight festival in 1970 with Brian O'Neill and spent the best 5 days ever.
Then there was Fruupp. Successfully passed the audition along with Vince, Peter and Stephen. We were from diverse backgrounds, myself from a small rural town, Vince from the small rural town Maghera. Peter from republican west Belfast and Stephen the public schoolboy type and classic trained musician from the affluent leafy suburb of Belfast's Malone Road.
We were put together in a squat house in loyalist east Belfast at the height of The Troubles in order to rehearse before going on tour. We started off with a short tour of Ireland before heading to England.
Over to the Fruupp name. Why did you choose that name and who came up with it ?
The name Fruupp came from the name of the friendly female ghost who haunted the squat we lived in east Belfast.
How did you get your record deal ?
The record deal was left to Paul Charles, the manager, as was everything else apart from playing music. Dawn Records was the prog rock offshot of Pye Records. We were given a 4 albums deal.
Paul Charles was the machine and nothing would have happened without him.
For those of us unknown with your music; how would you describe you music ?
I would describe Fruupp's music as Irish classical rock or "Shamrock".
Let's move onto your four studio albums for the benefits of the current and upcoming generations of Fruupp fans.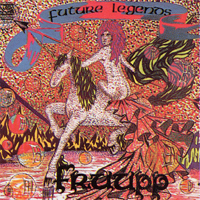 Your debut album was Future Legends from 1973. Please tell us more about this album.
Future Legends was definate the best as for sales and critics acclaim.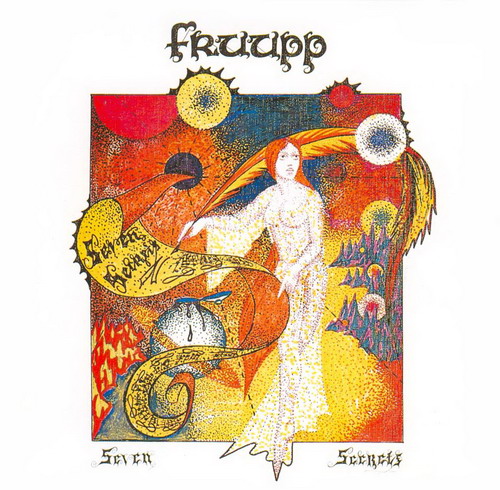 Your second album was Seven Secrets from 1974. Please tell us more about this album.
My personal best. After being kicked out of the band, I came back in and did my best ever.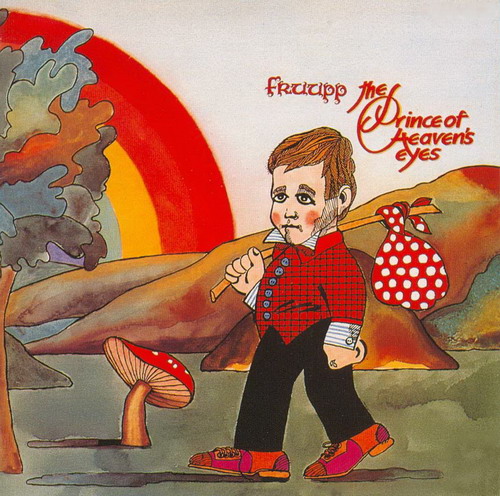 Your third album was The Prince of Heaven's Eyes from 1974. Please tell us more about this album.
Can't remember. Tried to play like Ringo, my idol.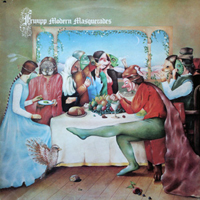 Your fourth and final studio album was Modern Masquerades from 1975. Please tell us more about this album.
Can't remember. Apart from John Mason and Ian McDonald.
There is also a couple of Fruupp compilation albums out and the four studio albums has been made into two x two-albums-for-one CDs.
Haven't seen or heard them (doesn't have internet)
I am also aware of a at least one Fruupp live bootleg in circulating. Is there any more other unreleased stuff in the vaults and is there any plans to release a Fruupp live album or even take a bootleg and officially release it ?
Possible bootleg recorded in Trinity College, Dublin (mine is from Liverpool, England -tf). No plans at the moment.
Fruupp split up after these four studio albums. What really happened and why did you split up ?
Paul Charles and Dawn Records lost interest after John Mason left. He was replaced by Robert Wilson (brother of John Wilson who played with Taste and Van Morrisson). Gus Devlin was my choice to replace John Mason. This was just prior to a six week tour of the USA. Robert only played two gigs.
What have you and the other band members been up to since the split up and have you stayed in touch with the band members ?
I have played with several small bands but haven't played for years. Haven't been in touch with any other members for years.
Vincent is working in a music shop, teaching & repairing guitars back home in Maghera. Stephen became a church minister in Dallas, Texas but is he meant to be back in London now ? Peter is back in west Belfast.
Have you ever entertained the thought of coming together again and play some gigs ?
Stephen seems to have shown interest.
A couple of new generations has been born since you split up and some of them have discovered Fruupp through your old albums and in particular the two-for-one CDs with your four studio albums. Do you have any contact with the new Fruupp fans and what is your view on the new interest in Fruupp ?
Don't use internet. But Brian and Gus Devlin keep me informed. Nice to know ! They are helping out on Facebook and Myspace etc
What is your best and worst memories from Fruupp ?
Best memories: Touring and on the road. Biggest touring band at the time (260 days in one year). Recording. Peter best friend. Travelling the world. Met Lemmy and became friends (Peter and I got him the job with Motorhead).
Worst memories: Locked up in jail in Limerick, now the drug capitol of Ireland. Sacked after "Future Legends" but taken back.
To wrap up this interview, is there anything you want to add to this interview ?
Would love to write a book but need help. Working on an album with one of my best friends, Gus Devlin. Need a record deal. Working on my other best friend Brian O'Neill trying to sell Fruup merchandise etc. I have never received royalities from the Fruupp albums.
Thank you to Martin Foye & Brian O'Neill for the interview

I got a lot of newspaper clippings along with the interview & I will publish them in a Fruupp gallery later this summer



Edited by toroddfuglesteg - July 03 2011 at 06:32