SITHONIA are another early Italian styled band with modern equipement who do a job better than usual. The roots of this music lay in the English progressive rock 1970/74 and in the Italian rock of the same years with elements of traditional music, Italian folk songs and jazz atmosphere. Their music is definitely influenced by the 70's GENESIS and probably some of their Italian predecessors like PFM. The result is a personal sound marked by simple touching melodies and swift changes heavy or symphonic. The musicanship is very good and full of the dynamics and surprises that characterizes Italian music.
I got in touch with Paolo for the story.
##################################################################################
When, where and by whom was your band born ? Did any of you, past and present members, play in any other bands before joining up in your band ? Why did you choose that name and which bands were you influenced by ?

Sithonia's current members, Paolo Nannetti (initially bassist and guitarist and then keyboardist), Orio Cenacchi (drums) and Oriano Dasasso (keyboards), played together in the 70s in a band called "Senso Unico Alternato" which also included Andrea Guglielmi on bass and Gabriele Inglese on flute (both played in "Lungo il sentiero di pietra"). The first experience on stage (very young boys. ..) was in July 1974 in Bologna, that's the place where we all are born and raised and where we live today. Many were the musical experiences of each of us, from Italian and French songwriting to the European folk, jazz, sometimes together and sometimes in other bands (Dieta Folgore, Molly Maguires, Mani Jazz Group, Piantamusica). In the mid-80s we met again, with other musicians, initially to try some Paolo's songs. In summer 1986 we spent a holiday in Sithonia peninsula of Halkidiki in Greece and from there was born the idea of the name of the new formation. In the meantime it was gradually recovering the sounds that were more beloved by the various components, the music of the previous decade, the time of their first meeting. It was at this point that also came in Sithonia a young guitarist, Roberto Magni (formerly with the "Sinai") and the singer Paolo Marcheselli (in the 60s with a historic beat band called "Le cinque lire") and so was born "Lungo il sentiero di pietra ", the first self-produced album. The musical influences came from the early English progressive 1970/1974 (Genesis, Gentle Giant, Van Der Graaf Generator, Yes) and Italian prog (especially Banco del Mutuo Soccorso), but also the Italian songwriters and the European folk (Breton and Irish above all).


This is an archive based interview also intended for the fans you get well after both you and I have passed away so let's go straight to your albums. Please give us your views/some words on your albums, starting with.......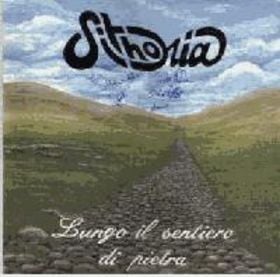 Lungo il sentiero di pietra from 1989


This LP had to go out with the Florentine label Contempo Records, then at the last minute we decided to a self production. It's the only of our works that has never been printed in CD format. We recorded it in an isolated house in the countryside near Bologna on a Fostex 16-tracks tape operated by David Brian Srb, a formidable musician and sound engineer from Nebraska who in those years lived in Bologna (it has long since he returned to the United States). In this disk we state all the features of our sound, from the traditional song form to the only instrumental parts.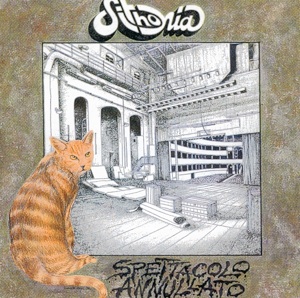 Spettacolo annullato from 1992


this record is probably the our best known and the first born from the collaboration with the Mellow Records by Mauro Moroni. Before the start of the recordings (which were always with David Srb) there was the entry of a new singer (Marco Giovannini, already with the "Fantastic Fly") and a new bass player (Valerio Roda already in the "Sinai" with Roberto Magni). We push ourselves more and more progressive territory with our first suite ("La recita del silenzio") and some songs more and more contaminated as "Il racconto di una sosta imprevista" The disk was closed in a long instrumental ("Danza del gatto sul tetto"). We believe that in this record we have developed some good ideas. Perhaps if we had made some years later, with more experience, would come even better, a true manifesto of our understanding of musical creation.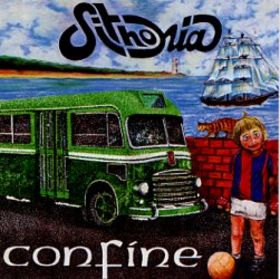 Confine from 1995

The good response of "Spettacolo annullato" led us to realize the new album in the professional studio of Gian Luca Gadda, in the center of Bologna, where we recorded for the first time without rushing. But it became very hard to match our real daily work (we're all absolute amateurs of music, never gained a penny for music...) with the long night recording sessions too. The end result was a hard-sounding and definitely more aggressive sound with manicured arrangements. We can define "Confine" our record of maturity. Unfortunately the result in terms of critics and sales were not up to our expectations and the accumulated tension caused some discomfort during the recording procedure. In the mid-90s the interest in the new course of Italian prog was already a bit 'weakening and we also suffered a decline of interest.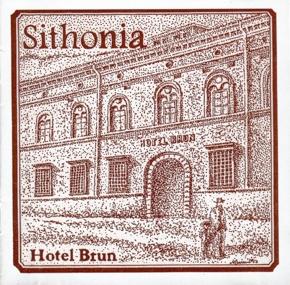 Hotel Brun from 1998

Although the opportunities to play live were becoming rarer we continued to compose and to arrange new songs, thinking about a new record, always with Mellow Records. Shortly before it was realized there was the abandonment (temporary) of the guitarist Roberto Magni, who had also contributed as a composer and arranger to the creation of the songs of the album. It was hastily replaced by Sauro Musi (before in other musical experiences with Valerio Roda) who recorded parts already set by Roberto. The disc was recorded with Luciano Stella in a studio near Modena. Much of the work is focused on our second suite "Hotel Brun" inspired by a luxury hotel which was located in the center of Bologna and was destroyed by aerial bombardment in 1943. Another part of the disc is dedicated to those we have called "Twilight Songs" where we find our inclination towards the song form contaminated in prog style.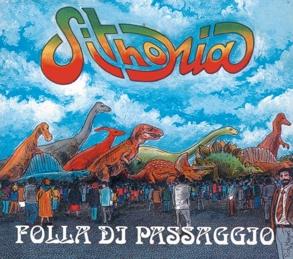 And the live album Folla di passaggio from 1994


Mauro Moroni, Mellow Records boss, organized an event in Genoa, with the participation of Caravan and some Mellow bands including Sithonia who were living their best time after the release of "Spettacolo annullato". We opened the evening in a hurry (going directly from the sound check at the concert without getting off the stage). The live was recorded and mixed later with Gian Luca Gadda in his studio. The CD "Folla di passaggio" (which was the title of a song including in our first album) came out with a beautiful digipack packaging

For those of us unknown with your music; how would you describe your music ?

From the beginning our idea was to build songs with melodies and lyrics in the foreground, but with an arrangement and instrumental parts close to the tradition of the early '70s.
We believe it is possible to combine content and usage of the language and the lirycs of the Italian melodic tradition, with the construction of a song that falls outside the usual scheme, both in the length of the track then in time of implementation. A free approach to build songs, but at the same time rigorous in the choice of the melody and lyrics.
Our problem has always been to be considered insufficiently "progressive" with respect to certain canons of the genre and at the same time too difficult and tricky for popular and commercial listeners.

You are in the process of releasing a new album after a very long album break. Why this long break and what can we expect from this new album ?


After the release of "Hotel Brun" we needed to mend the misunderstanding that preceded the recording of the disc and at the same time there were troubles of a personal nature that did not allow more to be all active in the band. And so began a long period (about 9 years..) in which we continued to visit and cooperate in some individual projects, not as Sithonia. In 2008 we decided (with Roberto Magni, again with us ) to retry the old songs and try to run them again in some live shows. So it was and we faced three concerts between 2008 and 2009. At the same time it was inevitable the return of making new songs together. So started a serious work of composition and arrangement and a long recording process, completely domestic, to give birth to "La soluzione semplice" (The simple solution ") which will be published shortly for the series " La locanda del vento " from Lizard Records of Loris Furlan.
We made this record because we felt having to communicate strong emotions, for no other reason than to try to convey those same feelings to the listeners who had already enjoyed our works and we hope also in new listeners! In this period when the crisis is at its peak in the music industry worldwide, our aim is simply to bring our music into several possible places.


How is the creative processes from coming up with an idea to it's being recorded ?

Our method has never changed through the years, now It has served only from the technological innovation, so what was done with a paper and a pen and analog instrumentation, today we do with the help of computers. Normally there's a song which comes from Paolo, or by Roberto or Valerio. These songs, which also includes the basic ideas of the various parties, be referred for examination and construction of the arrangement and this has been always the work of Roberto Magni which then gives us the final structure of the parts that will be studied and tested from all the other band members that will add other touches. When the song ends up being tried in the test room is ready for recording.

Besides of your new album, what is your plans for the future ?

We have no precise plans for the future. We're just looking forward to the new album comes out and our only desire would be to do some live shows because it is increasingly difficult to find places to play live and we really miss this experience. We may decide to continue to build new music or stop until we have something we feel and want to communicate. We have always been amateurs, craftsmen of music and I think that we will continue to be so in the future.

To wrap up this interview, is there anything you want to add to this interview ?

We wanted to embrace all those who have heard and enjoyed any of our records, and if we were able to bring some excitement to them, then we are the happiest men in the world! And do not forget to listen to "La soluzione semplice"! I think It will surprise you ...

Thank you to Paolo for this interview