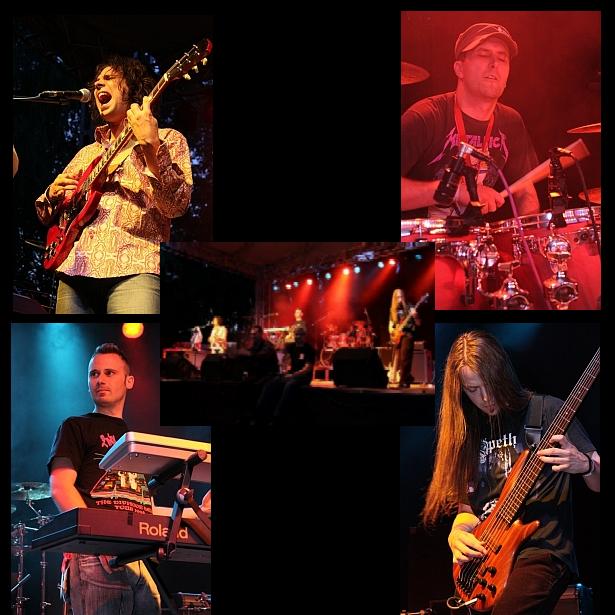 The story of TABULA SMARAGDINA goes back to 1998, when the Krivánsk Daniel (keyboards) and the guitar player Bogati-Bokor Akos met in the University campus, they soon became friends and started to share ideas about music, but it's not until 2002 when with the drummer Zsigo Lázlo and the bassist Turi Tamás they complete the rhythm section and the line-up of AMETHYST is completed.
I got in touch with the band and Daniel answered my questions.
########################################################################################
When, where and by whom was your band born ? Did any of you, past and present members, play in any other bands before joining up in your band ? Why did you choose that name and which bands were you influenced by ?
It all started 10 years ago, when we had some jam sessions, playin' our favourites... after a few sessions we realised that we have a serious chemistry working on, so the decision was more than simple: we have a working band. Each member had his own projects, tribute bands before Tabula Smaragdina. Ákos was working with a famous Hungarian progrock band the late You And I until its disbanding, and since that he is constantly working with Yesterdays; László plays drums with different bands and a Metallica Tribute band; Tibor plays bass with Neochrome and in some international black metal projects – but prog is what gets Tabula Smaragdina together. We have influences from different eras starting from early rock'n roll recordings, the Beatles, Pink Floyd, Rush, Metallica followed by lots of "unknown" bands as influences, we are listening to all kinds of interesting bands and musicians... as we are big big record collectors too :)
The band in the early years was called Amethyst, but after our first bass player (Tamás Turi) had to leave the band because of some health problems, and since we found out that Musea Records already has a French band called Amethyst, we decided to change the band's name to Tabula Smaragdina. Ákos' favorite Hungarian philosopher, Hamvas Béla's work inspired the name and of course the mystical backgrounds of the Emerald Tablet known by the alchemists.
How is it to run a band in Hungary these days ?
It's easy when you don't have time for it :). Tabula Smaragdina is working as a professional project. Since the band is divided to 2 countries (Ákos lives in Romania), we have only 3-6 rehearsals each year, but this seems to be enough to write 2 songs on each session in a weekend. So we are very pleased about this and our second album`s material keeps on growing :) The only bad thing is that a progrock band in Hungary cannot play enough gigs in these areas. And actually not only the prog bands are in a hard situation, but almost every band suffers from the same reasons. There aren't enough payed gigs on festivals or in clubs. There's a slight change of mentality, where live bands can't get the same attention by the public as some years ago. It's maybe that this "facebook nation" does not leave the room, it stays between 4 walls... So we try to concentrate on the writing.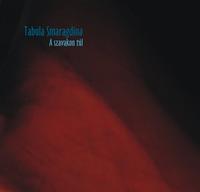 Over to your only album so far. Please tell us more about your A Szavakon Túl album from last year.
Our first album was written through the jamming years, we added some parts and some fresh lyrics (in Hungarian) and finished it in a year. Since Tamás had to leave the band while the CD was being recorded, Akos, our guitar player had to record all the bass parts too. Since he was working with Jonas Reingold (of the Flower Kings) on one Yesterdays track (Dante's Inferno), he had some ideas how to get an agressive yet mellow progrock bass guitar sound. We got the chance to use vintage synths and sound samples. So this album was a fine trip to progrock wonderland for us.
What have you been up to since the release of this album ?
We did some songs to some Musea compilations, like Purgatorio, Paradiso and the Flower Kings tribute CD box. We have new songs and new ideas, and near Tabula Smaragdina we are extra busy with our side projects. Tibor is recording the new Neochrome album, Akos just released the second Yesterdays album in January.
For those of us unknown with your music; how would you describe you music and which bands would you compare yourself with ?
It's symphonic prog, with fine drum grooves, taste of the sweet seventies, lots of mellotrons and moogs, hammonds and acoustic intruments, vintage guitar tones. It's like a journey through time. We pretty much like Platypus, Ty Tabor's works, Porcupine Tree and Genesis.
What is your plans for this year and beyond ?
The band is still active, we decided to work on our second album, we already have the half of it. In a year we hope that it will be ready!
Thank you to Daniel for this interview