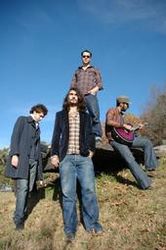 An all-instrumental quartet formed in early 2001, POSEIDOTICA is a conceptual heavy prog band from Buenos Aires, Argentina consisting of FREDERICO BRAMANTI (drums), SANTIAGO RUA (guitar and effects), MARTIN RODRIGUEZ (bass) and HEMAN MICELI (guitar/effects). As their bio states, "Starting with the goal of creating an environmental and heavy rock, each integral ingredient contributes its staff in order to achieve a range of climates and dark and dense atmospheres that allow a subtle mental journey, contrasting moments of total relaxation with excerpts of inevitable fury".
Seems good to me !!
I got in touch with the band and Martin answered my questions.
#####################################################################################
Your biography has been covered in your ProgArchives profile so let's bypass this and go straight to the albums.
Please give me your (long or brief) thoughts and lowdowns on.......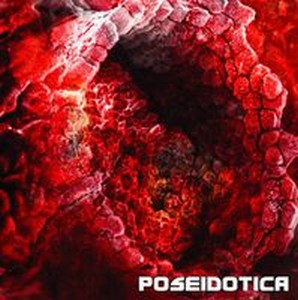 Intramundo from 2005
Intramundo was our first professional album, released in June 2005 by Aquatalan Records. We had made other low fi recordings like "Horizontalidad" and "Demo 2003". Intramundo contains the music of the band's first years, and it includes some classics like "Hidrofobia" and "Mantra", songs that always get to our set list.
Intramundo includes the participation of Walter Broide, drummer of Los Natas, who plays on all the tracks. The concept of the album is linked with water. The music is expansive and dark, moving from furious moments to slower and calmer passages.
It has songs like "Superastor", which includes some Tango vibes and a little tribute to Astor Piazzolla, and "Las 4 Estaciones", which begins with a Jazz-like mood and becomes one of the heaviest moments of the album. The release gave us a lot of satisfaction. We had played in different festivals, e.g. opening for Iggy and The Stooges, Megadeth and Marilyn Manson. Intramundo confirmed we were a promising new band on the scene and it opened many doors to us.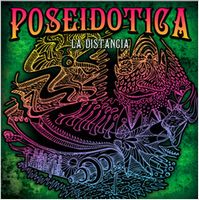 La Distancia from 2008

In April 2008 we released our second album La Distancia, through Aquatalan Records. It was recorded at the legendary Estudio del Cielito, mastered at Puro Mastering and artistically produced by Juan Stewart (a well known producer on the Argentinean independent scene).
With these eight songs, we developed another concept album, this time focusing on human relationships and life on Earth, aiming to link the meaning of La Distancia with different perspectives, ideas, landscapes and images.
Musically, I think the album shows the evolution of Poseidótica. It has the dynamic style that characterizes the band, combining mathematical and progressive music, intensity with quiet moments of great warmth. It includes tunes like "La Distancia", "Sueño Narcótico", "Campo Magnético" and "Las Magnitudes", which is the band's longest song, divided into two parts, which drive you to different emotional moments until the climax at the end. This album was recorded with Federico Bramanti, a young drummer who came from the jazz scene. He left the band a few months after the release of La Distancia.

How is the writing and the creative process in your band?
At the beginning, the music was created by leitmotivs that we took to rehearsals, and from there we worked together and expanded our ideas. For some time now, we've been started recording 'all the jams all the time'. This way we add material which we then select and structure making the song, leaving the best parts and including a lot of arrangements to it. The titles and the concept are very important during the creative process for each new album.

Just to give those of us who are unknown with your band a bit of a reference point or two: How would you describe your music and which bands would you compare your music with?
We play instrumental rock with influences of progressive rock, psychedelic music, heavy metal, stoner rock, but we also have jazz and tango in our DNA. I don´t know which bands we could compare our music with, but I can only tell you what bands I feel had an influence on us: Black Sabbath, Soft Machine, Pink Floyd, Hawkwind, The Stooges, Miles Davis, Can, Motörhead, among others. At the same time we love the underground local scene, so we are very familiar with what happens here around us.
I have been told your band is one of the most popular and active alternative/progressive rock bands in Argentina today. How is the situation for your band in Argentine and are you expanding your horizons to the rest of South America and the world, both promotion and gigs wise?
Here in Argentina we are trying to focus on our shows more than ever. It's got very difficult to play live because a lot of places were closed by the city government, but we are trying to generate new spaces to rock on. Day by day the band is growing and there are a lot of people that come to see Poseidótica now. We are expecting the release of our new album Crónicas del Futuro to expand the band's horizon. We are planning, first, to tour around our big country, and then play in Brazil, Chile and Uruguay. There's a possibility that we'll go on tour around Europe. We have some offers, so we want to book some gigs there for 2012. We are working on that.
How is the availability of your records and what is your experience with the music industry?
We move around like a true independent band, applying the DIY ideology. Aquatalan Records is our own record label, twice as much effort for us, but a great reward every day. In Argentina we have a small distribution that is growing, and we also sell a lot of CDs and merchandising at the gigs. In the rest of the world, we have distribution in USA by All That´s Heavy online store, and in Europe some other stores like Kozmik Artifactz and Viajero Inmóvil. The music industry as we know is about to disappear, so today sign with a major company is no guarantee. Our first album has sold out, and the second is about to sell out too; it took a long time, but it's definitely worth it. We love to stay independent, which is part of the plan.
What are your plans for the rest of this year and next year?
In July 2011, we are going to release our third album called Crónicas del Futuro. It was recorded and mixed by Patricio Claypole between May and September 2010 at Estudio El Attic, and mastered by Justin Weis at Trakworx Studio in San Francisco, USA. The drummer that recorded this album was Hernán "Nachi" Bertrand, who lives in Europe today. The album is short and direct; there are 9 songs which summarize the ten year band's career, and it's based on the retro futurism topic. The album will be out in a deluxe digipack edition, so we are very happy with the results. We are planning the presentation of the album at a great venue with a superb show, and then go out to play it with a mix of songs from previous albums. After this release, we are going to reissue the first album Intramundo, remastered and with a new art design. At the same time, today we are playing with Walter Broide again, maybe one of the best local drummers, so we are recording jams with him, and beginning to create and prepare a new album, which I suppose will be a beautiful experience. We are motivated and playing good stuff.
Anything you want to add to this interview?
You can visit our official page
http://www.poseidotica.com.ar
. There is updated information about the band and the links to all the social networks we are in. Thanks for everything and keep on rockin´!
Thank you to Martin for this interview