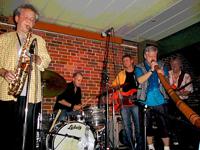 Burnin' Red Ivanhoe was formed back in 1967, and that makes them one of the first scandinavian prog bands. Their style was quite original from the start, blending jazz-rock with R&B, blues, psychedelia etc.. their debut from 1969 (double album) "M 144" sounds somewhat like THE WHO with jazz influences. Most of Burnin' Red Ivanhoe's albums have that certain scandinavian touch to it, similar to early 70's prog groups such as WIGWAM, CULPEPER'S ORCHARD and TASAVALLAN PRESIDENTTI. In 1971, the band released the album "WWW", which is probably a good place to start (for proggers), as it contains some of their most progressive and interesting work.
I got in touch with Karsten Vogel and this is their story.
#####################################################################################
When did you take up music and who were your musical inspirations? How was the music scene in your area when you started? When and how did you join Burnin Red Ivanhoe ?
After listening to names like Paul Desmond and especially Charlie Parker since I was 12 I bought my first Saxophone shortly after celebrating my 14. birthday. It was in a horrible condition so I had to have another one a few months later. When Eric Dolphy and John Coltrane arrived on the scene they too were main influences. And so was Albert Ayler a few years after that again. At the same time I began listening to rock groups such as The Who, The Rolling Stones and The Beatles. I had an idea of connecting my two main musical influences avant-garde jazz and progressive rock into one expression and with this purpose began writing songs together with poet Niels Erik Wille, with whom I had been doing some extreme shows at different places in Copenhagen.
Since I at that time knew only jazz musicians and had only been playing jazz at jazz clubs and underground art ventures, I had to start all over again with new musicians to let this musical dream come true. So I began getting a band together in 1966 called M/S Mitte - The Burning Red Ivanhoes, shortly after just Burnin Red Ivanhoe. So I created this band to realize my music and make it happen in realtime.
(As you can see, I'm the only original member of this group, since it was created by me .)
We had our first gig (as a quartet) in May 1967.
It was a very turbulent period of time, and for different reasons I had to change the line-up several times until at least in the springtime of 1970 we had the "classical" Burnin with Ole Fick, Kim Menzer, Jess Staehr, Bo Thrige Andersen and me.
Do you know the origins of and/or why the original band members chose Burnin Red Ivanhoe as their band name ?
When I was working together with Niels Erik Wille, the lyrics were in Danish language. No one had done progressive rock music with Danish lyrics before. As a result of weird thinking I gave all the Danish song English titles (no rational reason for that!) and one song I translated to "Burnin Red Ivanhoe". At the same time I had a very unusual band name.
This is an archive based interview also intended for the fans you get well after both you and I have passed away so let's go straight to your albums. Please give us your long or brief views on your albums, starting with.......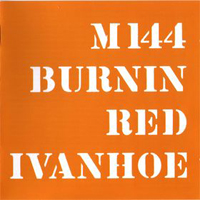 M144 from 1969
As said before I had written quite a lot of songs and instrumental pieces for BRI over the last four years. We had played perhaps a 100 gigs since the first one in 1967, but also there had been changes in personal on all instruments several times. When we began the recordings (in the day time in a cinema) in fact only the drummer Bo and I had been playing with the band for a longer time. So I had four bass players to work with me, two guitar players, three vocalists and some guest musicians such as John Tchicai and Hugh Steinmetz from my avant-garde period. It was absolutely turbulent and I had to have Franz Beckerlee (also at that time a avant-garde jazz man - later on famed Gasolin guitar player) to help me keeping up the good spirit.
The tape recorder was a home build 4-track machine, not going very precisely and not erasing well. In fact much of what we did in this studio was pioneer work according to Danish standard at the time.
Today this double album has a kind of legendary status in Danish rock history. I find it myself much innovating with some great moments but also with obvious weak parts, and I'm definitely not satisfied with my own playing on the Saxophone. I had nearly no time to rehearse at that time and my instrument was in a horrible condition too.
After all - well: I'm a little proud of having made this album.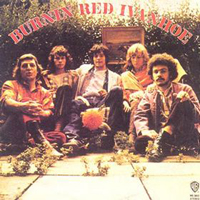 Burnin' Red Ivanhoe from 1970
In the springtime of 1970 we got the opportunity to come to UK and consequently had Ole Fick (he was been singing and playing on M144 as studio musician) as a lead singer. Richard Williams of Melody Maker and John Peel of BBC had done a lot for us over there. Also John Peel (under the name Eddie Lee Beppeaux) released the album and together with bass player Tony Reeves produced it.
This is classic Burnin, good vocals, wild Saxophones, some blues feeling and some musical writing that later that year had Frank Zappa to contact me for a friendly talk.
The music is unique and the album got us into the international progressive rock scene.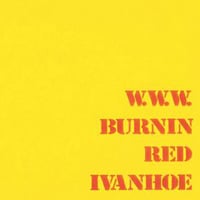 W.W.W. from 1971
In the years since the release of M144 Burnin had played an awful lot of jobs. I began to lean more against the instrumental side of the band's music, but the audience demanded the old hits. I wrote a kind of a suite in four pieces, only one with vocals. Heard today it might be a little too slow in progression but it sure has great moments. The song (a real song I will call it) "All about all" is among my favourite Burnin recordings.
The title "W.W.W." (we are writing 1971!) is puzzling. I gave it that title after the initial letters of the first names of sir Ivanhoe combined with the first name of the main character in a Norwegian book by writer Johan Borgen "Lillelord". They both were persons with personalities scattered minds (as I felt I had myself).
This album never was very popular in Denmark, but I think it gave us a good reputation in other countries.
Too I find the cover perhaps the best we ever did.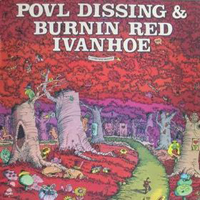 6 Elefantskovcikadeviser from 1971
After having played some concerts together with the perhaps most popular Danish folk singer ever we decided to do an album together. Though not the most Burnin-ish album it became one of the most popular, not least because of Povl Dissings strong vocals. The avant-garde side of the band is hardly heard, the tempo is in general slow compared to Burnin standard, but the overall atmosphere is fine.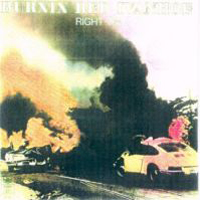 Right On from 1974
After splitting up in April 1972 due to a general feeling of being tired Burnin had some gigs less than a year after again. This happened alongside with my work with Secret Oyster. Kenneth Knudsen from that band joined Burnin as a keyboard player and Kim Menzer left. The music became more aggressive (which I liked) as heard on this album. "August Suicidal" I find is one of the top-5 Burnin recordings, written to our great drummer who had serious problems with his lifestyle.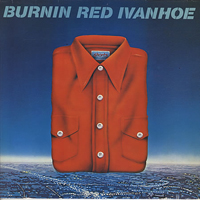 Shorts from 1980
This album is definitely not my favourite. I also had that feeling when recording. There never was a common feeling of going deeply into the music when we did it and the choice of producer was quite unhappy. Peter Thorup was great in many musical fields but not connected to the music that Burnin could produce when we were at our best.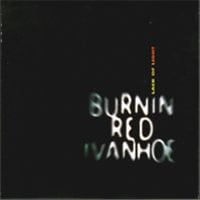 Lack Of Light from 1998
We had to produce this album ourselves also having the expenses by doing it.
There are some fine tracks here (Lack of Light, Strindbergs Car a.o.) but also the album suffers from being the expression from different minds. Since Ole Fick had trouble singing at that time we had female singer Janne Eilskov with the band both on gigs and in the studio. She is a strong lead, but had no understanding of how to relax.
After all we got our invested money back!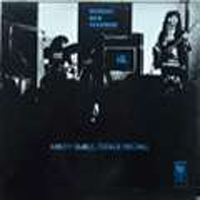 and the live album Miley Smile/Stage Recall from 1972
After splitting up we did a two weeks tour in Norway. It was a very happy tour, since we felt released after the decision of not going on with the band.
Just after the tour we went into the studio and in three hours played live songs that we were very familiar with at that point. What you hear is a very strong playing band. Lots of energy. And one of my best songs "I want the rest of my life surrounded with money" (- in fact the reason why I felt it important to do this session since it was unrecorded until then).
How was your creative processes from coming up with an idea to finally record it as a song or a piece of music?
There was different ways to come from idea to recorded or live played music. Often it was the character of the music that decided how things would happen.
In many cases I had a melody with changes, tempo and main expression as part of the composition. I then asked for lyrics, and sometimes also got some. With Niels Erik Wille I then began working with his words to make it fit to the song and to what the band would feel for. In some cases his words came before my music. But still we often made some changes before being satisfied. With other writers I seldom made changes. Mainly because I did not have a regular working situation with them. And also in many cases I never got the words that fitted to the song and consequently wrote some words myself. I never felt like a poet, but in a couple of cases they came out all right.
Well after that I played the song or the musical piece for the rest of the band, often giving a story, a description of a situation or a landscape or whatever to give an idea of what I had in mind. Also because the ability to read music was not what Burnin was known for. But every piece of music, that I have written, is written down in one way or another.
Many pieces I wrote with the particular musicians in the band in mind. Like: This piece will have to feature Kim's harmonica, that piece will highlight the drum and bass teamwork.
Sometimes - or in fact quite often - the music did not work, so any further work with it was cancelled. I should say that more than half of what I wrote for the band never ended up in the book.
The most important progression for the music was when it was played live on stage. Burnin was more a live than a studio band.
For those of us unknown with your music; how would you describe you music and which bands would you compare yourself with ?
My stylistic inspirations in the rock field were bands like The Free Spirits, The Who, Earth Opera, a little Frank Zappa, a little Terry Riley. But the combination of avant-garde jazz and progressive rock was unheard at the time. Burnin is more than most bands a fusion group, and that is part of the unique sound. You will find many styles represented: swing, avant-garde, pop, blues, contemporary European music, rock, folk. In most cases this mix worked ok and is defining the band as such. In the very creative period from mid 60th to mid 70th it was fine with the audience with this stylistic mix. In the years after that when the target group thinking began to take over the music business it wasn't that easy to work that way.
How was your sales figures and popularity in Denmark and did you venture out into the bigger markets like UK, USA and the European markets too in the 1970s?
According to Danish standard at that time we had great sales figures. In fact I don't know how many copies were sold, since we nearly never had any statement and consequently never got the money, we should have had. I will guess M144 including cd's have sales figures between 20.000 and 30.000. "6 elefantskovcikadeviser" could be the same. Too these albums are part of a bargain 10-album boxset with music from this period. I don't know the sales figures, but they are good (30.000?) and not included in what I suggest here.
"BRI" and "W.W.W." around 15.000 - 20.000 worlwide. The other albums have small figures.
We played four tours and some big gigs in UK, several concerts in Germany, one - two tours every year in Norway (in Bergen only The Beatles were bigger), and also played quite a lot in Sweden and Finland. In UK and Germany we were big names playing concerts with Uriah Heep, Black Sabbath, Incredible Stringband, Jimi Hendrix (well that was in Sweden), and was among famed BBC DJ John Peels favourite bands in the world. He produced us and released two of the albums on his own label.
Burnin Red Ivanhoe has split up. When and why did you split up ?
After five years of really hard work and still not much money we were tired. Also I wished to go more in the direction of instrumental, more jazz oriented music. The audience wanted the well known songs. So during a rehearsal I had to say stop, and that was it.
Then I founded Secret Oyster. I already had the idea to that band during the last months with Burnin Red Ivanhoe.
But in the next eight years Burnin in with different line-ups were on tour again.
After all that band is something special.
In the 80th there was no Burnin. But again in 1991 we got together again (new bass player, new drummer), and in fact we have been playing ever since. Some years not more than ten gigs. Others around 30.
Do you still have any contacts with the other Burnin Red Ivanhoe band members ?
So - yes, we are often together, this year will bring us on tour again and hopefully a new cd with all new songs will be released in September.
Finally, how is the availability of the Burnin Red Ivanhoe albums and is there any plans to do anything more under the Burnin Red Ivanhoe name ?
It is hard to get the vinyl albums, they are quite expensive when they are in a second hand store. Most of the cd's are sold out, but the 10-album boxset with music from the period including "m144" and "6 elefants…" is a big success and available.
To wrap up this interview, is there anything you want to add to this interview ?
I'm glad you asked me to answer these questions and feel honoured by your attention.
I love playing music and still my fingers are ok
Uncertainty lengthens the distance!
Thank you to Karsten Vogel for this interview