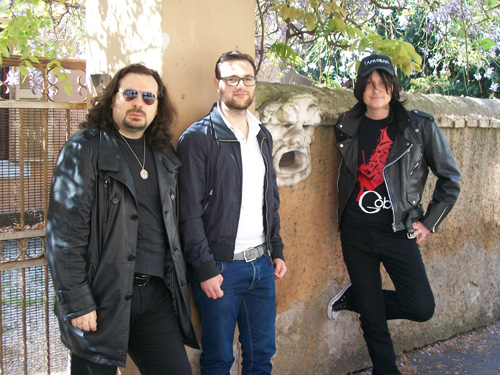 Formed in 1996 in Rome, Italy by drummer Fabio Mociatti, keyboardist Gianluca De Rossi, singer Paolo Cedrone and bassist Stefano Proietti. The group's name is taken from Taprobana, the ancient name for island in Indian Ocean, probably Ceylon(Sri-Lanka). Main influences were 70's British bands like Genesis, Gentle Giant and King Crimson. They recorded a two demos, meanwhile changing drummer position for Valter Strappolini and bassist-guitarist Roberto Pizzi. Their new sound however reminded this of a ELP with prominent keyboards.
Personally, I thought Taproban had split up and I sent them an email with no hope to get a reply. But Gianluca both answered my email and we did an interview. And in case you wonder; Taproban is back again and is working on a new album.
Here is what Gianluca had to say.
######################################################################################
Your biography has been covered in your ProgArchives profile so let's bypass the biography details. But which bands/artists were you influenced by when you started out ?
First of all by Emerson Lake & Palmer for the same triangular line-up (keyboards-bass-drums), but we are also more influenced by the music of Genesis and Yes. The rhythmic section, instead, had its inspiration from Rush, as you can listen.
For those of us unknown with your music; how would you describe your music ?
It's a classic keyboards oriented Rock Progressive Trio (ELP, UK, Refugee, Le Orme), mainly instrumental, prefering the vintage sounds (moog, mellotron, organ etc…) of the early seventies.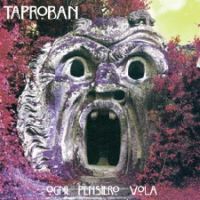 Let's move to your three albums. Your debut album was Ogni Pensiero Vola from 2002. Please tell us more about this album.
It's a concept album inspired by a monumental complex near Viterbo called "Parco dei Mostri di Bomarzo"; it is formed by several stone statues, reproduces horrific and grotesque figures, and it was realized in the manieristic period by Pierfrancesco "Vicino" Orsini. Each track of the album was inspired by a statue, trying to reproduce in music what the artist carved in the stone. It was a very interesting experiment, but in my opinion the music is not well supported by the booklet graphic as it was necessary.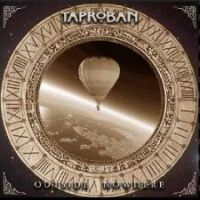 Your second album was Outside Nowhere from 2004. Please tell us more about this album.
This is absolutely my favourite one. It is inspired by Science Fiction films like "2001: A Space Odissey", "Star Trek" and "Blade Runner", that i love so much, and from the story of space explorations; in fact, it is dedicated to russian cosmonaut Vladimir Komarov (and not Sergej as is wrongly written on the booklet…); in 1967 he crushed to the ground with the Sojuz 1 after fifteen orbits around the Earth. The album also contains a lot of Moog synthesizer sounds and the special guest partecipation of Alessandro Papotto (Periferia del Mondo, Banco del Mutuo Soccorso) on soprano saxophone.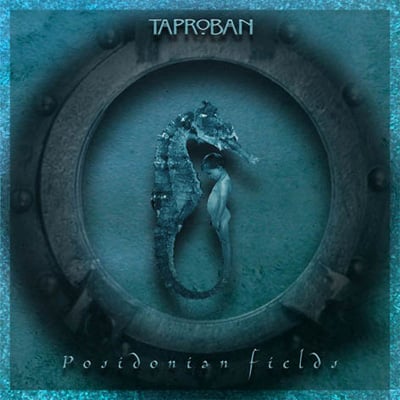 Your third and most recent album is Posidonian Fields from 2006. Please tell us more about this album.
It's another concept album, this time inspired by the submarine abyss such as a metaphor of a no returning journey into the human mind subconscious. There are more lyrical parts than ever, as well as the recordings production is more professional.
In addition to these albums, you have also been involved in a lot of other projects. Is there any plans to make a compilation of projects album ?
No, but i think it's a good idea! Only with the two suites "Morton", recorded for "The Spaghetti Epic" project, and "The Bandits", recorded for "7 Samurai", we could make a fourth Taproban album…
The Taproban members are involved in numerous other bands and projects at the moment. If I am not totally wrong, these includes Daal and Prowlers. Is there any plans to do anything more under the Taproban name or is Taproban now history ?
Ex-Taproban members, you want to say… We Taproban are now working to record our real fourth album, this time, after the Earth (Ogni Pensiero Vola), the Air (Outside Nowhere) and the Water (Posidonian Fields), inspired to the element of Fire… The Title? "STIGMA", that in latin means "brand", because some life experiences marked you more than the red-hot iron on the skin…
To wrap up this interview, is there anything you want to add to this interview ?
I only want to thank you so much for the oppurtunity to tell something about my group, expecially about the fact that the group is STILL ALIVE…
Thank you to Gianluca for the interview &
these wonderful news.
Taproban is back again !