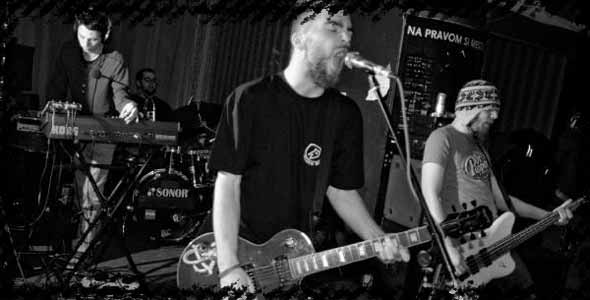 CONSECRATION are a progressive metal band formed in 2000 in Belgrade, Serbia. The band has gone through numerous lineup changes over the past decade before settling into their current 4-piece lineup.

After recording two brief demos in 2001 and 2004, the band worked on and off on their debut album aux for six years while trying unsuccessfully to find a record label. In 2008 the band decided to release aux and a live album for free on the internet, where both were very well received in the underground metal community. They have since been signed to Geenger records and released their sophomore album .avi in May of 2010.
I got in touch with them through ProgSpheres Promotion and Danilo answered my questions.
################################################################################
When, where and by whom was your band born ? Did any of you, past and present members, play in any other bands before joining up in your band ? Why did you choose that name and which bands were you influenced by ?

Consecration was born in Belgrade, Serbia in March 2000. The band was named The Lack Of Motivation at the time and the name was hitched from a Paradise Lost song lyric. I was not in the band at the beginning and the guys were looking for a singer, so I joined in December 2000. I think it was the first band for all the members except me – I was already playing in Amaranth together with Yeqy the drummer, he was playing in both bands. A year later, as the band was becoming kind of more serious, we decided to change the name to Consecration. Milan Šuput, the former bass player and I were huge fans of Saturnus and the term consecration was used in some of their songs. One of them was Inflame Thy Heart, which was one of our favorite tracks. We liked the name cause it had the needed depth of a doom band. Like a dedication with fuller meaning, dedication of all the being. We were influenced by Tiamat, Anathema, My Dying Bride, Saturnus. Miloš Savić, the former guitarist, liked Dream Theater a lot and both Milan and Miloš loved Paradise Lost. We all loved Death, especially Symbolic album. We even played a couple of Death songs at the time, Crystal Mountain, Sacred Serenity, The Philosopher and Zombie Ritual. We also liked Opeth and Katatonia, although they were pretty much new and still unknown at the time.

How was the music scene in your local area when you started ?

Alternative rock scene was pretty much strong – it even reached the point of mainstream at one point. The nineties were very tough for all the ex-Yugo countries, especially Serbia. Playing rock and metal during the late nineties was against the regime and it got lots of airplay from the independent radio stations. Those gigs were huge because there was no foreign bands coming to Serbia and people needed the energy of a live show because of this hard political situation going on. 2000 was the year of political change and the time when the new era of bands came. Metal scene just started to get stronger with younger bands. There were few bands playing death, doom and black metal and The Lack Of Motivation was one of them. Over the years the scene got stronger and more bands emerged.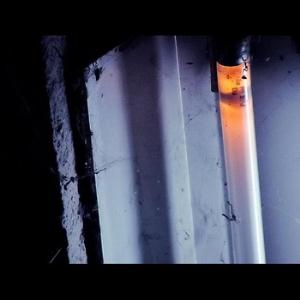 Over to your two albums. Your debut album was Aux from 2008. Please tell us more about this album.

Aux was a collection of songs we played since the band's beginnings. Absinthe and Passage (Aux) were the oldest tracks, made in 2002 and 2003 and the rest of them followed. I think the last songs made were Berček, Mercury Room, and Rinasek in 2004 and 2005. Aux was finished in 2006 but we didn't have luck finding any label willing to release it. So we spent two years trying to figure out what we should do with it. We knew we had good material in our hands but couldn't find the proper solution for a release. Finally, in 2008 we decided to embrace the free download option, influenced by Radiohead and Nine Inch Nails. Bands around the world were doing the same thing pretty much soon but Consecration were the first to do the free download thing in Serbia and the reception and the reactions were all very positive.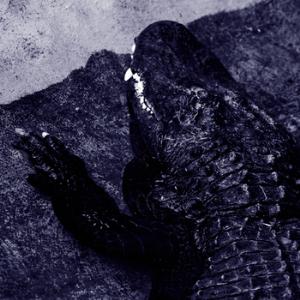 Your second and most recent album is .avi from last year. Please tell us more about this album.

Stuff off .avi was made in 2006 and 2007. We played live a lot at that time and the songs were shaping themselves on the gigs. We wanted that live vibe on record as well so we recorded it live, with drums, bass and guitars being recorded at the same time. I pretty much hate the clinical sound of lots of records that were made during the 2000's. I wanted the sound of a live band, to feel the breathing of a living organism – and you can't have that with the guys in the band recording their parts at their homes on laptops or something. I'm so happy that Foo Fighters'new album, Wasting Light was done in that same old way. Light is excellent record and Dave Grohl explained very well in the interviews the urgence for recording it that way. It can be heard in the songs too, the live energy and that instant something you get with people in the same room breathing the same air and playing, interacting with each other. We are fully satisfied how .avi turned out and the reception from both the audience and the critics was great too, even better than the last time. Popboks, the Serbian Pitchfork as some like to call it, proclaimed .avi as the domestic album of the year 2010.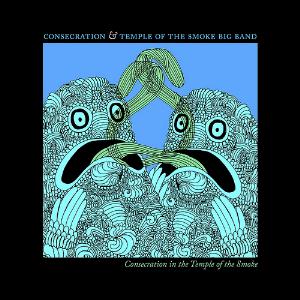 You also released a live album named Consecration in the Temple of the Smoke earlier this year. Please tell us more about this gig and the album.

It was in April 2008 and it was Temple Of The Smoke's first gig ever. We are very good friends with them and we decided not only to ask them to open the show for us, we wanted to do something rather unique – we improvised the set together. Inbetween the Temple's and Consecration's own sets the six of us gathered onstage and played a twenty minute long improv session. The Consecration's solo set from that evening was the one that was released as free download along with Aux. I also had the improv recording somewhere but forgot about it. Temple Of The Smoke weren't active for some time and it wasn't until 2010 and their revival and new lineup and album when I remembered those recordings still existed. Nikola suggested to release it through Prog Sphere and we both felt it was a superb idea.

For those of us unknown with your music; how would you describe you music and which bands would you compare yourself with ?

Honestly, I'm not sure. Is Consecration psychedelic bluesy ambient doom rock band? I think we have huge rock and metal legacy in our heads and hearts with strong atmospheric and ambient influences over it. I grew up listening to doom metal, so I guess there are some Anathema (both The Silent Enigma and Judgement eras) and some Tiamat influences of old still running through my veins… Yet from this perspective I prefer the progress Radiohead are making over the years, from Kid A to The King Of Limbs. Portishead is very important band for my generation. I saw them live last month and I think, the more time passes, it could be the most important gig I ever ever witnessed to. Matija and me love The Police very much, it's so fascinating what those three lunatics did, only three of them. Nirvana and Therapy? are also very important power trios. Therapy's Troublegum and Infernal Love are great albums. I wonder what kind of record would Kurt make after In Utero… There is also undeniable Pink Floyd influence in Consecration but I think it's more sunbconscious that conscious, since I listen to Portishead, Radiohead, Aphex Twin or Queens Of The Stone Age albums more than any Floyd these days. I'd say that everything we listen to influences us in some way. There's this new track of ours, Cimet, that has this The Cure vibe a bit. Some people mentioned Oceansize, The Mars Volta and Radiohead upon hearing Romantična Policija, another new song. During .avi sessions we listened to Isis and Neurosis a lot. Those two bands are very important for metal music, as they expanded the borders of metaldom in such a creative way… These days I'm trying too see the bigger picture you know, and try to capture the vibe of good music. Not metal in particular, or doom or whatever. Good music is good music whatever genre it is. I'm into ambient music a lot, cause it adds lots of colours and depth to the picture. Aphex Twin has done some fantastic work and the analog synth wizardry he captured on the Analord series… Genius. I was into horror movies a lot as a kid and the music and its atmosphere are one of the most important elements for the film. Adrian Utley mentioned John Carpenter as an influence when he was referring to the synth sound ending the Machine Gun and I remember I thought the same thing when I heard the track for the first time. It's so nice when you discover something mutual with other musicians that influence you. I like Zombi's new record a lot, Escape Velocity. They are just two guys influenced by John Carpenter and Dario Argento and play old analogue synths and they made this brilliant record full of dynamics. Prog music is also a strong element in Consecration, bot not a dominant one. You have good prog in The Police if you're listening to Stewart Copeland playing, but you also have it in Megadeth's Rust In Peace or Maiden's Seventh Son Of A Seventh Son. Matija loves Rush and Porcupine Tree and I'm more into Opeth than Porcupine Tree, yet they are swimming in similar waters these days. And of course there's King Crimson… Fripp is neverending inspiration. Ivan loves Alice In Chains and they were also so important. I'd love Consecration to be compared to the good bands, the untouchable bands you know. The genre is not important if the songs are good and have that special something none of other bands could capture or recapture - the uniqueness of their own.


I guess you are trying to get gigs and tours in Europe. How is it for you to get gigs and tours outside Serbia these days and how do you get an income from your music these days ?

It's tough because the gas is expensive and you'd need to travel a lot for a tour. The incomes depend on live gigs only and we invest those back in new recordings and equipment so we are forced to have some jobs. By having jobs it's tough to take a two-month break for a tour cause that way it's most likely you'd lose that job. So it's a lose-lose combination but we try to give our best to make new stuff whatsoever and play live whenever we can.

What is your current status and plans for this year and beyond ?

We are going to Underground next two months to record new stuff. We have lots of new songs so it might be two or three albums instead of one, who knows? Although we'd probably release them one by one, with a couple of months break between them. We'll see once we enter the studio how it is going, though I hope we'd finish at least one album till the end of the 2011.


To wrap up this interview, is there anything you want to add to this interview ?

I can't wait to enter the studio again cause .avi stuff seems pretty much old now from my own perspective. There's lots of good music in us and I can't wait to share it with the world. This time I think we'll experiment some more, as there are more songs than the last time and more studio time to try various other things, different guitars, different tunings (both B and E), different amps, synths, some unusual instruments even. Maybe some drum loops, who knows? We'll record the drums, bass and guitars simultaneously again to keep the spirit of a live performance and add some improv stuff as well, to keep the borders open – something interesting might show up.
Thank you to Danilo for this interview