Clive: I think 'She' has become much more than I expected. When I made the CD and DVD for Metal Mind, I was really expecting that to be the full story. Then, out of the blue came the opportunity to perform the show in a full theatrical version in Bolivia (of all places). This was an amazing and wonderful adventure, which gave the musical another lease of life. After that, I think I don't think I was ready to let the idea go… I started writing a new musical ('Alchemy') and have now formed a 'theatre company' to perform these shows in the uk. In truth, the journey is just beginning!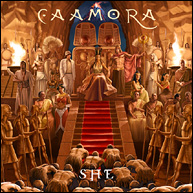 You are currently planning performances of the show in The Netherlands this September and the UK next year. Can you tell us more about these shows? How will these shows differ from that which appears on the DVD?
Clive: The show on September 3rd in Zoetermeer, Holland is a 'concert performance' of 'She'. I have reduced it to the basics, so there is a four-piece band, with the four lead singers. There will be video footage to help depict the changing scenes, and also we filmed the UK chorus, which will help to add some interaction to the performance.
The four shows in the UK (September 22-25 2012) are the full theatrical experience. All singing and dancing, with scenery, costumes and anything else we can think of!
Focusing on the shows in Cheltenham, what are the logistics of putting on such a major event? What aspects of the performances will be unique to Cheltenham?
Clive: Well, one of the biggest challenges is that there will be about 55 people involved in the show. That's a lot of people working for each of the four performances we are putting on: About 40 on stage and 15 crew.
There is scenery being built as well as costumes, which, I hope, will make the show a colourful and entertaining spectacle. I already know that people are traveling from many different countries to see this, so that in itself will make this a very special event!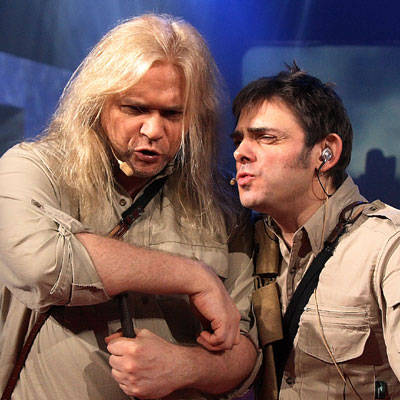 Do you plan to take the show to other parts of the UK or to other countries?
Clive: I would love to, but the enormous costs, may prevent me, unless we can lift 'She' to another level.
Do you have any future recording plans for Caamora? Have you found another story, which has inspired you in the way "She" did?
Clive: I am currently writing a new musical called 'Alchemy'. I wanted to do a second 'Victorian adventure', so I worked through many novels, only to discover that most had been set to music at some time or another. So, in the end, I wrote my own story… inspired by the scenes I wanted to see in such a show. I have written about an hour of music so far, so I guess I need about another year, so put it all together.
You effectively introduced Agnieszka to the music industry. Given her fine voice, does she have any musical ambitions of her own now?
Clive: Agnieszka is working on a solo album, which I think she aims to release maybe later next year.
Can we look next at your recently released solo album "Otra Vida". How did that album come about?
Clive: That emerged as a sort of 'returned favour' to Ricardo (The guy who enabled the Bolivia 'She' shows). This album has only actually been released in Uruguay at the moment, but I hope it will reach out further in the near future. Musically speaking it is rather different to what people might expect from me..;)
In terms of your diverse back catalogue, which of your bands or projects would you say this album is most like?
Clive: I'm not sure it really matches anything I've done before.
Other than the vocals of Uruguayan singer Noel Calcaterra, is it an entirely solo album?
Clive: There are performances from a couple of my partners in crime… Mark Westwood (guitar) and Scott Higham (drums)… apart from that its mostly me.
Moving on to Arena, you have a new album in the works "'The Seventh Degree of Separation', what can you tell us about that album?
Clive: Indeed we do. We are recording it as I speak. I think fans will find this album quite different in many ways, although that 'arena sound' will still be there, I guess. It's a pretty dark concept album, but there is a lot of impetus and power to the journey.
Which if any of the previous Arena albums would you liken the style of this album to?
Clive: Well, due to the concept nature of the album, I suppose there are some similarities to the Visitor and Contagion in terms of structure.
With the Arena band members being committed to other projects, how did the song writing and recording process work this time around?
Clive: This time it began with Mick pointer and myself. John Mitchell joined us during the process, and John Jowitt and Pal Manzi contributed material in the later stages.
There has already been speculation that the title relates in some way to Dream Theater's album "Six degrees of separation", does it? (silly question, but it would be good to quash such talk now!)
Clive: In no way does it relate to that album.
How has John Jowitt settled into the band?
Clive: That was easy… he's been here before! I think there was an inevitability that John would rejoin at some point. With him parting from IQ, it seemed to be the right time.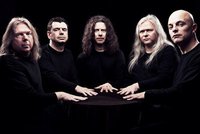 With a planned tour to coincide with the November release, you will be a busy man with the "She" shows only a couple of months later. Do you relish such pressure?
Clive: No! But I always have a lot to do, and that usually leads to such circumstances. I would love more time though!..;)
Moving on to Pendragon, on recent albums, Nick has shown a willingness to pull the band out of its "comfort zone". What are your thoughts on the way the band has developed, and in particular on the latest album "Passion"?
Clive: I love what Pendragon are doing. It's been great for the spirit of the band. We have more energy now that 20 years ago, and that is good news for the future.
We still await with eager anticipation the final part of the Strangers on a Train trilogy. Is this something you have plans for at present?
Clive: Ah yes.. the much discussed third part… ;) Well, it's been a question of budget for the last 15 years. There has been no real incentive to make this album. However, there are some talks of re-releasing the first two albums, with a possible option to record a 'finale' a bonus… so maybe it will still happen.
After a long gap, Shadowland got back together for a gig in Poland, superbly captured on the "Edge of night" DVD and CD. This was then followed by the excellent "Cautionary tales" box set. Was the box set a sort of elegy for the band, or can we expect further new material from Shadowland at some point in the future?
Clive: We all very much enjoyed the Shadowland re-emergence. There is a distinct lack of pressure on as, so that makes it a lot of fun. Yes, there will be more gigs, and I like to think we will have some new material at some stage. I doubt we will make a new album, but maybe there could be another DVD with new material on it.
If push comes to shove, which of your many projects or albums would you say you are proudest of, and which represents what Clive Nolan is all about?
Clive: 'She' and soon, 'Alchemy'. But don't get me wrong… I am proud of all that I have done, and the musicians I have worked with.
Do you have time to listen to the music of others? If so, who are you currently listening to?
Clive: I really enjoy the Trans Siberian Orchestra. Apart from that most of what I enjoy listening to is film music… Danny Elfman, Hans Zimmer etc.
Away from music, do you have time for hobbies or sports?
Clive: As I have said before, I have no life outside of music..;) And that works for me!
My sincere thanks to Clive for granting this interview to ProgAchives. More information about his many projects can be found at his website.