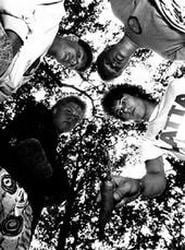 UNICORN was a neo-progressive rock band originating from Örebro, Sweden. UNICORN is one of the many projects fronted by influential Swedish musician Dan Swanö (Edge of Sanity, Nightingale, Bloodbath, Pan.Thy.Monium, Karaboudjan, etc). The band was formed in 1988 by Anders Mareby on guitars, Peter Edwinzon on Keyboards, and Dan Swanö on vocals and drums. UNICORN had multiple changes in bass players (Tom Nouga, Per Runesson, and even Peter Edwinzon and Dan Swanö).
Some demos and two albums followed. I got in touch with Dan Swanö for the Unicorn saga.
#######################################################################################
You were very much in the centre of the Swedish death metal scene with Edge Of Sanity and other bands at that time. Why did you start up a neo prog band like Unicorn and why neo-prog ?

Unicorn existed before my adventures in Death metal land.
By the time Icarus metamorphosed into Unicorn (The autumn of 1988) the heaviest stuff I listened to was "Helloween" and stuff like that.

There was never really a decision made to form a progressive rock band.
I guess it all started when I wrote a 10 min "epic metal" track for Icarus called "Invasion of the world", heavily inspired by "Queenryche Operation Mindcrime" and also the track "Halloween" from "Helloween".
Since that song only had like 4 minutes of vocals, and took a lot of rehearsals to get right musically, our singer Björn quit the band, because he could see in which way things were going. Then we went thru a short period of A.O.R. that never really went beyond songwriting, because our guitarist Anders Måreby didn't care much for bands like FM (UK) and Richard
Marx, that me and keyboarder Peter Edwinzon was heavily into at the time. Once of the tracks I wrote in this more "fluffy" style was "Times of Change" and I remember Anders hating all the other pop songs, but he told us that "This is the kind of music we should be playing" and "Times of Change" became the 1st Unicorn song. I quickly put together "Fly, Eagle Fly" in the same soft style..and after the first gig in December 1988 we decided to go 100% progressive rock an skip all the old Icarus material for good.

How did you recruit the members for Unicorn and what were their background ?

As you probably have understood by now, the members were never recruited. It was Icarus minus the singer…with a new name.

Me and Anders had played together as a duo since 1984 in the band Ghost. A few years later we were joined by bassist Per Runesson and after a performance in the "battle of the bands-style" competition "Rock SM" in 1988, we recruited Peter Edwinzon and Björn Eriksson from the dissolving local band Attention.
Then Ghost became Icarus. We did a handful of gigs, and musically we sounded a lot like Europe around their early albums. And then…Icarus became Unicorn.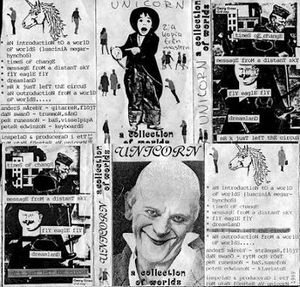 Unicorn's demos is as famous as it's albums. Let's move onto them. Please tell us more about your first demo A Collection of Worlds, Part I from 1988

We recorded it in our rehearsal room on 4 track Yamaha tape deck.
It's one of the most magical recordings I have ever done. I can even remember the
smell in the "studio" around that time :)

We recorded our existing catalog, + intro and outro. One of the songs, "Trick of the light" sounded a bit too much like the Icarus stuff, and was deleted from the demo.

After a few months, in the summer of 1989 we recorded our second demo "Tunes for the
stork" but the sound was really dry and it just didn't sound as epic as we wanted it, so the whole recording was deleted.

A few months after this backlash, we decided to re-record the best songs from the
1st and 2nd demo along with a bunch of our new, more complex songs, and pretty much record our first album, and release on cassette!

The playing time is certainly album length and the performances are incredible for a
band with an average age of 16.75 years old :)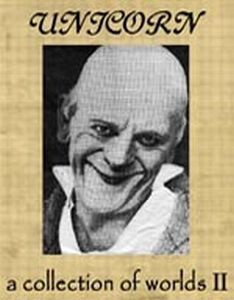 …..and the second demo A Collection of Worlds, Part I from 1988

….is the one!!

This is 100% Unicorn in all its glory. One of the most important recordings of my life.

This is the one were everything just clicked for us. I wish our albums could have sounded like a pro-version of this.

By the time of the release of this demo/album I had started Edge Of Sanity, and thru
the massive mailing we received, I spread a lot of Unicorn flyers.

It turned to be a lot of progressive rock fans among the death/thrash metal
underground fans! We sold a few hundred copies of the demo and became the "demo of the month" in the biggest Music-tech magazine in Sweden.

We also send the demo to some normal record companies, but nobody liked it..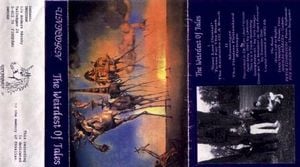 …...the The Weirdest of Tales demo from 1991

Is the final recording of the true Unicorn. I had been sucked into the whole Death
Metal scene and my priorities were a bit changed,
Some of the tracks on this demo was written with the same fire as the song on the
precious releases, songs like "Messenger", "Zoetrope" and "The Fibsters Fictionland" were top songs and we spent months perfecting every note.

After a while, I became more and more impatient with our work-speed, and the lyrics
suffered, and also the songs were a bit rushed to completion.

But we finished the demo, this time recorded using 2 Yamaha 4 track machines, giving
us a Stereo soundscape for the first time. We had also started to record the keyboards into an Atari computer, so we could edit any errors a bit easier.
The demo was release. Printed at a factory and had a full color cover.

Sold out pretty easily, and since Peter did his military service and Anders had moved to another city, Unicorn slowly died.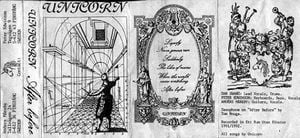 and finally; the After Before from 1992

After a few months of total inactivity, we got back together in our rehearsal room/studio (That slowly was becoming Unisound) but we didn't bother to get in touch with our bassist Per. He was more into sports than music, and since we decided to only be a recording project from now on, Peter would record the bass.

This demo have a few really good moments, most of the versions of the tracks are
better than the album versions.
But I could see the writing on the wall during this recording. it was sad, but Unicorn was pretty much over by the time the final note of After Before had echoed out.

This was back in those days when tape trading was popular and the only way to get your music across. I still have some old tapes (Carnage, Nihilst etc etc) from that time. What was your market at that time and how did you get in touch with Mellow Records for the two albums ?

I was becoming more and more obsessed with the whole Death Metal underground thing,
and send like 50 letters a week, and I still put Unicorn flyers in all of them. All of a sudden Anders got a letter from Mauro at Mellow Records, that wanted to release "The weirdest of tales" on CD.

It all came as a total surpass for us. we had pretty much buried Unicorn, and then came the record deal!! We asked Mellow if we could record a full length album instead, and it was OK with them as long as "Liquefy" and "Zoetrope" was included on the album...

Over to these two albums. Please tell us more about.....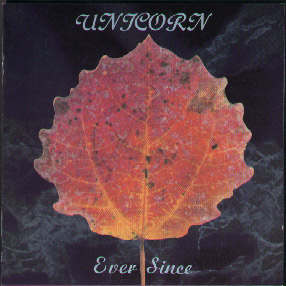 Ever Since from 1993

Me, Anders and Peter (With my brother Dag on bass, and God-forbid…Saxophone!!) got
together and we started work during the autumn of 1992, and we finished the final mixes a few days before Xmas.

The album sounds pretty strange, and the new arrangements haven't aged well, I am afraid.

The average playing is alright, the guitar playing is awesome, but we should never have triggered the drums like we did, and most of my vocal performances are downright horrible.

But the album did alright. Most review were cool.
But Mellow wasn't the biggest label in the world, and the distribution wasn't the best, so the album disappeared without a trace. But did good enough form us to do the follow up!!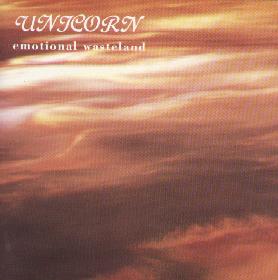 Emotional Wasteland from 1995

Muaro got back to us and wanted more!! We had pretty much abandoned Unicorn after
the 1st album, and did a few attempts to get together and write, but it was becoming clear that we were pretty much done with this project. But it didn't stop us from recording the 2nd album. There are some really awesome moments here.
Production f**k-ups aside, "Hiding Again", "At the end of the bridge", "After Before" and "Suddenly" are incredibly good stuff!
I also love Anders instrumental "The Spring". Peter's track "The Sorrow Song" is also cool.
Unfortunately the mix turned out kind of thin, and some of the tracks a bit too "college rock" flavored..
But I still like the album, and as a whole, its one of the better releases I'll ever be a part of.


I have described your music as neo-prog. But how do you want to describe Unicorn's music ?

We always called Unicorn "Symphonic rock". We had a few progressive moments with
Unicorn, but we had more in common with Asia than Genesis. We got compared to Marillion a bit…They were also in the prog-magazines without being too progressive.

Your albums is pretty hard to find now and so is the demos. Is there any plans to make these releases more widely available again ? Is there any plans to do anything more under the Unicorn name ?

Unicorn got back together to do "After Me" for the Marillion tribute from Mellow Records. It was great fun, since it was the 4 original members, but there are no plans to do anything together again. Me and Peter have Second Sky together, and it sounds just like Unicorn anyway.

It would be awesome to have the Unicorn released and re-released in some way. If there is a label out there…get in touch, and we'll see what can be done!!

To wrap up this interview, is there anything you want to add to this interview ?

Thanx a lot for your interest in Unicorn. It is still the most special musical thing that ever happened to me…
Thank you to Dan Swanö for this interview
Hopefully, someone will re-release the Unicorn albums again

The PA profile is here and Dan's homepage is here