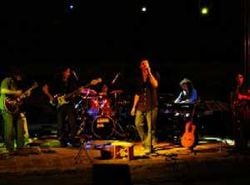 FLOATING STATE is the name of a new Progressive rock band from Italy. The sound reminds one of the best British prog of the Seventies: sudden changes, hard-rock and touching melodies (Michele Moschini can already be considered one of the best voices of the Italian progressive rock scene). Intense progressive romantic inspirations (often in suite form) of GENESIS meet the enchanting British folk-rock atmospheres of JETHRO TULL.

This debut album, "Thirteen Tolls At Noon" (2003), displays great magical Seventies sounds, enchanting folkish medieval atmospheres with piano, flute and saxophone included, reminding one of the best romantic tradition.
I got in touch with the band and the band c/o Mimmo Ferri kindly answered my questions.
#########################################################################################
Your biography has been covered in your ProgArchives profile so let's bypass the biography details. But which bands were you influenced by and why did you choose that name?
The name was chosen in 1995, when the band was formed in its first line-up. We were searching a musical identity and so we were "floating" between our various influences. Our first pieces were mostly influenced by psychedelic music, but also by seventies' hard rock and finally classical British progressive rock. So we found our mind in a "floating state", hence the name.
Our influences range from symphonic progressive to hard rock, from jazz to contemporary music, from classical to electronic music... we use to listen to everything is worth listening to!
Were you involved in any other bands before you started Floating State ?
Yes, all of us has been involved with other bands before and during the participation to Floating State. Just to name some of them:
Stone Flies - hard rock band (1990-1993) - Gigi Ferri, Mimmo Ferri and Fabrizio Binetti (the first drummer of F.S.)
Orchestra de la Suerte - author rock - (1998-2001) - Marco Esposito
Space Truckers - Deep Purple Tribute Band - (2004) - Mimmo Ferri and Francesco Antonino (the former bassist of F.S.)
N.O.T. - progressive rock band (2006-2009): Mimmo Ferri and Marco Esposito
One Way Ticket - pop rock band (2009-2010): Mimmo Ferri
Improbabilband - jazz orchestra (2008-2011): Simona Armenise and Grazia Stella
Terrae Medinae - folk group (2000-2002), Ten meters underground – jazz improvisation (2010-2011) : Simona Armenise
Venus Orchestra - chamber orchestra (2008-2010): Beatrice Birardi and Simona Armenise
Ruad – irish folk (2010-2011): Gigi Ferri
Since early 2009, all members of F.S. are involved in the project "Folletti di Vetro" as a tribute to the music of Fabrizio De André.
You have released some demo CDs called Early Performances, White Flower and a live album also called White Flower. Please tell us more about these releases.
Early Performances was recorded in 1996 by the first line-up of F.S. (only Mimmo and Gigi Ferri are also in the present line-up) and consisted of five psychedelic-rock pieces. They are rather different from our present style, so we don't use to play that pieces anymore. But it's our starting point!
White Flower (recorded in 2001 by the second line-up) contained the first version of "White Flower" suite that is also on our official release, and a re-recorded version of "Winds of Time" (formerly on Early Performances), while the live album (2002) contained live radio versions of "White Flower" and the first part of "Pilgrimage to Nowhere" (later on the official album), along with some live versions of pieces on Early Performances.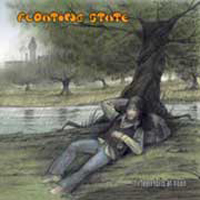 Let's go straight to the only official album to this date, the Thirteen Tolls At Noon from 2003. Please tell us more about this album.
The album was recorded in 2002 soon after we won a progressive contest named "Una suite per un anno" (A suite for a year). It was mainly based on the two suites "White Flower" and "Pilgrimage to Nowhere". The first was inspired by oriental philosophy and based on the concept of the lotus (the white flower that takes its birth in mud). It contains many folkish and jazzy themes, with some classical inserts. Pilgrimage was more "progressive", and was inspired by the novel "News from Nowhere" by William Morris, in which the character falls asleep and dreams a new world, in which peace and equality reign. "Waterclock" is a brief vibraphone introduction, while the closing piece is the shortest but the one with the longest title... "Something has changed in the happy land of Vondervotteimittis" was never played before the recording, and was composed right in the studio. It started as a joke, but finally it gave the title to the album (it was taken from one of the last verses) and summarized the whole sense of the album: "In the Tower of Vondervotteimittiss there's a strange man now. The big clocks starts tolling when he came…Thirteen tolls at noon…"Switch on your brain", the strange man then said, "Your life won't ever be the same, again…."
You have also been very active on other projects. Please also tell us more about these projects.
In 2004 and 2006 we took part to two tributes to King Crimson and Moody Blues, edited by Mellow records. After we were asked by Colossus Records to write a suite inspired by the book "Treasure Island" by Robert Louis Stevenson. It resulted in the a cd edited by Musea Records in which, along with Velvet Desperados from Finland and Nexus from Argentina, we narrated the story by Stevenson with three progressive suites.
In 2008 we took part to another Colossus project called "Giallo! One Suite for the Murderer". It was inspired by the movie "Profondo Rosso" (Deep Red) by Dario Argento, and was also a three-hand album (with the Italian bands Dark Session and Leviathan).
Our biography on your band also mention a projected 2008 album called "Giallo! One Suite for the Murderer". Please update us on this or any other recording you have planned.
We are now composing new material for the next album. We think that it will be recorded during next autumn.
Just to give those of us who are unknown with your music a bit of a reference point or two: How would you describe your music ?
"Turn off your mind, relax and float down stream." (J.L.)
How is your gigs situation ? Do you play many gigs ?
What is your latest update and the plans for the rest of this year and next year ?
Now we are working on the new material for the next album, so we are gigging quite little.
We are planning a tour in Italy soon after the release, we hope in the next spring.
What is your experience with the music industry and the new internet music scene ?
We are far from the music industry of the "majors"...
Our experience with the internet music scene has been primarily devoted to spreading our music and finding contacts for gigs or events. For the next album we will try also commercial possibilities connected with the internet (itunes or similar promoting channels).
To wrap up this interview, is there anything you want to add to this interview ?
Life is like a beanstalk, isn't it?
Many thanks to you and to ProgArchives.
Thanx to Mimmo for this interview