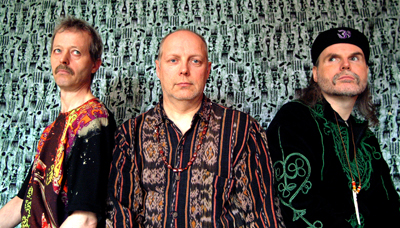 TANGLE EDGE is a norwegian music group that plays a kind of music that is purely instrumental and mixes improvisation with written parts. Stylistic they combine rock with elements of jazz, etnic and classical music. Though their style is very personal and unique blend, they have by their audience been categorized as differently as progressive rock, krautrock, free- jazz, space rock, canterbury rock, psychedelia, jazz- rock and experimental rock.
I got in touch with them and Hasse answered my questions.
########################################################################################
Your biography has been covered in your ProgArchives profile so let's bypass the biography details. But which bands were you influenced by and why did you choose that name ?
Well, this`ll be a long list and I would state that most bands were favored by all three of us when the eighties started– a few only by two – and with a few exceptions, the list would be the same for only Ronald and me before recruiting Tom in spring 1980. We listened to the rock music of the period 1965-1975; psychedelia, prog-rock, Canterbury-rock, blues, jazz, Indian music and the artists I will mention are only those who actually were thought of as significant to the music we would actually play. We wanted to make progressive music with strong elements of improvisation, and with no fears of going into experimental areas. I am here speaking of the line-up that did our first concerts and the sessions that first was used on a cassette release in 1983.
And here, in no particular order: Amon Duul II(the band that actually inspired Ronald and me to make our own music in 1978), Can, Popol Vuh, Tangerine Dream, Faust,Slapp Happy, Henry Cow, King Crimson, Gong, Colosseum, Kevin Ayers, Soft Machine, Matchining Mole, Eno, Phil Manzanera, Quiet Sun, 801, Grateful Dead, Jefferson Airplane, Santana, Tony Williams` Lifetime, Van Der Graaf Generator, Mike Oldfield, Back Door, Yusef Lateef, Robert Wyatt, Comus, Stomu Yamash`ta, Keith Tippett, Patto, Carla Bley, Charlie Haden, Miles Davis, Eberhard Weber, Cream, Jethro Tull, Traffic, Blind Faith, Ginger Baker`s Airforce, Man, Roy Harper, The Who, Canned Heat, Chicago, Blood,Sweat & Tears Pink Floyd, Tasavalan Presidentti, Wigwam, Electric Flag, Mike Bloomfield, Ten Years After, Jimi Hendrix, Grand Funk Railroad, Terje Rypdal .
The name "Tangle Edge", can be seen as one item or two different self-ironical, "kick-back" descriptions for our music – rooted in the contemporary criticism of us. "Tangle" refers to a difficult to identify chaos of notes and "Edge" on the edge of something – sanity, perhaps? Together it could mean "fringy", perhaps on a psychological or spiritual level. It was also chosen by the criteria that chances were slim for suddenly finding out that some other band somewhere would have the same name. Today, I see the name as the absolutely best possible description of the way we do and have been doing things.
I thought I had a pretty good overview of the Norwegian scene. But the name Tangle Edge has evaded me completely. Where is your main market ?
I don`t think we were much loved in Norway, except for in Bergen i the mid-90s. I know that we`ve really got cliques die-hard fans here, desc ribed by the press as "close to hero-worshippers", but not until the release of "Serpentary Quarters" in 2006, it does seem that we`ve started to sell a few more records here. With the release of "In Search Of A New Dawn" in 1989, we started to sell records in England, Germany, Italy, Greece and, USA. But I know we`ve been selling to Japan and South America as well. I think our albums spreads through prog-rock circles all over the world.
This is an archive based interview also intended for the fans you get well after both you and I have passed away so let's go straight to your albums. Please give us your views/some words on your albums, starting with.......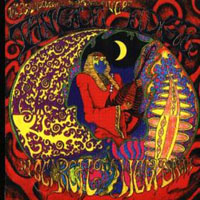 In Search Of A New Dawn from 1989
After it became evident during 1984 that Tom was not available to work with us as much as earlier, Ronald and I set out to record an album and release it ourselves – a plan we had had since `78, because it seemed like the only way for us to get somewhere doing this kind of music in a post 1975 world and from where we lived. We recruited Rune Forselv, who did not match Tom`s wide ranging spectre of rhythms, in the drum chair. But what he had the feeling, and what he did, worked perfectly. This was a chance to get to use some more concrete ideas that we had not been able to use in the free-flowing dynamic of the preceding times. Rune is only on half of the record. Some tracks are acoustic, some hardly without any percussion. It was at the time good to be able to control things and do a lot of overdubs. It became, to us, a bit more typically psychedelic in over-all style, but the way of composing and playing is all ours, progressive, jazzy and even one experimental piece. Richard Allen of Delerium Records, asked me at the time, if we were trying to attract Magma-type audiences. Also a few acoustic folksy tracks very used. The album has a influence range from Carla Bley through Faust, Amon Duul, Popol Vuh and to Family and Incredible String Band. It is our best selling record and it was a "hit" on the underground right away.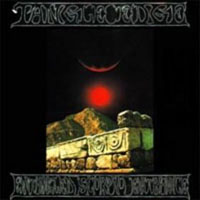 Entangled Scorpio Entrance from 1992
This is a transitional period live-album. It has the 1988-1990 quartet material re-arranged for trio and the first public versions of the material that defined the band`s music for the 90s. The new music was mostly inspired by Soft Machine, Magma, experimental jazz and early eighties Tangle Edge. When we were back to a three-piece, realities forced us to enter new areas, which is to say variations in the fundaments between pieces. The album came out due to an offer from Colours Records to release a triple-live album. It was our first digitally recorded live-concert, and sound was clear, but still unpolished and while we were still waiting for the release of Eulogy, we thought this release wouldn`t exactly hurt promotional issues. That fact really became evident when we saw the reviews. From all the great fuzz about "In Search…..", we were now described as "legendary" in the underground press.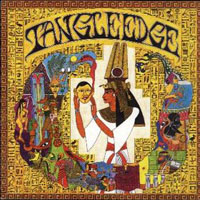 Eulogy from 1993
Our second album, recorded in 1990 at Foel Studios in Wales, that ended up with a very delayed release-date and then became our third. In 1988, we recruited a new drummer, Kjell Oluf Johansen and also woodwind player Svein Hugo Bergvik. A lot of new material came in to use. Despite the newcomers` claim to modern jazz-inspirations, this line-up, in some cases, maybe took more of an English prog-rock direction, maybe not just their fault, since I threw in most of the basic ideas. The period of compositions Eulogy represents, is one where we could use composed themes and the changes between each of them to a more frequent use than ever before or later in the band`s history. On side two, however, there is Kraut-Rock influences. It is arguably our "straightest" album to this day, and quite a few fans has this as their favorite.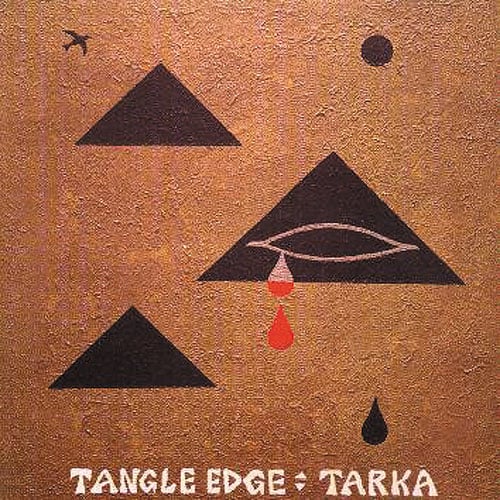 Tarka from 1997
Clearly the album that shows the range of our 90s movements. We had taken back our "jazzy" Canterbury influences and also added more ethnic stuff. Basically it contains types of ideas and moods related to all our history, but in the "new" context. All in all, it is an expanded and more developed studio-version of "Beyond The Hills Of Inhibition, which was premiered on the concert we recorded "Entangled Scopio Entrance" at. We had material for four albums when we recorded "Tarka", but ended up using this specific collection of music. It is basically recorded as we played it live, and then augmented by new overdubs, creating new layers of compositional elements. The shorter, experimental bridges between the main parts, came during the sessions, allowing us to use the studio-possibilities to enhance the totality of the piece. It took six months to get down the basic tracks, six more to do the overdubs and a final six to mix it. It is the "non-Tom Steinberg" album I prefer most listening to, for the reason that it is closer to the way today`s line-up do their thing and of course also closer to our early 80s stuff.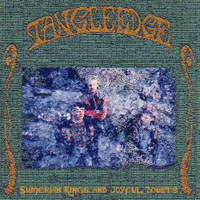 Sumerian Kings And Joyful Doubts from 2002
This was a CD-R manufactured album, intended only for sale through our web-site and thought of as a medium to gather our fans with. 2002 was a time when it became evident that Kjell Oluf was probably not getting back in the drum chair and the process of re-recruiting Tom Steinberg was set in action. We were fairly tired of record companies and did not want to see who would put up money for releasing it and then wait for their moves. We chose concert-material from 1993-94, and used two album-long pieces that both had been candidates for studios versions when doing Tarka; "The Glorious No Doubt Trilogy" which was played frequently from 1993 and "Sumerian King/Transcription From an Unknown Decade`s End", which had reached its final version of arrangements by `94, as the basis for the album. I think the latter is our very best effort ever, while the former it at least one of the best and is also interesting, being another major early 90s Tangle Edge composition`s first appearance on a release.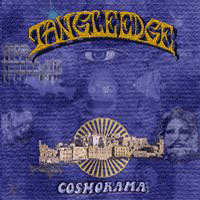 Cosmorama from 2005
The second web-site CD-R manufactured release. It is live from our short Italian-tour of September 1991 – our first gigs as a "new" trio. It contains material from "In Search…", "Eulogy" and "Entangled…", as it is the same line-up in the same period as Entangled…." was done. I think it rocks quite well. The version of "Sumerian…/Transcription.." is better than the one on "Entangled..", at least to my ears. There`s also a long version of "Solorgy" and one of "Caesar`s Integrated Flaw".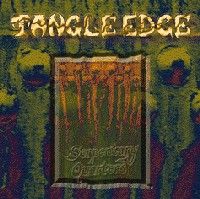 Serpentary Quarters from 2006
This one is a kind of a "come-back"-album, since we left the gig scene after Tarka, and the only new studio-material released since then was a 10-minute track on a sampler in 1999. We had recorded sessions with Tom since 2002, but was primarily devoting time to our off-shot blues-oriented group, so while finally realizing that the sessions from summer 2004 contained some "gold" or at least powerful stuff that could be viewed as "new" to us, the 33-minute long "Transcendental Virtue" was legitimating the basis for a new album. From the same sessions we culled "Daidalos` Hunt" after mixing several candidates. Still being in the process of discovering and accepting what or who we fundamentally where, we loved this material, but found it extreme in the way it was played and thought that this might be for our most devoted followers. It has a high-enegry feeling, probably produced from an a high level of risk-taking when playing it. All reviews in the underground press, however, were thumbs up. I remember Audion magazine in UK said we "were back with a vengeance". Further, "Emerald Mound" from a session 2005, rose up as a beautiful opener of the album and we were able to use a short piece of Ronald`s electronic guitar pieces.
Kathamkaram from 2008
Very much in the same spirit as its predecessor, it is more floating, moodier and with a smoother sound. The tracks were one again chosen on the basis of being "new" or "the next thing" for us. "Dance Of The Cantharides" was the obvious fundament for it. The tune has some echoes of a Spanish-modal jazz feel, that has been with us since around 1982. The bass-line came up during a sound-check at a recording session and was allowed to be slipped in when "the feeling was right". Our all-task-and-all-roles friend Jan Inge Sommerseth was the one to point out that the other two tracks was the new thing for us, compared to what I originally had in mind, and how right he was! "Glass Dryad"`s main bass-line came out of the recording "Deep-Swimming Hog" on "Improvised Drop Outs" in 1983, but went nowhere. I could never let it go, added a bridge and brought it back in 2007, just to see what we would do with it. Our very first and only effort is the take on this album! "Xerxes` Apposition" with its octave-feel intense bass-line, is perhaps lightly Magma-inspired, though Ronald`s guitar represents something not heard before on a Tangle Edge album. The tune just came out of nowhere. It ends up with a guitar-electronics and synth experimental conclusion, carefully conducted in the studio.
Dropouts from 2010
Our very first album finally released in its proper form. In 1983, the circumstances were difficult for this kind of music – especially a new one and one from above the Artic Circle. We had established and then intensified our improvised sessions and recorded all of it. The six-month period that ended in May 1983 had produced at lot of material and exposed us to a valid way of making music which brought us further on than the usual setting with Ronald and me throwing in pre-composed tunes with much room for improvisation. Which is to say that we did not know we were recording an album as the results finally took us by surprise when discovering a new way of playing, so we released 90 minutes of it on a self-produced cassette. It was re-released in UK in 1990, and there were plans for a triple LP in 1993 and double-CD version in 1999. Luckily none of them happened, because during the last half of the 2000s, we finally got our hand on technology to make the maximum of the sound quality of these recordings and also extended some tunes and added a few more. It showed us how the modes could be put in to effective use and also the unpredictable route could enhance the music, but mostly how the authoritative energy of playing can completely outdo any prepared composition. We`re still learning, because this is an uncanny and uncontrollable substance, and I do basically like to be in control. The "Dropouts"- album is a very important one for ourselves, we embrace every second of it, and it has important pieces like "Subjective Evaluation", "Banana Raincoat In The Chicken Garden", "No Doubt", "Resistance…Resonance" and "Broken Heroes Are Hard To Drown". All these tunes proved to us that our intuition was generally more adventurous and significant than our intellects, a fact that has both surprised and scared us!
For those of us unknown with your music; how would you describe you music and which bands would you compare yourself with?
The way we are doing things today, is a kind of jazzy improvisation, combined with avant-gardism – all in a context of a rock sound. This kind of approach is what I associate with so-called Canterbury Rock; mainly Soft Machine, Matching Mole, those groups that combined rock with jazz or free-jazz sensibilities and also had an opening for experimental or avant-garde elements. Since our current line-up is totally discarding composition, I feel that we are somewhere between Matching Mole and Keith Tippett Group and Centipede, even if our finished results often comes off as "tunes" to even the most aware listener. Basically, we do not have any prejudices from influences from anything or anywhere, as long as we`re pleased with the results, but we are who we are and with a certain kind of background. I do not think we are "psychedelic" or "prog rock" or "space rock", although we probably contain strong elements of those, but we accept that many reviewers and fans put us in those categories. Maybe we are psychedelic in the literal sense of the word, due to the effect our music has on some people.

How is the creative processes in your band from coming up with an idea to it's being recorded ?
With this line-up, we just press the play-button on the tape recorder, and go for the kill, mostly. This is because we believe that the relevant energy only can be achieved in an open situation. The pieces of the music that`s found adequate for using, will then be overdubbed, if necessary. This means that we have to abandon certain musical elements that we earlier could use, but to us it is the only way to make music that we never tire of ourselves - music that doesn`t stop to surprise us, even years after being made. These days, we are not very much for repeating ourselves. I tried to compose for the current line-up, but we were not satisfied enough, and I find that with the individual strong voices of this band, it is not in its place to get in the way of let them take the lead equally, so there we are…….. This is, of course, a very dangerous and daring way of working, and it is completely determined by that we really manage to produce relevant stuff without composing in advance. If we hadn`t, we`d be forced to do exactly that, like we did from 1985 to 2000, or just dissolve. In a concert situation, we would have to have at least 70% planned in to some extent. Some of it would be material from 1991-1995, and with Tom on drums, and that would be a setting similar to when Soft Machine did their Wyatt repertoire with Phil Howard on drums. The majority of the music, however, would be material exclusive to the current line-up. While working intensely in the studio for nearly a decade, concerts are on the table again.

Are any of you involved in any other bands/projects ? If yes, who are these ?
We have the Tangle Edge`s progressive blues off-shot called "Blue Lynx", which started in 1999. Heavily inspired by Canned Heat, Electric Flag and John Mayall, all of us three can get to show other sides of our musical passions here. Our singer, Steinar Johansen, passed away after a battle with cancer in 2006. Since then, I have tried to learn to sing properly and we have added a slide guitar player; Ørjan Pleym. We will start gigging in 2012. I do not know if there will be a change of name for the band before going on stage.
Tom plays in a cover-band or two in Tromsø, but has also been helping a friend, Arne Brendeland, in arranging and performing self-composed music. The bassist, Erling Bjørklund, is also doing avant-garde duo stuff in the studio, but no official releases have materialized so far.
I play DounDoum (triple bass drums) in a group called Limba in Narvik, who is playing and dancing traditional West-African dances and rhythms. We are three dancers and five drummers, amongst them former Tangle Edge drummer Kjell Oluf Johansen.
Dropouts was released last year. What have you been up to since the release of this album and what is your current status ? What is your future plans ?
Since "Dropouts" is an archival-release, it was done by Ronald and myself in-between sessions. The last two years has been an extremely fruitful period of recording for us. After Tom`s injured bass-drum foot was totally healed by September 2009, we have produced loads of material that will be used for future albums. It is so much, that we hardly know where to start. So there will be a schedule of releases coming up eventually. Some overdub sessions will be necessary before any finished products are ready for release. A bunch of releases that should keep the name going and the aforementioned return to the concert-scene would be our future plans. This line-up is and have always been the most difficult to predict, control and organize. One thing is quite certain, and that`s the fact that as long as we`re able to develop, we will continue. Which circumstances that would surround us, will always be a hard guess. Fifteen years ago, I would have suspected the well to finally run dry at some point – especially when looking at the history of progressive bands. If there`s no energy, there`s really no reason to go on. After teaming up with Tom again, we have discovered the opposite, a reality that we really are extremely thankful for.
Thank you to Hasse for this interview