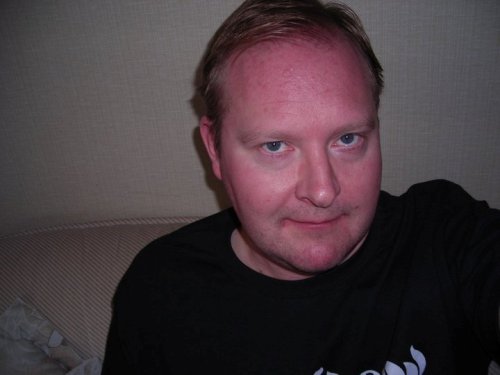 A Finnish versatile musician Pasi KOIVU, born in 1967 in Jyväskylä (Finland), began to play piano at the age of seven. Although he had studied classical piano under Mrs. Riitta Viitala until 16, he got so immersed in early Black Sabbath, Black Widow or Deep Purple that it was absolutely natural he'd shifted himself from classic to rock - he had fun playing with garage band and especially composing, much influenced by the Nice, Pink Floyd or King Crimson. Very easy to consider his psychedelic soundscape had seen the light in those days.
Pasi Koivu has so far released three self produced albums. Here is his story so far.
#####################################################################################
You are born, bred and still live in Finland. How was it to grow up in Finland ?

It was wonderful, to have a chance to born in Finland is like winning in a lottery. All the people have their ups and downs (including myself) but overall it was a wonderful time.

Your transformation from a modest nice classical music kid to a raging wild space rock madman has been described in your biography so let us bypass that. For those of us unknown with your music; how would you describe your music ? What is your musical ethics ?

Thank you, this wild space rock madman you mention is just an image I think. It started by an accident when I took a pic of my eye and then I started to have some effects on it with different backgrounds. The graphics and the image I have by now mean people think my music is automatically freaky psychedelic rock which is not the truth at all.
I have many songs which are very easy to listen to (I hope so!) and some music which is very ambitious and I go beyond my limits on few of those. When I'm recording I'm not the usual Pasi - then I'm close to that "madman" you mention.
It's hard to describe your own music. I haven't exactly left the classical music behind. When I first got into progressive rock of early 1970's I understood how many virtuosos there were as Hammond organists and Moog synthesizer players. Most of them had a classical background - some of them even wrote piano concertos!
I guess I'm thankful I had piano lessons for such a long time - it helps me now. It helps me to improvise solos (that's when I don't have a worked out solo), usually the first solos are the best ones.
Back to that question - I guess it's fair to say my music is Progressive Rock. My musical ethics are something like: each song on the CD should be different compared to another song. I mean I hope not to include a similar song twice on an album. If the album starts with a footstomping rocker it will be followed by a totally different song.

Which artists do you model yourself on and take inspirations from ?

There are lots of great artists I admire. You wouldn't believe but a keyboardist can be influenced by a guitar player also! Pete Townshend (The Who) has given me lots of influence when I hope to keep the rhythmic playing tight. I also admire certain bass players, sometimes I play the bass lines on my left hand and simultaneously I can do something else with my right hand. Then I hope those bass lines would be something like Chris Squire (Yes), John Entwistle (The Who), Geoff Griffith (Black Widow) or Geddy lee (Rush). I have good sax sounds on my keyboard so I sometimes try to imitate Clive Jones (Pesky Gee!/Black Widow/Agony Bag) with varied results but I don't have satisfactory flute sounds at the moment so maybe Clive will play something for me in future?
On some more ambitious things I like to add some percussion parts which sound like Carl Palmer (ELP, Asia) or Neil Peart (Rush).
Then there are keyboardists and I can't hide my Keith Emerson (ELP) and Jon Lord (Deep Purple) influences. Then there's Paolo Apollo Negri from Italy (Wicked Minds, Link Quartet, the new Black Widow album) and Alfio Costa (Tilion) also from Italy. Someone mentioned Vincent Crane (Atomic Rooster) when hearing my music so I'm sure I'm influenced by his darker stuff. Zoot Taylor (Pesky Gee!/Black Widow) has influenced me a lot, especially on songs like "Legend Of Creation".
We have a really great psych band based in my home town. They are called Permanent Clear Light and it includes the guitar talents of Markku Helin.
About up and coming progressive rock groups in Finland I can mention Moonwagon which did a fantastic debut album and near me there's a group called Progeland which have built up a loyal cult reputation around The World. The band is led by Petri Lemmy Lindström and their debut CD is out now - some great 1970's-influenced progressive hard rock.
We also have a great group called Hiidensointi (I guess many people have not heard of them) and I've been inspired by the Finnish psych group The Satellites Of Love, they write great songs!
Colin Tench (BunChakeze) plays some amazing guitar, his melodic solos are like mini-songs themselves! That's an ability I admire!
My friend Sami has done cult recordings under the name File Of Ghosts (it's possible he has changed the project name to Ofghosts by now?), it's more like Death Metal/Black Metal thing but there are some progressive bursts lurking all the time!
The other guys from my work have bands like Caskets Open and Forced Kill (when you are googleing those names you'll see those are respected groups as well).
You can't forget King Crimson when talking about influences!
Also I'd like to mention few other people and bands who have sent me their music: Francesco Lenzi, Iain (Schroedinger's Cat), Frank Fish, Anielka, Patrik Arvidsson (The Airwaves), Jorma Saarikangas, Alchem, Sophya Baccini, Lothar Bayer and Andy Lee (Dudes Of Neptune, The Failed). All are talented people with different music genres and recommended albums!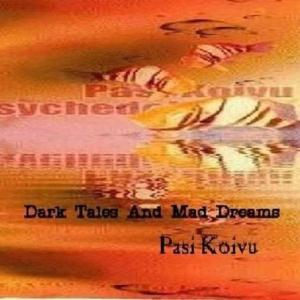 Let's move to your three albums. Your debut album was Dark Tales And Mad Dreams from last year. Please tell us more about this album.

"Dark Tales And Mad Dreams" was really putting together songs which I had recorded. That meant I left out album's worth of material carefully choosing which
song to include. Many people had told me to make a real physical CD thing so I gave up. "Madman's Dream" is my tribute to late 1960's groovy Hammond Organ music. "Ghost Forest" is a more ambitious one but recorded on one take (as I usually do) then I just added some solo parts to the recording. "Sombrero" is an acoustic thing with a simple melody - I want to make things people can hum. "Purple Sky saw The Widow Dressed In Black" was born under pressure and lots of stress. I put together 6-7 different ideas and especially Italian people got into the track, it's a kind of mini-opera and I'm happy I did it. "Biker Song" is a basic hard rock song to bring us back on Earth. "Space Party" has a techno beat combined with space rock sounds, it's something I haven't tried too often. "Powered By Zeus" is my tribute to the old group called Power Of Zeus. "Also Starring" is my try on Jazz Rock with eletric piano solos. "No More Face Boogie" is a bit of Krautrock type of thing, the theme lets me improvise a lot when soloing. "Jester Doll" is a peaceful song with some medieval influences. "King Scarecrow" is the Heavy Metal song on this album and it's got some melodic themes as well. It's a very fast track. "Crystal Ball" is my version of Stoner/Doom Metal. At the time I thought it to be good closing song on the CD and I still feel that way.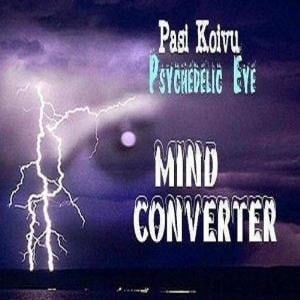 Your second album was Mind Converter from earlier this year. Please tell us more about this album.

Half of the "Mind Converter" had been recorded before "Dark Tales And Mad Dreams" came out. I decided to save 5 songs for the follow-up CD because I felt stylistically those songs would sound better on another album. Once again I had more songs than ended up on the album (I guess about an hour's worth of material). "The Lord Of Lards" has ambient/soundtrack sounds mixed with my version of Jon Lord type keyboards. "Wicked Sleeper" is an edit from a longer thing, people into Led Zeppelin's more acoustic mystical stuff might understand it. "Purple Pigs Might Fly" is another Hammond sound driven track which might satisfy the very early Deep Purple fans. It might also have something related to Vincent Crane. I'm not as good as my influences are (I'll never be) but it's important to mention those names as references. "Penguin's Walk" was Geoff Griffith's fave track so I had to include that one. It might have some Pink Floyd sounds on it? "Trippyland" is freaky psychedelia - one of the rare tracks I've done whioh follows that direction. "Frog King" - I think it might have something ELP did on their "Trilogy" album? "Kings Dragons And Queens" is another medieval-influenced track with a clear melody (no bum notes allowed!). "The Lamp Lies Down On Pathway" is the long track on this album. The basic idea just came to me one evening, I was inspired to play a bit like possessed and I did the most evil improvised rhythmic soloing I've propably ever recorded. Once again I think this is a perfect way to close the album.
There are a couple of more tracks - "Inquisition Room" has dark melodies combined with little heaviness and "Dentists In The Dark" should be fun, a really trippy one it is with its many unexpected movements during 5 minutes!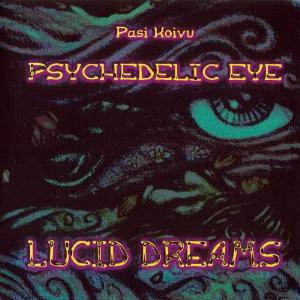 Your third and most recent album is Lucid Dreams from earlier this year too. Please tell us more about this album.

Somehow I felt I'd love to make the third album so this could be like an adventure - so it might be the final part of the trilogy? One of the songs I had was called "Lucid Dream". Then I came up with the idea calling the album "Lucid Dreams". This time I wanted to use a real artist making artwork for me. Thankfully you, Torodd, had told about my music project to Eetu Pellonpää so I had a contact to Eetu. Raffaella Berry also told me I should ask Eetu to make the artwork. So now I have a pleasure to have the fantastic artwork by
Eetu Pellonpää on my album "Lucid Dreams". We had to do some effects to arrange space for texts/information on the front cover but the inside cover includes the original artwork. Jari Niemelä from Jurvan Musiikkipaja was also a great help with things!
Of the songs "Infant Galaxy" was composed at the very last moment. It just came to me as an improvised theme and I started to solo on it and I felt this might sound great as an opener track. It's a rock song but with keyboard solos added we might have something like Jazz Fusion on it. The follow-up "Flight Of The Magpie" continues with Prog feel, people into Pekka Pohjola might have something from this song. "Confession" was the most popular song I ever had last winter when it was premiered on Reverbnation. Of course some people can't get into it. A great friend and a brilliant musician Frank Fish told I now have a spirit of John Lennon and a bit of Van der Graaf Generator mixed on it which was nicely said! "Moonmadness" is my version of psychedelic space rock, with the reputation I have by now I must have at least one that kind of song on the album. "The World Is So Cold" has a simple, kind melody with some effects added and the mood is very dreamy.
"(We Are) Drops In The Ocean" is a special song for me. I was talking (via Skype) with Geoff Griffith who's a bass player with Black Widow (he also had a great album with the band called Moving Fingers in 1986). We were having such a great time on Skype and immediately after that I felt an inspiration coming and started to work on a song that might sound a bit like it was composed by Geoff! Thankfully Geoff told he loves this new song! It's a more modern sounding ambient thing. I recorded it very quickly after getting the idea. It took about 30 minutes to complete!
"Mushroom Dance" is a result of two or three brainstorms! It's hard to explain how the song came together but I was amazed to hear the version of the song on Brian Dade's radio show (the show featured also bands like Opeth). I'm happy how the song ends, it's a mysterious song with at least three moods put together.
"Lucid Dream" is the acoustic, peaceful track and I'm very happy I came up with this clear melody - I guess this might be one of the more Finnish-sounding tracks I have! "Dog Days" is something that happened quickly as well. I really thought I need some simplistic short tracks, suddenly I found myself playing a simplistic theme with a piano. When it was recorded I just improvised a synthesizer solo on it and that was it! It's a nice light-hearted song bringing balance to the album (but that's my opinion only, of course).
Then there's "Heavy Butterflies". Each artist related to a thing called Prog wants to record at least one long epic and take risks. Propably this is the last one I'll make that long (one song lasting for nearly 20 minutes!). I had recorded a version over a year ago
(very quickly I must add). I thought this is the track I want to be a closing track on the CD. Then I did few test listenings and I thought the song is missing something so I took the old recording which had been in a can for a year and started to add new bits here and there. A couple of new solos were added to complete the track, some percussions were added on the very last minute of the song. Finally I had the track as I wanted it to be. It's not an easy song for the listener but it isn't that weird either when you get used to it. It's the closest I've ever been to symphonic Prog - there are some evil movements and lots of beauty also. But yes, it's a complex thing but as I mentioned I had to have one that kind of song!

How do you record your albums ? Home studio or a hired studio ?

- It all happens at home. I never know when I have time to make music so when I've got time and the inspiration takes over it's nice to know you have your home studio available.



Do you have any plans to take this music onto the road and/or get together with a band to develop your music into a more band setting ?

- That would be wonderful but I must be very realistic right now. My daily life is not giving me too much luxuries at the moment to find time to plan things to go that far. Anyway, I try to arrange the songs to sound like band versions but I wonder if I've had any success with that?
Anyone can make versions of my songs, I'm not too mad if people change arrangements a bit.

You are also known as a very good promoter of other bands. Most notably Black Widow where you did a brilliant job in helping us with the excellent Black Widow interview. Please tell us more about your work for other bands. Any plans to set up a promotion company and make your work more formal ?

- Few years back I just contacted Clive and the thing grew all the time. Soon I was having these MySpace sites and I was promoting very hard the DVD "Demons Of The Night Gather To See Black Widow Live". That's one of my proudest moments, we found this fantastic archive live performance from 1970! Something amazing can happen via internet, the long lost John Culley (Geno Washington, Cressida, Black Widow, Odin of London) was found and our friend Sylvie M.Durette has written lyrics for the new Black Widow song.
I've also had a pleasure to be occasionally in touch with Tony Martin (ex-Black Sabbath) who is a guest artist on that forthcoming Black Widow album!
I don't really have a chance to help other groups that much but I'm trying to do that occasionally also. Other people have helped me a lot, I should mention Colin Tench (BunChakeze) who has introduced my music to some radio DJ's! I have wonderful supporters and I propably forget to mention many names here.


You have chosen to stay independent and I guess you have your views on the music industry. What is your view on this rapidly changing scene and where do you see it in 5 years time ?

- It seems to be on a terrible state. Many good artists remain unsigned and the old labels resurrect their old catalogue. But I'm happy the vinyl is back and the CD packages look better than ever so it's not just streaming mp3's via websites.
So the physical releases will continue.

Back to yourself: What are your plans as an artist for this year and next year ?

I'm giving myself some extra time - I really worked hard with all those three CD's. But I've started a project with a fine young bass player called BLAKE DELLINGER. At least we are experimenting with things right now and it would be nice to have a new musical challenge. So I really hope myself and Blake can surprise you with some new music in near future. Blake is from US and I live in Finland so this project happens via internet.
Blake is already a veteran bass player and is included at least on four different bands at the moment!
There has been some thought about featuring my music on films but it's too early to mention more things about that.


To wrap up this interview, is there anything you want to add to this interview ?

- Yes there is! As we have talked about my music project I just want to mention about the project which is very close to me. 17th October 2011 will see the release of the long-awaited BLACK WIDOW album "Sleeping With Demons". Now there's a site dedicated to new Black Widow and we'd like people to SIGN UP there. At the moment (it's 11th September 2011 right now) there's a free download of the title track and there's a new promotional video directed by KENNY LYKINS ! By signing up you'll get the latest news. The site is not run by myself but I'm backing things doing it my own way.
Thank you very much for these questions!
Thank you to Pasi Koivu for this interview
His PA profile is here and his homepage's here