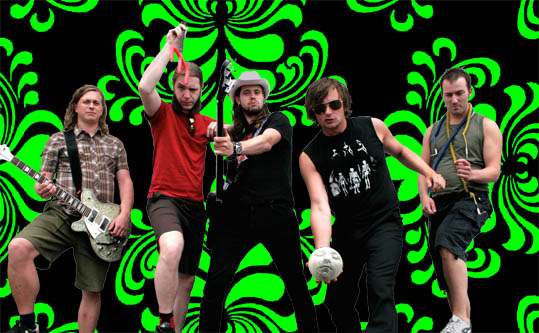 Founded in the 90s Seid play heavy psych rock referring to the old 60s and 70s with vintage keyboards and transitions to classic prog and alternative. The band released two albums and three singles so far.

The founding members first of all remained at their hometown Arendal for several years to play music with influences of psychedelia, folk, space rock and seventies prog. Later located in Trondheim SEID produced the first album 'Among The Monster Flowers Again', which brought up good reviews. Two singles were also released in 2002 with the line-up Burt Rocket (keyboards, guitar), Jørgen Kosmos (guitars, bass), Jan Space (drums, mellotron), Janis (guitars, drums) and Organ Morgan (keyboards) supported by some additional musicians.
I got in touch with them for their story.
###################################################################################
Your biography has been covered in your ProgArchives profile so let's bypass the biography details. But why did you choose that name and which bands were you influenced by ?
Jürgen Kosmos: A father of a friend of ours back in the days in Arendal, was dating this strange, very spiritual woman. She used to show up at our rehearsals dressed in this black witch-like costume and dance to one specific song that she apparently enjoyed enormously. Then she would talk endlessly about the powers of the "seidmenn" and the "volver", which would translate to something like wizards of the viking age. All mumbo jumbo, of course, and we found it rather odd, but kinda cool at the same time, so we decided our band should be called "Seid".
Jürgen Kosmos & Burt Rocket: Like all sane youth we would sleep late, bury our heads deep in the sand and head on out to the western starland, while listening to all sorts of music. There'd be some contemporary stuff, like Sonic Youth, Motorpsycho, Ride, Tool, Primus, Tangle Edge, Helmet, the Smell of Incense, Front 242, Seigmen, The Cure, Red Hot Chili Peppers, Porcupine Tree, Alice In Chains, Smashing Pumpkins and of course the mighty local heroes of Dustsucker, Jughead/Delusion and Samuel. There was also the more classical stuff like Zeppelin, Hendrix, Sabbath, Alice Cooper, The Doors and other 60´s/70´s stuff. It's not that easy to say what inspired us in writing music.
How was the music scene in your local area (Arendal) when you started ?
Jürgen Kosmos: It was kinda great. We found some spiritual guidance in a loosely organized crew in and surrounding the band The Smell of Incense and the Spang Virr studio and the local rock club. Through them we understood that some people live well by their own standards and parameters. I don't think they necessarily intended to serve as our guiding fathers, but in many ways they did. Arendal includes a lot of quite open minded people, musically speaking, contrary perhaps to what you might think. But eventually, we packed our bags and moved to the city. Or rather: to Trondheim.
You relocated to Trondheim some years ago, 400 miles to the north of Arendal. Why this relocation ? Do you have any problems getting gigs now and how is the commercial viability of Seid these days ?
Jürgen Kosmos: There are so many good reasons to leave a small town at a certain age, like there are reasons to return later on in life. At that point we needed to be in the same town, pursuing a vaguely defined dream of playing in a band. Trondheim seemed like a good idea at the time. It's not "some years ago", however, it's been 13 or 14 years already. We have relocated several times since then, in different cities and countries. A couple of us still live there, others don't. It's not that important at this point. We're not mainly a geographical entity, we make music together. As far as concerts and getting deals done go, we don't have any problems, but our booking agency,
Polar Artist
, may face some difficulties. But no worries, they're professionals. We've always been used to doing most the managerial work ourselves, so it's rather exciting to be working with a real agency in Norway for the first time. The commercial viability of Seid is hard to measure, but personally I belive we're the sound that a lot of people didn't know they've been missing. Of course, History may come back and teabag me while laughing diabolically. We'll have to wait and see.
I gather the band members operate under pseudo names. Why hide yourself under these masks?
Jürgen Kosmos: Why not? We don't "keep it real", we keep it unreal. The individuals in a band are of no interest what so ever. The force of Seid is a collective, strange, brute power. And the so called honesty of being "yourself" is something we laugh at and leave to the bearded americana-clones and hip-hopers. Furthermore, I once read that acting was the most truthful form of expression, so maybe we don't hide, maybe you are the one hiding.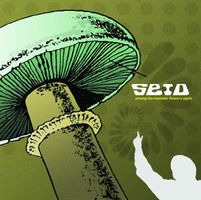 Over to your two albums. Your debut album was Among The Monster Flowers Again from 2002. Please tell us more about this album.
Burt Rocket: This album contains songs written over a vast period, ca 1993 - 2001. It took almost two years from we started recording it, till it was finished. Not because we spent night and day in the studio, mixing songs over and over again, but rather because we couldn´t afford getting it done. In the end we did anyhow, and I´m quite happy with how it turned out.
Jürgen Kosmos: It was a jolly virgin voyage. I honestly thought we would fly straight through the skies and land on the surface of the sun. In some ways, perhaps, we actually did.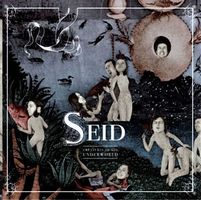 Your second and most recent album is Creatures Of The Underworld from 2006. Please tell us more about this album.
Burt Rocket: "Creatures" mainly consists of songs we wrote during our Trondheim-period. The aim was to go even further into space, and also make things darker and more heavily psychedelic. The album starts with a kind of dark, medieval and gloomy feel (but not without a couple of crazy digressions where we use our opportunities to do some parody on classic progrock-cliches), before the songs get more and more space-thematic, finally ending up with a flight towards the sun. We weren´t supposed to live through the latter, but it looks like we did anyway. We like to think we´re here to stay, we´ll always be around...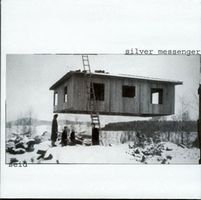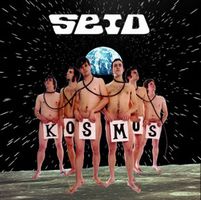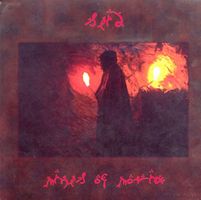 You have also released three Eps. Please tell us more about them.
Jürgen Kosmos: 7" vinyl singles to be precise. One of them has a secret message on the cover. It includes our blood and some of our animals. The darkness lays upon them, thick as the late 19th century London fog.
For those of us unknown with your music; how would you describe you music and which bands would you compare yourself with ?
Burt Rocket: We like to call our music "Cosmic Pirate Rock", but that may still leave some people clueless. The recipe is as follows: Combine the spaced out sounds of Hawkwind with Gong´s psychedelic groove. Add some steroids, to beef things up, some Balkan-music to prevent it from being boring and just about everything else you like. This is where the pirate part comes in: If we see something we like, we steal it!
What have you been up to since 2006, what is your current status & what is your plans for this year and beyond ?
Jürgen Kosmos: We thought we were dead, but it turned out, we weren't. It seems, what doesn't kill you, only makes you stranger. So next year we're releasing another album. That's great news to the world, and hopefully, now that Osama's dead, the spotlight will be back on Norwegian space rock again. Since the last album we've been doing different stuff: Some work in the music business, others don´t, a couple of kids have been born, studies have been fulfilled or initiated or both, some of us have played with all sorts of other musicians, and others have hardly played at all. We changed the line-up of the band, introducing Bartin Viktor as a new member of the family. In short: life has continued, as it tends to do.
To wrap up this interview, is there anything you want to add to this interview ?
Jürgen Kosmos: It's a very pleasent and joyful experience to be making music together again!
Burt Rocket: We are looking forwards to release our new album, and hope that the two or three of you who are interested in that sort of things will find it pleasing. Also we are looking forwards to play some gigs and kick some serious space-butt again. Preferably German or Italian, but don´t worry! All shall be served!
Thank you to Lars & Burt for this interview