Moon Safari is one of the more popular symphonic prog bands from Sweden right now. They have released three albums. I got in touch with Johan Westerlund for their story.
###################################################################################
When, where and by whom was your band born ? Did any of you have any experience from any other bands before forming Moon Safari ? Why did you choose that name and what does this name means to you ?
The name was just a name that appeared at the end of a MTV video back in 2000, I had no idea what the band Air was all about, and I don't think any of us did when Petter and I decided on the name, we just liked the sound of it, it has a dreamy feel that we probably felt would go well with the style of music we were contemplating. But to be honest the name came about before we were even a band, we did'nt get together with Simon, Anthon and Tobias until 2003, when we recorded the first demo that Tomas Bodin mixed. That was when the band really started to come alive, before that it was just an idea. When we first got together Simon sang in a progressive metal act called Kharma Cosmic,with Anthon and Tobias, and Petter sang in a band with quite similar style called Questionmarket. I played in a Tool-inspired grunge act called Stones in Bloom. But in all honesty, when we started making Moon Safari music I think we all felt like that was what we were meant to do, and the constellation of people seemed to work better than what we were used to, so it was a winning recipe. The combination of Petter and Simon as the main writers also brough a new level to both their songs, they have a kind of Anderson/Wakeman relationship that make songs just appear out of nowhere, some kind of magic that I don't think they knew before Moon Safari.
How was the music scene in your local area when you started ?
It was not really in existance. Besides the exception of a huge summer festival called Trästockfestivalen that's really amazing there's not really much happening in terms of live music, there's not really any stages that attracts any crowds in the winter anyway, so I suppose you could say we started as a studio project. To date we've just done 5 gigs in our hometown, and an equal amount in the U.S, that kind of puts things in perspective, I think. We actually did our first gig after we had recorded our first album, and even then, the gig was in a neighbouring town. But to be fair Skellefteå only has a poplulation of 35000 people, most of which just follows the local hockeyteam. People with an interest in music or arts in general tend to move to bigger cities to study or to try their craft for real, something that's probably typical for a small town.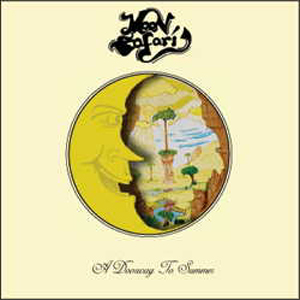 Over to your three albums. Your debut album was A Doorway To Summer from 2005. Please tell us more about this album.
The collaboration with Tomas Bodin of The Flower Kings is something that certainly marks that period in the bands existance, he gave us the confidence to just go for it and try our wings. None of us had really made an album before and none of us had recorded anything with that scope in terms of complexity and also minutes, so it was really a learning experience for us all. I believe it was Tomas first venture into the world of producing as well so we were all out on thin ice, but in the end, especially in retrospect, we all love the album and it truly serves as a time machine that brings back alot of great memories when we listen to it. Musically, we did have the core sound of Moon Safari already in place, and I don't think those five songs are any better or worse than those we've recored since, but they were our first songs and that fact probably made us struggle with the final arrangements and perhaps overdo certain things in a way that we don't do now.
Also, we may at certain points throughout the album have misplaced the basic groove in the songs and gone to far in to structuring details at the top of the sound images. But, we stayed within the lines and I think we all feel it's still a very strong album, the songs are interconnected in our typical way and the entire thing certainly feels like a whole when you play it from start to finish. Childhood and Enthusiasm are two words that I feel captures our experience with A Doorway to Summer.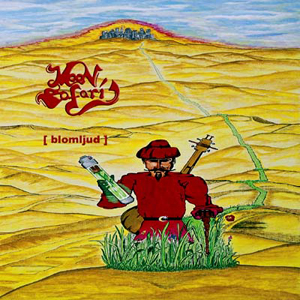 Your second album was [Blomljud] from 2008. Please tell us more about this album.
This was an album with an even greater scope than "Doorway", and this was our first experience doing everything on our own from start to finish. This meant that we could'nt really sit back and just repeat what we did on the last recording, once again everything was new and exciting and the ice was still thin. I can remember times when we probably wondered if the album would feel scattered and broken up because of the amount of songs and the length of it, but once we got further into the structuring and we realised that: "Oh, that moment in that song is better than what we've done before" or "These lyrics actually make sense all the way through", than we sort of realised that the band had grown up and then we just rested in that feeling and went all out in every aspect.
The thing that probably stands out most with Blomljud from a band perspective, is the fact that we had a new member, Pontus Åkesson, who came in to fill the void when Anthon Johansson left to join Black Bonzo. It was a natural move and both bands grew stronger when that happened. I don't think BB's Sound of the Apocalypse of Blomljud would have been as good if we had not made that change. Pontus is a highly structured individual, much like his older brother, and now we had a lead guitar and a lead keyboard that behaved and sounded like they were family. Go figure! Also, me and Petter wrote more lyrics together with eachother, something that we kind of had to do becuase of the sheer mass of the compositions. That also helped strengthen the record as a whole and it also made it more diverse and hopefully more interesting for the listener. From a Prog standpoint Blomljud is still as far as we've gone in that direction; it was adventurous and imposing in spirit and we all had alot of freedom when writing. As always we had a great time together. There was a lack of limitations present in all of us that for better or worse made the album what it is. Freedom and Love are two words that represent Blomljud nicely.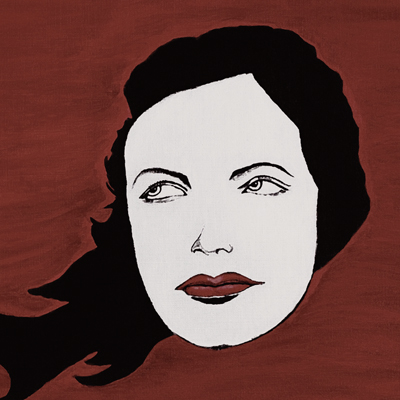 Your new album is Lover's End from last year. Please tell us more about this album.
This was an album on which we could collect are thoughts; musically and in our real lives. We knew we wanted to make it sound like an end to the beginning stages of the band, and now our three albums put together do create a line of thought that's easy to follow. Together they represent the beginning, the middle and the end of a relationship. This is true whether you think of the more obvious relationship like 'boy meets girl', or something as abstract as a life cycle; there is that move from nothing to something and then back to nothing that I just love about our whole catalogue.
Additionally, there is a cander on Lover's End that really only can come from really achieving knowledge about ones place in the world. From having listened, seen and been every side of story, from every side of the story. I do believe it's important to step back and look at things in the way that we did on Lover's End, take a breath and describe the past, introvertedly. It certainly made us appreciate what we have as a band, and as friends, more than before. Musically it was once again a challange, but this time we knew what we were doing in a way that made us skip all the bumps in the road. We knew what short cuts to take without losing track of our goal, and this also made it easier to focus on the story side of the music. There was no battle to be won before we knew where we were going. Everything just fell into place. Afterthough and Memory makses sense of Lover's End beautifully.
For those of us unknown with your music; how would you describe you music and which bands would you compare yourself with ?
We once got a review in a Swedish newspaper that simply states: They must have been brought up on mixtapes with Lasse Holm and The Little Mermaid"
Now, if you knew the music of Lasse Holm you'd know he was trying for an insult, but he failed miserably, as we like both Lasse Holm and the type of music that frequent the Disney soundtracks. But if we got to choose maybe we'd say:" Equal parts Beatles, Springsteen, Hi-Los, Yes, Meatloaf, Steely Dan, Jellyfish, E.S.T, Tom Petty, England and many many more.
You did Rosfest 2011. How was your USA experience and are you going over to USA again ?
We really feel at home in the U.S. Both times we've been over we've stayed with a wonderful family in Queens, New York who really helped with this feeling, they have taken care of us in the big apple, and we've also played shows with two of the sons in the family, they have a band called And You And I (debut album is soon to be released, wink, wink). So we've always had a great start to our trips, and once you get to Rosfest you want for nothing, George Roldan and his crew and just amazing people. It's a wonderfully professional festival, and it always takes place in great venues. So the U.S is like our second home nowadays, and he will try to go back next year and tour properly, hopefully on both coasts.
What is your plans for this year and beyond ?
We are releasing a live cd from the Rosfest gig before Christmas, it's being prepared for mixing right now. Also, in the spring we'll focus our attention on a new album that we want to release in 2012, but the date of course depends on the scope of the music, if the epics start to form again it might take a while. But there's brilliant material waiting to be turned into songs, so whatever the shape and size of the product our fans will be satisfied!
To wrap up this interview, is there anything you want to add to this interview ?
We really enjoy progarchives.com and we hope our fans take us up on that illusive "Top 100" list that you have got going. We'd like to be at number 1 before we quit the genre!
Lots of love to anyone who reads this and helps our band reach more people!
Thank you to Johan for this interview