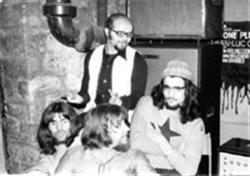 Forming in the wake of the tumultuous political situation of France in the late 60s, their music was distinctly apolitical, filled with a refreshing sense of humor and an irreverence that distinguished them from many of their more brooding contemporaries.
The seeds sown for success, their debut album was finally released by CBS in 1971 to a heavy critical acclaim. Lack of proper promotion, combined with poor management, led to a less successful tour this time around, but the band were nonetheless obliged to hit the studio again later that year to record their second album. As it turned out, "The World of Genius Hans" stands among the finest French progressive rock albums ever released, but the promotional problems that band had experienced with the first album continued throughout the touring and promotion of the second.
I got in touch with them and Didier answered my questions.
########################################################################################


Your biography has been covered in your ProgArchives profile so let's bypass the biography details. But which bands were you influenced by and why did you choose thatname ?

Each one of us heard different musics very early. Most of us heard classical and jazz. At
14, we began to play Beatles, Stones, Jimi Hendrix… to learn guitar. But very quickly, we
find the progressive way, with Pink Floyd, Frank Zappa, King Krimson, Gentle Giant,
Soft Machine and Canterbury style. We always tried to make " serious" music in a
"funny" way !

This is an archive based interview also intended for the fans you get well after both youand I have passed away so let's go straight to your albums. Please give us yourviews/some words on your albums, starting with.......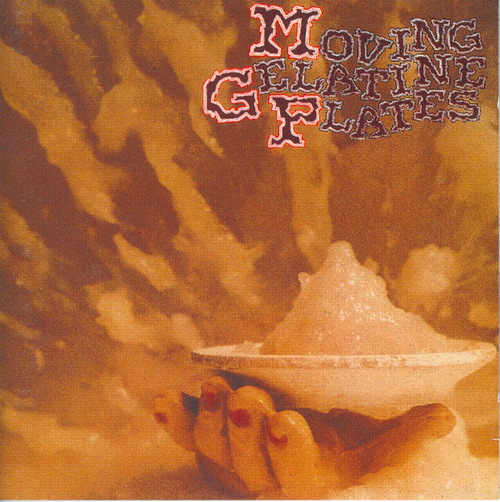 Moving Gelatine Plates from 1971

This first LP sounded like stage. We recorded instruments directly, even most of the solos. The only things we recorded in a second time were voices. It was made really easily, because it's not a "song" album !
The sound engineer, François Dantan, was used to record Charles Trenet ! He was really
surprised, but interested, to record a distorded bass !
Even if we find that drum is a little bit loud in the mix, we think that this LP has much energy, directly from heart to ears !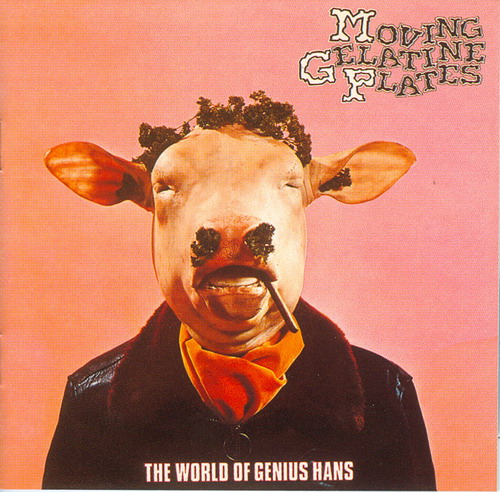 The World of Genius Hans from 1972


We really made a studio work on this album. Less improvisation than in the first LP. We wrote many many themes (about 450 !) to build the titles. We added ther musicians
(trombone, vibes, choirs, bassoon). And some themes were not written all together. Each
one wrote some, and it was a big job to make them in a good way !
But we think it sounds better than the first, may be less "rock", but we are still very proud of "Genius Hans"!

Then there was a long break. What were you up to during these eight years ?

At first, we had to give back money we had borrowed. We had to sell the van and sono…
I played with Gong in 1973, with Pierre Moerlen, Steve Hillage, Tim Blake and Didier Malherbe. But when they went back in UK, I stayed in France, thinking to build up Moving Gelatine Plates again. I wrote alone all the songs of the album "Moving", but it took me a long time to find the musicians. During this time, I was doing solo concerts, with keyboards, tapes, guitars. I was even carrying the lights !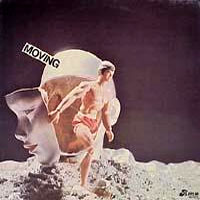 Moving from 1980

I think music, on this album, was good and still in the right style of MGP. The problem was about the words, and the way I sung. The producer (who vanished in the air at the end of recording…) insisted to make me sing very much, and in French ! Even rock themes sound like "variety".

Then there was a long break. What were you up to during these twenty six years ?

I ever worked in music. To get money, I wrote music for advertising, theater and films.
This allowed me to buy many intruments and to get my own studio. I always fell "free"to write my music, and always interested by mixing music and visual.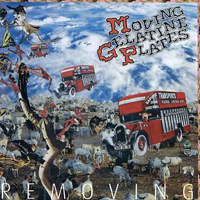 ReMoving from 2006

It took me a long time to accept this kind of failure about the "Moving" album. I had to find enough strengh and courage to start again for making a new group. And I was beginning to get used working alone. But a friend of mine was still saying: "why don't you make it again ?" He knew a good keyboards player (Stephane), very interested in the project. The sax of Moving was still waiting for (Jean), since 26 years, and I got a real good drummer (Eric). I knew the guitarist (Maxime) since a long time. And an other friend (Anton) was interested to play cello. I thought it was a good idea, adding a violin, and we met Julien. We were very glad to make this album, and many people find it good.
But we didn't found enough gigs. It's very difficult to get a 7 members group, above all playing progressive…We had too many economical and organization troubles to keep the
group alive in this way.

For those of us unknown with your music; how would you describe you music and which bands would you compare yourself with ?

It's always difficult to describe precisely our own music. Some think it's Rock, others think it's jazz. The best definition, I think, is "Chamber rock". But I don't like much "stickers". The best is to hear…

You and Moving Gelatine Plates has been around almost since the beginning of time. What is in your view the biggest changes for your band since the 1970s ?

Yes, I founded MGP with Gérard Bertram in 1968, I was 16 !
It was a dream for us, to play in festivals with Pink Floyd, Frank Zappa… In this time, things looked very easy, for we were making things without thinking too much. The different groups have kept the same spirit. At least, I hope so for music. In the way of writing and harmonizing, rythmic breaks and "strange" bars. But I think, more and more, we are developing themes, and we try to make things more "purified". It's often easier to make a complicated music than a simple one !

ReMoving was released five years ago. You have changed name to Laborator and slimmed down to a trio. An album is set for a release through Musea. Is this the end of Moving Gelatine Plates ? What is your future plans ?

Some peoples say that progressive music must be in 70th spirit. They're still living in nostalgy. I think that "The times, they're a changin'", like sung Bob Dylan. And we must not be limited in any way. It's the reason why, we called the new group "LABORATOR".
We thought to keep "MGP", and get "Laborator" as the title of the new album. But we wish to be opened to a new public. A trio sounds different. And I'm sure that, in this way,
we get a new energy. I hope you will like it…
Thank you to Didier for this interview

Their PA profile is here and Laborator's homepage is here

(and let me quickly add that their first two albums is great albums)