MR SO & SO were a band from the North West of England in the late 1990's (1992 - 2000) who released three albums and gigged extensively in the UK including a support slot on MARILLION's 'This Stange Engine' UK tour. The music is similar to MARILLION and PALLAS with a strong IT BITES influence. The band were Kieran Twist - keyboards, Leon Parr - drums, David Foster - guitar and Shaun McGowan - vocals and bass guitar. Charlotte Evans joined on backing vocals for the bands third album "The Overlap". The band split in 2000, but reconvened as a working unit during 2006, recording some new material and performing live. A new studio release is expected during 2007.
I got in touch with the band and David Foster answered my questions.
####################################################################################
When, where and by whom was your band born ? Did any of you, past and present members, play in any other bands before joining up in your band ? Why did you choose that name ?
The band was initially put together at music college in 1989, I met Shaun and we soon learned that we both listened to the same kind of music, I was a big Yes fan and Shaun was a big Genesis fan and together we found other musicians who shared the same passion for strong and original song creation. We had been in bands before but I was the usual fare, garage bands finding our way around not only our instruments but also what it actually takes to be a in a group of people who all shard a vision but also had to get along well enough to stay together long enough to achieve anything. The name Mr. So & So was given to the band during a long debate between Shaun and I over the name of our 'project' and after getting nowhere with it I spun my finger around and landed it on a page of an open copy of Cosmopolitan, saying that whatever my finger landed on would be the band name - thankfully it was Mr. So & So.
Which bands are your biggest influences and which bands would you compare your sound with ?
I think that it's fair to say we have an enormous collection of musical influences, all of which will have contributed to the overall sound of the band, which will go some way to explaining our sound. Shaun listens to a lot of traditional music and plays a lot of instruments to suit (Bagpipes, Dulcimer, Banjo, Bouzouki etc.) as well as The Beatles and XTC. Stuey is a big fan of Frank Zappa, The Cardiacs and Strapping Young Lad. Andy listens to a lot of prog and is a big fan of Porcupine Tree, David Sylvian and Marillion. Charlotte is quite unique to the and as although she likes progressive rock bands she does listen to a lot of Stevie Wonder, Jeff Buckley and lots of funk bands. I'm a huge fan of Massive Attack, Tool and Peter Gabriel so if you add all this to the pot you end up with the sound of the band. Sonically I think we sound quite like Marillion as they have the same musical ethos, good arrangements with singable hooks in the vocal melodies.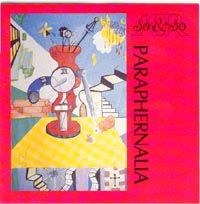 Over to your four albums. Your debut album was Paraphernalia from 1992. Please tell us more about this album.
Oh yes, Paraphernalia was a great time. We got our first break by chance after I enquired about the cost of using a studio near Liverpool that one of my previous bands (The Quest) had used. After those sessions the owner Steve (Paine) enquired about signing us to his Pagan Records label. Naturally, given that we were so young this was such a rush and we set about writing our debut album. The recording was unusual in that we recorded the drums separate from the cymbals to help with separation which was really difficult for Leon (Parr) our drummer for the first three albums. It was very low budget and it shows but some tracks have aged quite well, actually we have recently put 'So Near, So Far' and 'The Hypnotic' back into our live set. We left Pagan Records mutually but stayed great friends, in fact I recently recorded the guitars for the latest album by Legend (Steve Paines band).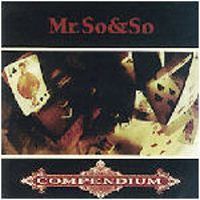 Your second album was Compendium from 1994. Please tell us more about this album.
Compendium was were the band really grew up not just musically but as a unit too, we were at college all the time and in each pockets, Shaun and I spent nearly all of our time writing and arranging which is the reason why you can hear a big leap in our song writing ability. We had just signed to GFT/Cyclops for a one album deal and we were ready for anything. Closet Skeletons was really the song that lit the taper, it has all the ingredients that are now staple to the bands writing. It's in 5/4 for the most part but it was written entirely naturally, plus Shaun's lyric writing was developing rapidly and personally I think the lyrics in that track are some of his best. this is also the album that we introduced Charlotte to the band to great effect. We initially wanted Charlotte to sing on one track (Primrose Days) but we realised that Charlotte could offer much more so became a permanent member of the band. I have a great memory of this time when we were recording the last bits and pieces for the album, little overdubs and tweaks, when I decided that the solo at the end of The Visitor wasn't good enough and asked quite late on, I think it was nearly midnight, if I could re-record the solo and the engineer told me that he needed to get home before it got really late. My amp and guitars were at my parents which was half an hour away from the studio, so I drove home as quickly as I could no doubt breaking the speed limit, I collected my gear and made off for the studio again but on the way back I was stopped by the police as I was moving quickly, after a short conversation with a very nice policeman it transpired that he had seen us play a few weeks before at a festival and was really impressed, on hearing that I needed to get back to record a solo he let me go with a warning. I got back to the studio at 1 and had one shot at the solo, if I didn't play a better solo we were going to use the one already recorded, I was up for it and I managed to pull it off, I'm really pleased with that solo. The recording that you hear on the album is the last thing we recorded. Compendium is a fans favourite and has some great songs that are still in the live set, I can't remember a gig where we didn't play The Visitor, or at least part of it.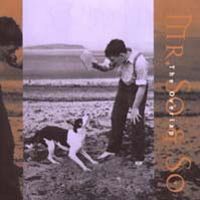 Your third album was The Overlap from 1998. Please tell us more about this album.
GFT/Cyclops decided not to take us up for a second album which we were really quite surprised about as a lot of people really liked the band after Compendium. Like any other band we just carried on playing as many gigs as we could as well as writing new material. I'll be honest the next bit is sketchy for me as I'm not totally sure how it happened, but Steve (Rothery) from Marillion was played some of Compendium and before too long a lady from Steve's record label called me to say that Steve would be contacting me regarding the band, now I have always been a huge fan of Steve's playing and the idea of getting a call from him just blew my mind. Steve called me and was really nice on the phone and we've great friends ever since. After seeing us play at a Marillion fan club gig in London, Steve agreed to release our third album. Mike Stobbie was put in charge of the production after he had produced the first Arena album. Mike had his way of doing things and we had ours so it wasn't always easy in fact I even recall Mike upsetting our keyboard player (Kieren Twist) the first time he met us all at a gig. The Overlap has some great songs and was really well recorded but it was difficult. Steve became our mentor and guided us through it and even ended up co-producing as well as playing the solo on Coup De Grace, he even played the keyboard solo at the end of The Overlap.
Then you took a long break. Why and what happened ?
In short, we split up. The pressures within the band became unbearable for all of us and we couldn't keep it all together so we called it a day. Keeping a band together takes a great deal of hope, loyalty, trust, talent and significantly, luck, which we had run out of. After the Marillion support tour (This Strange Engine) we hoped to play more supports after the tour but it just didn't happen for us. It was really sad as we had been together for years and the relationships just couldn't cope with it all. Later on Charlotte, Leon and I formed Sleeping Giant, Shaun joined Dr. Phibes & The House of Wax Equations and Kieren joined the Quango project with John Wetton, Dave Kilminster and Carl palmer.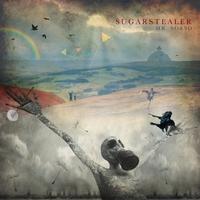 Your fourth and most recent album is the Sugarstealer album from 2009. Please tell us more about this album.
Well, it was a long time of not seeing each other but chance led me to having a phone conversation with Shaun and from there we arranged to have a jam just purely for the joy of it. After a few sessions we decided to put together a new band with a long time friend of ours on drums (Ian Jones) who was also in Dr. Phibes. Even at this point some songs were developing such as Bi-Polar and Thursdays are Blue and we included Ant (Anthony Hindley) into the project, shortly after Ian left and we found the amazing Stu (Browne), after jamming Spacewalk we elected to put So & So back together with Stu and Ant as well as bringing Charlotte back. The writing process was really good, we put some old songs back together (Oh Look! A Rainbow!! White Sun and Honey Jar) as well as writing the new material. We needed somewhere comfortable to record so we chose a couple of studos we had used before, notably The Forge in Oswestry and from there we were introduced to Al Unsworth whose CV would scare anyone (Britney, Kylie, Mariah Carey and Yes to mention a few), Al recorded and co-produced Sugarstealer. I love Al to bits and he made the recording a really fun experience and I think you can tell. When I heard the end of The Gold it floored me and I had to go for a walk after hearing it as I never heard the band sounding so good. Sugarstealer is something that we are all really proud of. In a mad twist to this is that inexplicably Ant left the band on the very day that we received the album on CD. Later on Seve Rothery recommended the very taleneted Andy Rigler for our next keyboard player. He's a great musician and a great bloke and this current line up is the best the band has ever had. To put the icing on the cake Steve Rothery agreed to play a solo on Oh Look! A Rainbow!!
What is your creative processes from coming up with an idea to get it down in a studio ?
It's evolved a lot over the years but primarily Shaun or I put together a riff and expand on it before playing it to the rest of the band and we play it over and over again before it starts to take shape. That said, Andy and Stu are both very talented writers and they are bringing songs in which is fantastic for the band. The primary rule of thumb is that if we all remember a song/tune/riff from the previous weeks rehearsals then it's worth pursuing. I think any musician will agree that the most magical element of being a musician is when you hear a song or tune come together and grow. It's the knowledge that you are creating something that no-one else has and when you record them the are there for ever. I'm a big believer in living forever like Beethoven or Mozart or Bach, I'm not for one minute suggesting that So & So are anywhere near the genius that they were but when we're no longer around, there will be someone on earth listening to Mr. So & So.
You are in the studio again, I gather. But what else have you been up to since the release of Sugarstealer ? What is your plans for this year and beyond and when can we expect a new album ?
We recently recorded a couple of tracks with Al Unsworth on board again. It's really exciting now as the next album is growing, I think we have eight tracks so far and they sound amazing, I'm probably the biggest Mr. So & So fan in the world and I can't wait to hear the next album. We work on the basis that each album has to be better than the last and this one is already sounding like we have done just that. The next album will be out in 2012 and we hope to tour to accompany it when it's released. We are also doing some sows early next year with Steve Rothery that will involve some really cool surprises, I'm REALLY excited about next year.
To wrap up this interview, is there anything you want to add to this interview ?
Mr. So & So is an amazing thing to be part of as it's a band that not only sounds like the band we all want to be in, but as we have always had the freedom to express ourselves without any A&R boundaries we have grown as musicians and certainly, in the case of Shaun and I, we are one unit and are able to understand each other so much musicially that it often feels telepathic. Look out for the new Mr. So & So album in 2012, honestly it'll be amazing.
Thank you to David for this interview