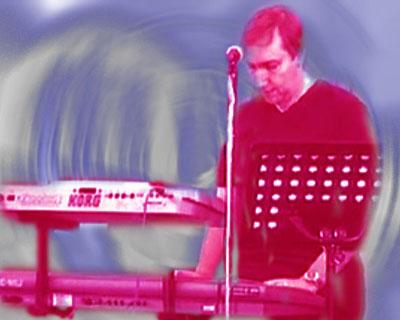 UK composer, instrumentalist and vocalist Mark GREEN started out playing in a number of local bands, Flame, The Mike Radcliffe Band and Sprit Level. This was back in the 70's and 80's however, and from the 90's and onwards he concentrated on developing his skills as a composer alongside assembling his own project studio. With a goal in mind to be able to create and record his own compositions in as good a manner as his mind wanted them to sound.

Following diagnosis with testicular cancer, and successful treatment in 2009 this goal became a much higher priority, and for the next two years Green was hard at work to transform his creativity and vision into a tangible product. The end result became his debut album Fantasy Bridge, which was issued in 2011.
I got in touch with him and here is his story.
####################################################################################
When and why did you take up music ? Please tell us more about the bands you played in before you went solo. Is music your main occupation or do you also have a sane job too ?
I guess music has always been with me. My grandfather was a Church organist, and also composed stuff. My Mother and Father both sang in the Church choir, and Mum was a fairly talented pianist, although she hasnít played much in recent years. So I was having piano lessons when I was pretty young. Of course as I approached my teens this all seemed uncool, there was football, and hanging out with mates, I had an elderly spinster teacher who thought Scott Joplin was modern and frivolous, and as a 12 year old I was listening to T-Rex, David Bowie and the like, so I gave up the lessons Ė something I still regret actually, because in later life I find thereís a gap between my ambition and my technical proficiency! So if youíre having lessons and arenít enjoying them, get another teacher, donít give up! Ė Anyway couple of years later, in 1973 a friend a few years older than me played me The Yes Album and Fragile in one afternoon and it was a revelation. And there was this Rick Wakeman guy who dressed and played like some kind of wizard. I wanted some of that! Before I knew it I was hooked on prog, and devouring ELP, Genesis, Crimson, Floyd, plus stuff from the Moody Blues, Mike Oldfield, Aphroditeís Child, Edgar Winter.. I was like a musical sponge. At the same time I was spending hours at the family upright piano trying to emulate these acts, and coming up with musical ideas of my own (One of which would go on to form the bones of the Fantasy Bridge title track)
Other bands? Amazingly despite my obsession with prog, I didnít play in a prog band! In around í75 I started out playing and singing in a vocal harmony band called Flame, three girls and a couple of guys with guitars and me on a Honer Pianet, playing folk and gospel covers. We were teenagers and it was fun, but not, I suspect, terribly great. The leader of that group Mike Radcliffe set up his own band to showcase some of his own music (Mike was/is a great keyboard player who went pro as a session guy a few years later, before he gave up the music business). I ran their sound a couple of times, before I sort of fell into playing keys for a couple of years. Then I was studying electronics at college getting a proper job and getting married - stuff like that! I didnít really do any music for a couple of years. Then Paul, the drummer in Mikeís band Ė yes the same Paul who plays drums on Fantasy Bridge, and I got chatting. I found out he had started a band and was looking for a keyboard player. So I joined Spirit Level during the early to mid 80s, and we gigged a fair bit in and around the Bristol area. I was always trying to make us sound more prog, (at a time when prog was a really dirty word!) For the most part everyone else resisted, but I still managed the odd synth solo! Spirit Level folded at a time when I was changing day jobs and for the next few years, once again music took a back seat. In the 90s I started to get interested in the way computers could be used for recording, and realized that I might after all be able to record some of my own music. Those tentative experiments led to me having my own studio and recording Fantasy Bridge.
Music my main occupation? Good grief, no! I am, I guess like many other middle-aged prog rockers. I have a Ďproperí job as a mid level executive in a multinational telecommunications company, (or as I call myself: a CorporateCloneDroid) and fortunately for me they pay me well enough to not only keep a roof over our heads and feed us, but also to feed my prog keyboard player habit and allow me to indulge myself in the luxury of dedicating a room in the house as a studio and filling it with toys. I love my music, I love everything about the prog scene, but if this whole grand experiment of a solo album (or albums) ends up with a loft full of CD shaped coffee coasters, then there is still Mark Green, the CorporateCloneDroid.
As I understand it from your biography, and feel free to correct me, the cancer diagnosis you got had a profound impact on your outlook and concentrated your mind. Most people who survive cancer split their life into "before and after" and get another perspective on life. Is this also the case for you and your musical career ?
Being told you have cancer is a shock, to put it mildly. Particularly as my GP had assured me that the tests were more of a formality, since guys my age very rarely get testicular cancer Ė The risk age group is 20-40 so me being a year off 50 was well outside the risk group - I can remember that moment very clearly. And the weeks that followed my operation are etched into my memory. Someone, I canít remember who, once described two sorts of fearÖ Thereís the being shot at sort of fear and then thereís the waiting for medical test results sort of fear. The former is intense, but generally short lived. The other, thatís really frightening. It goes on for weeks! But I was lucky. I had an amazingly observant GP who spotted an anomaly very early when I was being examined for a suspected hernia, a great surgeon, and a brilliant follow up team at the Bristol Oncology Centre and of course an amazingly supportive wife and wider family Ė Whose prayers I still believe were important and am thankful for. I was also lucky that the type of cancer was Seminoma, which is the most successfully treatable form if caught early. The one thing it really brought home to me was that you can happily be cruising through life. You might have all these plans and ambitions, but think, Ďhey, Iíll get to that one dayí but you can never be sure that Ďone dayí is going to be there. I was like that. I had always had this idea that I wanted to record a CD and release it. I had this home studio; I had a bunch of songs; I had even recorded a few demo tracks. But the actual release was always off somewhere in the future. I was suddenly confronted by the fact that that future could so easily not have happened. It gave me a new perspective on life in general, and that was; donít put stuff you think is important off. Itís that whole carpe diem thing.
When and how did you get the music for Fantasy Bridge together and how & from where did you recruit the other musicians on this album ?
So as I hinted, I had been writing songs for years. The title track Fantasy Bridge has its origins back in those heady days in the 70s when I was trying to emulate my keyboard heroes on the family upright piano. We used to play that song as an opener in the Spirit Level days, and it always seemed to go down pretty well. Then back in the early naughties I was recording with this computer software called Cubase and found myself as part of the Cubase user forum. There we often bounced musical ideas around and online I Ďmetí Nick Crosby, Ted Barrett, Wim Koopman and Steinar Gregertesn. They all contributed to the Fantasy Bridge recordings Nick and Steinar playing guitars, Wim on sax and Ted providing the lyrics to Children of a Forgotten Sun. Meanwhile, closer to home, my nephew Adam Chinn who had being playing bass for a few years was happy to be drafted into the project, as of course was my long time friend, Paul Fuller on drums. I drafted in another friend who lives locally Andy Ullyott to add some acoustic guitar, and my wife Sue was press ganged into picking up her metallic blue electric violin to provide the insanely overdriven lead line in Ode to Joy. So around half the Fantasy Bridge team was recorded in my studio, and the other half I have never met, other than on the end of a computer screen, and we managed the recording remotely, swapping parts using FTP.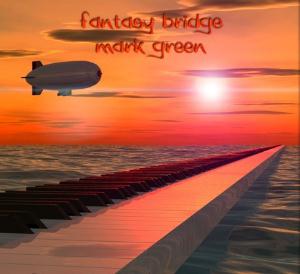 Please tell us more about your Fantasy Bridge album, released 2-3 months ago. What does the title means and which other artists and albums would you compare the music with (just as a reference) ?
Fantasy Bridge is a celebration of life and love, and tries to evoke a musical world without boundaries. It really is my response to the dark days of the preceding year, and is unashamedly optimistic in its overall feel. Though the songs were written over a long period, and arenít obviously linked Ė this isnít a concept album by any means Ė I hope that Iíve created a vibe that runs through the songs. I always had this picture in my head that I developed into the cover image, of a bridge across an endless sea. The questions it prompts (Where does it go? Where does it come from? How did I get here?) and in many ways the songs sort of unpick some of those questions. Iíve tried to link my thoughts about time, where we are going, where weíve been and the way the best things can happen later in life, into a group of songs that happily exist alone but also take you on some kind of musical journey.
What have you been up to since the release of this album ?
I did a launch gig at a local club (DBs in Weston) where I got Paul, and Adam to join me, together with another friend Brendan Dykes on guitar, and we played about two-thirds of the album live, and just had a great time. I have also managed to spend some time getting new songs together, and also dust off some old material that is just begging to be recorded. And Iíve been doing some off-and-on marketing of Fantasy Bridge, which is likely to be an ongoing thing, but given I donít have much of a marketing budget (or indeed any!) much of this activity is rather ad-hoc and unplanned. Getting exposure in Prog Archive is a big deal for me, so Iím grateful for that.
You are currently working on a new album. What can we expect from this new album
The most advanced track has the working title ĎThe Gates of Timeí and might be the album title (it might not, but I do quite like that title) and itís a 20 minute epic that depicts events immediately after the angel blows the Last Trump Ė Well we are talking prog, arenít we? Then amongst other candidate songs we have themes like: a boy who hears voices in his head his whole life; the one billion computers on Earth linked together on the internet emerging as an intelligent entity; a post apocalyptic lament for the world that was lost. Hmmm, it sounds quite a bit darker, doesnít it? Iím also investigating some options for who might be involved in the project, and although nothing is definite, there is one possibility that is tantalizing, and if it comes off will be really exciting. Watch this space!
Besides of working on a new album, what is your plans for this year and beyond ? Any gigs or tours ?
Iím kind of exploring possibilities of doing more live stuff, but my day job has been frantic over the summer, Paul runs his own company, Adam has just graduated from uni and is likely to be moving away, and Brendan is CorporateCloneDroid V2.0 and probably does more business travel than I do (which is saying a lot!) so whether this happens any time soon is an open question! Other than that, there is some studio updating to be done and getting my thoughts together for recording the new album.
To wrap up this interview, is there anything you want to add to this interview ?
Recording Fantasy Bridge has been a really life-affirming process. It underlines for me how music can really and profoundly affect you. As I have always said: I try to write music that moves me. If it moves other people, then that is a huge bonus. I hope it does.
Thank you to Mark Green for this interview