Your biography has been covered in your ProgArchives profile so let's bypass the biography details. But which bands were you influenced by and why did you choose that name ?
We have been influenced by many bands . Some of Steve's favourite bands are Yes, Genesis, Pink Floyd, Alan Parsons – current bands we like are Pallas, Dream Theater, Porcupine Tree and too many others to list! We love all kinds of music though – not just prog!
Both of you have taken part in and released other albums. This includes a band called Coalition which to what I have heard is pretty similart to your new band The Inner Road. I am now confused again. Please tell us more about the albums you have released and contributed to. Why starting The Inner Road and what is the difference between this band and Coalition ?
We've both worked professionally and been involved in many releases (too many to list). Coalition was the first band we worked in together – initially we got together about 2 years ago. Coalition is a prog rock band with a vocalist. We initially had problems finding the right vocalist/lyricist and rather than doing nothing we decided that we would write some new music – instrumental tracks with more complexities and no room for vocals. We wanted to have a distinct identity for our new work – rather than just having everything put under the "Coalition" label. We decided that The Inner Road would be the vehicle we used for the instrumental symphonic prog rock tracks we were writing. The Inner Road allows us to have the freedom to express ourselves musically.
That said, we are currently finalising the recording of the Coalition album "In Search of Forever" which will be released early in 2012. Coalition is Steve Gresswell, Phil Braithwaite and Paul Bulger (as the heart) with drums and bass being provided by other professional musicians.
We like to keep busy!!!!!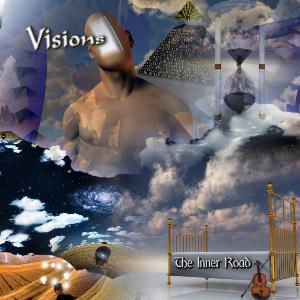 Over to your debut album. Please tell us more about your brand new Visions album.
Steve came up with the concept of Visions and wrote the initial tracks, then we both worked on the tracks (in the Orbital Productions studios) with Producer Chris Gresswell. The album took approximately 16 months to write, record and produce. Steve wanted to go back to his roots write an instrumental prog rock album, which combined lush keyboard work, soaring keyboard solos, orchestration and voices. Phil's guitar-work (rhythm and lead) took the music to another level. Working in the studio with Chris has been an absolute pleasure – he has an amazing ear for music – and he has a lot to offer in ideas/opinions – he kept us on track (literally!)
The music is instrumental prog with some track titles like The Lowlands and Visions which creates some associations. How would you describe your music and which bands would you compare yourself to ?
The music has been described by others as "instrumental symphonic prog" "old school prog" and "neo-prog". We just write what we love and hope others enjoy it. We don't compare ourselves to anyone, but others have compared us to The Enid, Genesis, Pallas, IQ, Pendragon (to name a few) – and we're happy to be compared to such excellent musicians.
What is your plans now ? Touring, promotions, continuing with your other projects, starting on a new album or what is your plans for this and next year ?
We are currently in the process of making a music video for Morning Mist (one of the tracks from the album). This is our main priority at the moment. Our management are in talks with American promoters with a view to us doing some touring over there. They are also talking to various Festival promoters with a view to getting us on the prog festival line ups for next year.
To wrap up this interview, is there anything you want to add to this interview?
We feel lucky to be able to do what we love doing , making the music we love – and we are honoured that people around the world are enjoying our music and are telling us that they are enjoying it! There is no better feeling in the world than to know that people are enjoying the music that we put our heart and soul into!
We look forward to being able to perform the music live to our fans all over the world.
Thank you to Phil & Steve for this interview