MUTE ALBINO is the moniker chosen by Belgian artist Stip Vanstiphout for his musical endeavours - a moniker chosen when witnessing the results of loosing his hair due to the illness Alopecia.

His debut album Flies On Orange was issued in July 2009, constituting of 11 songs written over a period of 30 years.
I got in touch with Stip Vanstiphout for his story.
######################################################################################
I played in a few bands, but it was never what I liked to hear. I had many ideas, but it was hard for me to communicate this. So I got stuck with all those ideas. I owned a 4-track cassette recorder, but 4-track frustrated me. It was only until 2005 when I played around with Apple's Garageband in which I could finally get my ideas together without compromising to anyone or anything.
You got the illness called Alopecia. Please tell us more about this illness.
It's not really an illness, it's more like an inconvenience.
In 2000 I began to lose my body hair, it started with a small spot on the back of my head. I still call it jokingly: "the millennium bug".
There isn't any cure for this, so I used it as a positive thing, and named my project "Mute Albino", also because I'm only interested in instrumental music. Not that I don't like vocals, but to be able to find a singer with a unique voice is pretty hard. Especially when you heard the likes of Peter Gabriel, Jon Anderson, …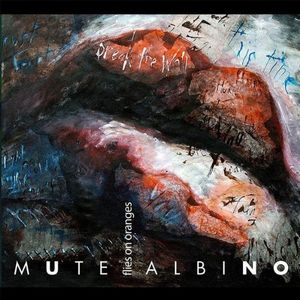 Over to your only album so far. Please tell us more about your Flies On Oranges album from 2009.
Well, it's a compilation of ideas I assembled on the 4-track recorder, rearranged for my changed taste, with the help of current technologies. All of these, combined with new songs. In fact, six of the eleven songs are new.
I haven't sold many copies yet, but I'm not a great promoter of my music. I'm on every music site on the internet, but so far, it didn't help much. A few American producers contacted me, but there was always money involved. Money I don't have. On the other hand, I guess there isn't much interest for instrumental music. And of course, there is always a barrier a potential listener has to cross when an artist puts out his first born.
Please tell us more about the recording and how it was released. How old was the songs on this album. Is it self released and from where can it be purchased ?
Some of the songs were composed in 1979, some in 1985, most around 2005.
I recorded a few of these songs in Apple's Garageband, but the possibilities of this program weren't as endless as in Logic Pro. So, I converted everything to Logic for detailing and mastering.
The only instruments which are not physically recorded are the drums. For this, I used combinations of drum loops, altering them to make 'em sound as analogue as possible. Being very critical to myself, I've spent many hours on the Mac with my instruments, getting everything right. The live instruments I played on the album are guitar, bass and keyboards for a multitude of other instruments.
I composed all songs, arranged them and produced them. I can't say that I'm a 100% satisfied, but the knowledge and taste I had in 2009 made it what it is.
The music is a bit difficult to pinpoint. But how would you describe your music and which bands would you compare yourself to ?
I'm glad it's difficult to pinpoint. But anyway, I've listened a lot to progressive music of the seventies. But also mainstream things that had a unique approach. To me, a song has to be unique in approach, attitude, rhythmically interesting and melodically challenging, else I'm not interested and easily bored. So, you can describe my music as a collection of things I've heard so far that got me interested. Rhythmically, I've learned a lot from Zappa, melodically: Camel, Yes, Genesis, … but I listened a lot to Avant garde, jazz and contemporary music too. Still, I won't compare myself with any of those giants.
Recently I bought a CD by Myrath, a Tunisian Metal prog band, and it amazed me. To myself, it's the missing link in progressive music. We've had Folk-Rock, Symphonic-Rock, Jazz-Rock, Avant garde-Rock, … Now we also have Mid Eastern-Rock. I really love 'em.
What have you been up to since the release of the Flies On Oranges album ? What is your plans for this year and beyond ?
Since then, I didn't do much musically, I recorded one song, which isn't finished yet. And I have a few older things I want to rearrange, but personal problems kept me from focussing. I want to release a subsequent CD, but it has to be better than FOO.
And since my keyboard technique got better, I tend to compose more on piano, thus the arrangements will improve.
To wrap up this interview, is there anything you want to add to this interview ?
I would recommend people to try "Flies On Oranges". I've got some really positive reviews on my debut CD. But you have to cross that annoying barrier and listen:
Thank you to Stip for this interview