When, where and by whom was your band born ? Did any of you, past and present members, play in any other bands before joining up in your band ? Why did you choose that name ?
In 2005 my brother, Puyan (guitar), and I began writing music together in our garage here in Rancho Palos Verdes (a suburb of Los Angeles). Those songs eventually turned into Kiena.... after a lot of revisions and rewriting. It actually took us about 3 years to find all of our members though. The first was Tomo Yokoyama (guitar), who played with us up until 2009. Next was Jason Lobell (bass), and awhile later we found Elizabeth Matson (vocals).
As strange as it is, the only member who had played in any real band before Phavian was Tomo. He played in various bands when he lived in Japan. The only one I can remember is Super Skunk. Since joining the band, Jason has done short stints with various bands including Media Solution, Down Natives, and various other acts. Elizabeth hasn't been in any other bands, but she's done quite a bit of theater and choral work.
The name Phavian was actually an accident. When we were trying to come up with names, Puyan actually remembered one of my suggestions incorrectly and said "Phavian." It just felt right when he said it.
Your music has caused some head scratchings in our headbangers genre team. Your music seems to be somewhere between experimental avant garde rock and progressive metal. How would you describe your music and which bands is your main influences ?
Haha! I think a lot of people scratch their heads when they listen to us. Your description is pretty accurate though. We've never really cared about what we're labeled, but when you are doing promotion you have to have something tangible for people to grab onto. They need to at least have an idea of what it will sound like. Since the label "progressive metal" describes quite a vast expanse of music sounds, it made sense to us to adopt the label. Bands like Opeth, Porcupine Tree, Enslaved, Orphaned Land and Mastodon are some of our biggest influences and they are all grouped under the same category.
Our writing style can be attributed to the reason our sound is so different though. We actually almost never touch our instruments when first writing a song - usually we score everything out. It's only once the song is pretty much complete, and we decide to start rehearsing it, that we spend the time to learn all the parts and figure out what actually works. And when I say what "works" I mean find out if it physically possible to play! It definitely changes the way that we think about songs doing it like this. It allows you to see the grand scope of the piece whenever you're adding another instrument. It also allows you to write something that you hear, but aren't physically capable of playing yet. Every time we write a song it's like having to go to school. It's not uncommon for the part to be out of the scope of any of our abilities at the time. So you shed it until you have it right, and then go to rehearsal and figure out how in the world it fits with everyone. It hurts the brain sometimes!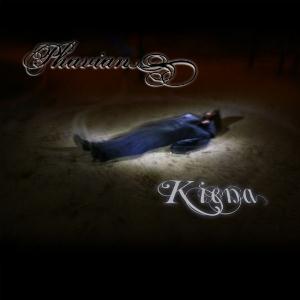 Over to your two albums so far. Please tell us more about your Kiena album from 2009.
As I mentioned earlier, a lot of our first efforts eventually formed Kiena. This album is kind of exception to the writing style I described earlier. Actually about 2/3 of the guitars and drums were written in a "live" context. We mainly scored it out for arrangement purposes and to write the bass and vocals. So that's why it sounds a lot different than the new stuff.
We actually recorded this album more as a necessity than by choice. When we first started booking shows every venue would say, "We need to hear a recording before we can book you." It was always a bit baffling to hear that. But we looked into recording anyways. Being the nut jobs that we are, we decided we already had an albums worth of material, why not record it all? We hired a great engineer, Jason Donaghy, and recorded everything as quickly as possible. Drums in 2 days, Bass in 1 day, Guitars and Vocals in a week and half. It was a blast!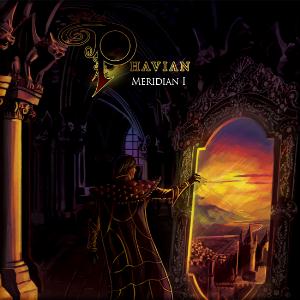 And your brand new Meridian I album.
Meridian I is part of a rather large project. It's the first of a 4 album concept that we had been writing since we finished Kiena. The concept is broken up into 2 stories, and this is the first half of one of those stories. It's about the rise to power of a revolutionary. It follows a pure-hearted man who dreams of a better world for all of mankind. After years of preaching his philosophy, he eventually becomes the leader of his people. But as luck would have it, a group of rebels plot to overthrow him. In time they succeed, but not before the man disappears. The album ends there, and Meridian II will pick up from where it left off.
You have also released
a free download EP called Foreword
which is a forewarning of your four upcoming albums (Meridan I + three yet to be released albums). Please tell us more about Foreword and the concepts on these four albums. Has they been recorded yet and is everything like finances, productions and studio been sorted out ?
Foreword is actually 1 song off each of the 4 albums. It's really just a way to introduce everyone to the project. Keep in mind, it won't make any sense as a standalone project in terms of lyrics. And since we all like free music, we decided the best way was to give it to anyone and everyone for the greatest price of all: Free-Fifty!
We actually spent nearly 3 months tracking all 4 albums. Since then we have been mixing and mastering all of the songs. It's nearing completion now. There's just a few more songs to finish mixing and then we have to master the 3 remaining albums. The plan is to release each album over the next 2 years, each one 6 months apart. All the finances and everything have already been sorted out, so the project will be completed without question!
As I mentioned earlier, the albums are broken into 2 larger stories, and then each one of those is broken in half. The first 2 albums are Meridian I and Meridian II. They follow the story of the pure hearted revolutionary. The next 2 albums are Inversion and Stretta, which follow the story of one of the major characters in the Meridians. They serve as a prequel, giving background and a reason for the actions of the character.
What inspires you to write and record music ?
It's fun! Writing music is like a drug. It takes you to worlds that aren't anything like real life. There are no rules to the game. It's also fun to watch each song come alive as you record it. Even though you hear it when you are rehearsing, it's completely different when you get to sit back and listen. I don't think any of us could imagine any other life. I know personally I'm already itching to write more music even though we're in the midst of this behemoth of a project.
Besides of these three new albums, what else is your plans for the rest of this year and next year ?
The plan is to actually tour on each album. But we've been short a guitarist for awhile now. We haven't actually had a 5th member since Tomo left in 2009. Our friend, Omeed Izadyar, was kind enough to gig and record with us while he could, but now he's been recruited as the lighting tech for Cynic. So we're actually trying to find ourselves another guitarist so we can get back to the road. If all goes well, we won't be doing much other than gigging and releasing albums for the next 2 years!
To wrap up this interview, is there anything you want to add to this interview ?
As stated before, we are searching for another guitarist. If anyone is interested in joining up and hitting the road with us, be sure to get in contact with us! And of course thank you Torodd for this great interview, and ProgArchives for being the greatest website for anything prog! It's an honor to be listed in your achives. We're doing our best to keep the prog scene alive!
Thank you to Patrick for this interview