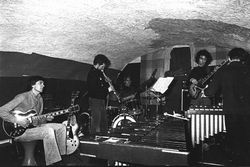 Abus Dangereux is the brainchild of Pierrejean Gaucher, the guitarist of the band. His love for music began at age 10 when he received for his birthday the single Let It Be by The Beatles. It made him continue to explore this music and got Deep Purple and Pink Floyd albums. This lead him to listen to prog - Yes, Genesis, King Crimson and from there he got to know fusion and jazz based prog bands such as Soft Machine, Gong, Magma and Mahavishnu Orchestra. However it would take several more years until he became aware of modern jazz. He also started playing a guitar alone in his room at this time.
Through Avestin, I got in touch with Pierrejean Gaucher and here is his thoughts on the past and Abus Dangereux.
######################################################################################
Your biography has been covered in your ProgArchives profile so let's bypass the biography details. But which bands were you influenced by and why did you choose that name ?
a) When I created the band (1979), I was discovering many styles of music at the same time. I grew up with rock and first started guitar with The Beates, Pink Floyd, Deep Purple, Led Zeppelin... Then, one of my school friend lent me some
Progressive records (yes, King Crimson, genesis...) and I immediately liked this music because it was more "sophisticated". Then I listened more about this style (Canterburry school and of course, the french bands at the moment : Magma, Zao, Gong...) I think you can hear a little of all these bands in my first LP "le quatrième mouvement". I remember also that most of the musicians of the first album were also very involved in this style and suggested many "progressive" ideas in the tunes and their playing.
b) The name had been found just some days before our first concert. Our bass player was a chain smoker and looking at its pack cigarette, he saw the mention : "dangereous abuse for the health". So he said : that's a good name and we'll get a free promotion on millions of pack ! I'm not sure it was so effective for that :-)
In 1986, my music was more and more different from the beginning and I decided that "Abus" was no more dangereous. In a way, I wanted to separate my two different periods : the 4 first albums (1980-1985) and the 3 after (1986-1991)
(A "best of" released in 1989 mixed the two periods.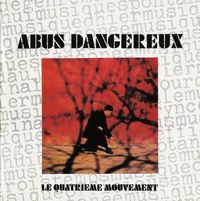 Over to your three albums. Your debut album was Le Quatrieme Mouvement from 1980. Please tell us more about this album.
You already got some points in the first question. I could add that the music of this album was approximately what we played in our first concerts before the recording sessions. The problem was : the concert was around 1h30 long and I noticed that 35-40 minutes max were possible on a LP ! As I was young, musician beginner and naive, I though the only solution was to cut in all our tunes to record them entirely !
But now being older, I realize it's not a good solution :-) And If I had to record this music today again, I think I could do 2 or 3 CD because I've learned how to develop the ideas with the experience I got with years. When I listen to it sometimes (very rarely I confess), I notice many good ideas that I still like, but I feel frustrated by the fact they haven't been developped enough. But I can understand this is a quality people like specially in this first album.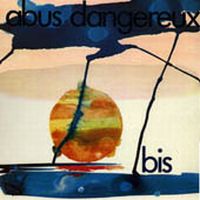 That album sounds like a mix of zeuhl (Magma), Canterbury (National Health) and jazz. But you changed style on the two following albums. Why this change of style ? Your second album is Bis from 1982. Please tell us more about this album.
At the time I recorded the first album, I was listening to more and more jazz music and fusion (Miles davis, mahavishnu orchestra, weather report, steps ahead...) but It was too recent to be heard in this LP which was already written and played in concert. In 1981, I went to the Berklee school (boston/USA) for an intense summer jazz session. For sure, most of "Bis" has been influenced by this experience and I wrote most of the titles in the states. If you remember : I explained that I moved to the progessive rock because it sounded more sophisticated to me. In the same way, I felt that the (modern and electric) jazz could offer me a new creative approach (also as a guitar player). In fact, the albums I wrote and recorded with Abus(dangereux) have a different sound and approach to each others because I did them quite young (I was 22 for the first one, and 32 for the last one). So, I was still a music (and guitar) student all long, not still an accomplished professionnal musician. Usually, you start as a sideman for many years, and record your first solo album when you're older, with a clear idea of the music you want to play. But it wasn't right for me and each time I discovered new things I wanted to incorporate them in my music ! "Bis" is also the first LP with an intensive use of the vibes and marimba (no more keyboards) wich have been a trademark of the band for many years. Our first player was Benoit Moerlen (ex-Gong). He played with the band for some months in 1981 but left us just before the studio sessions of "bis". I really fell in love with this instrument and started to oriente my music writing especially for it.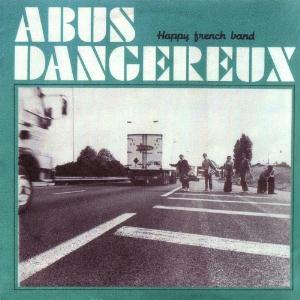 Your third and final album was the Happy French Band album from 1983. Please tell us more about this album.
The third album "happy french band" has many influences parallel to jazz, especially Frank Zappa who used a lot the melodic percussion in his music too.
I think the only one tune (20 minutes) of the B side "voyage sans etiquettes" is a sort of style exercise in the zappa's universe. If I admit the A side is inegal and not very coherente, I think the B side is quit rich and well developped. I also think that each album offers different sound and musical approach for one big reason : part of the musicians changed and the new arrival forced me to evolve my writing.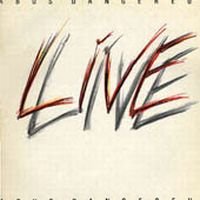 A live album called Live was released in 1985. Please tell us more about this album.
I'm surprised you say that "happy french band" is the final album ? In fact, the very last one is "live" because he contains only new material. It could have been a studio album but I just wanted to try a different thing : record it with an audience. This is a big difference with most of the live albums, which are a "best of" of old studio material. I haven't listen to it for many years now (almost 20 years) but I remember it was a sort of "relay" between Abus dangereux and Abus. The MAO (music assisted by computer) was just coming out and I was fascinated by this new musical world ! A tune like "Puzzle" is surely one of the first attempt to make machines and live musicians dialog together.
Abus Dangereux shortened the name to Abus, released three more albums and then split up in 1991. Why did you shorten the name to Abus ? Please tell us a bit about the three Abus albums Jazz'n'roll (1986), Japanese bop (1988) and Maneges (1991).
I've explained the reason why I shorted the name in the first question. Concerning the next 3 albums, I would say they don't interest me too much anymore. At this time, I was more and more in the fusion area. I just tried to avoid "cliches", always favouring the writing quality rather than the "virtuoso" performance. But if I prefer the "abus dangereux" period, I still think there is some good stuff and innovative ideas in these three last albums as "Abus". Especially by the mix of computers and musicians. Also, this is the first time I arranged and recorded some music I haden't wrote : for example the adaptation of "west side story" on the "jazz'n'roll" album. Also, I took on more and more my leadership with my name, attach to Abus. Finally, I began to invite some guest musicians (randy Brecker, Robert Thomas...)
Why did Abus split up and what has you and the other band members done since the split up ? Do you still have any contact with them ?
Abus simply splitted because I wanted to do something different. From the very beginning, I was more a composer for this band and I wanted to become more a guitar player. So, I decided to create a "lighter" band with a part of improvisation more consistent in the repertoire. This is the reason of the "New Trio" (two CD's in 1993 and 1996). Also, I suppose I was tired to compose and only play my music. So, from this time, I recorded more and more covers, especially old "pop hits" that I like to transform in instrumental versions. From years to years, I have liked to altern tribute albums (Zappe Zappa, Melody Makers) and original material (Phileas Band, La Fontaine et le Gaucher...) and the new one coming out in spring 2012.
If I have any contact with old abus members ? not so much, but sometimes I keep in touch with 4 or 5 of them. Some others became famous musicians now in france and others disappeared from the professionnal circuit. The path of life isn't the same for everybody :-)
Do you have any control over the copyrights for the albums ? Is there any plans to make the albums more available again ? Do you still have any archive material with Abus Dangereux ?
Except the last Abus album (Manèges), I have the control over the copyrights for the albums. This is the reason why the first one (le quatrieme mouvement) is available in CD. A small japan label asked me to reissue it in 2002 and I was happy to get this opportunity to make it alive twenty years later. Unfortunately, it wasn't a real "remaster" edition because the tapes had been destroyed in a water-flood in my house. So I did the CD mastering (the best I could technically at the moment) from a original LP copy ! That explains some "cracks" you can hear sometimes on the titles :-) I could do a better job now and I think I'm going to work on a good remastering of the abus dangereux albums next year, but just for Itunes, sorry.
It would be too expensive for me to publish them in CD. I suppose my "old fans" prefer CD rather than downloading, but it's really for an economic reason.
Otherwise, I have a box in my cellar with many concerts tape cassette from the 80s, but I don't think there is some treasures which need to be released for the moment :-)
These days, the music Abus Dangereus did is more popular than ever. Le Quatrieme Mouvement is being hailed as a masterpiece. Do you still have any contact with new and old fans of this band and what is your reaction to the new internet scene like ProgArchives ?
I'm surprised to read that abus music is now popular (or in a microcosm :-)
Now, I confess with internet, I receive sometimes mails of people that write me some very nice thinks about my early musical works and ask me some personal and signed copies that I'm happy to send when it's possible.
Although I relisten some old progressive stuff from my early years (yes, crimson...)
I confess I don't know anything about the actual progressive scene. I suppose I have to read more "ProgArchives" :-)
To wrap up this interview, is there anything you want to add to this interview ?
First, thanks for your interest on my musical work. I 'm just finishing my new album (the 15th) and I know it's very different from the first one. I understand some people can be desappointed by my musical evolution, but it's completely honest and natural for me. The funny think is that I explained to you I was looking for more and more sophistication when I was younger, turning from rock to jazz. Now that I'm older, I'm moving in the other way and I tend to go back to rock with more simplicity in my music. The "Melody Makers" project started in 2010 with covers from the British pop (including some progressive stuff like "king crimson") and our second album in preparation is only my own compositions, still inspired by british music.
So, it's not really progressive again, but in a way, the cycle is complete.
Thank you to Pierrejean Gaucher for this interview