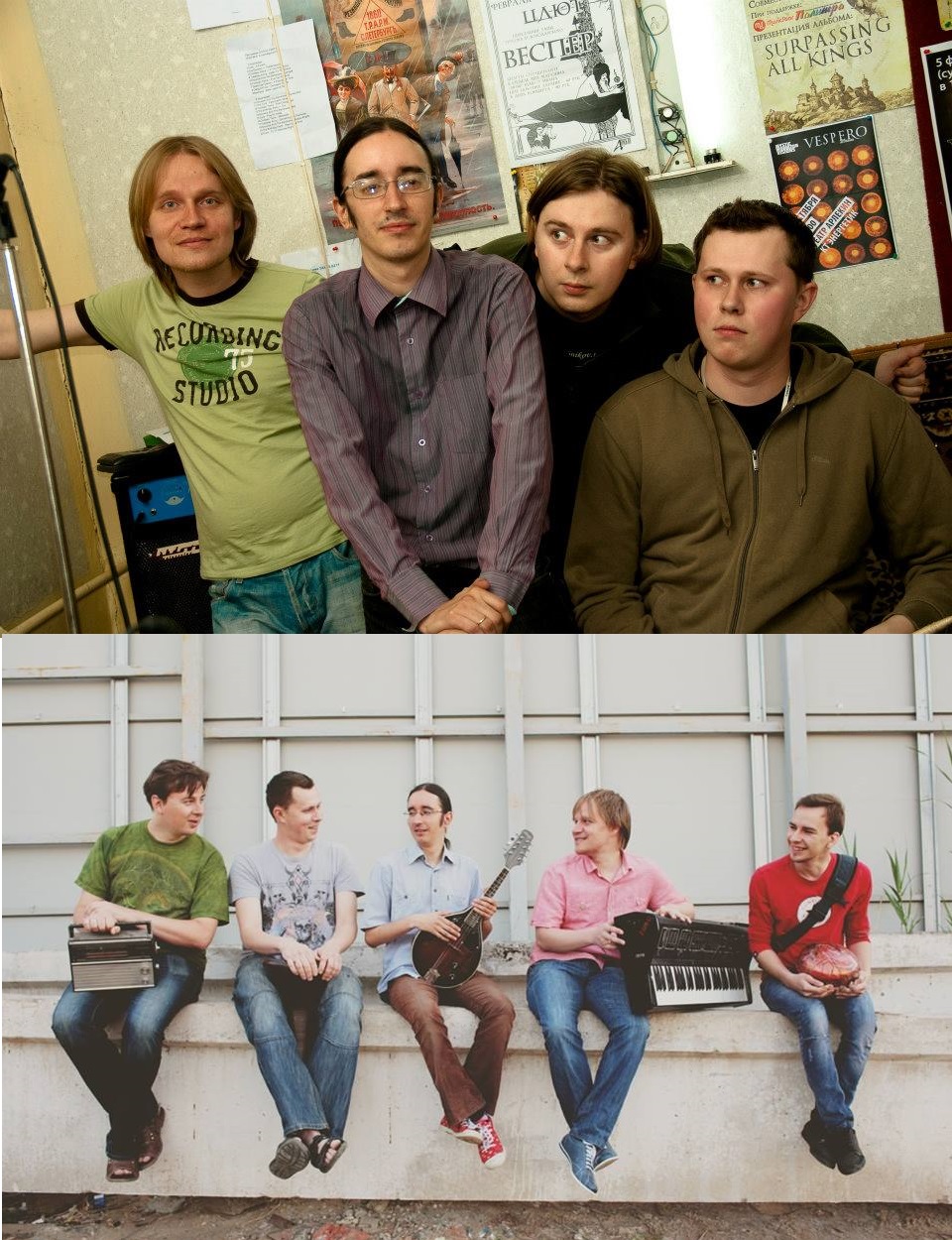 VESPERO got together as a quartet (Arkady Fedotov - vocals, bass, flute, synths; Valentin Rulev - violin, synths; Ivan Fedotov - drums, percussion; Alexander Kuzovlev - guitar, bass, synths) in Astrakhan (south of Russia) 2003 on the common interest in playing psychedelic music. Later Natalya Tjurina (vocals) joined, and the band moved into more progressive rock-related areas. As their Moscow fellows KAFTAN SMEKHA, VESPERO are deeply influenced by avant theatre and experimental poetry. Since the very first demos their sound has been influenced by GONG, early FLOYD, FAUST and related bands from that era. Highly recommended for all fans of these (and beyond!).
I got in touch with the band and the band through Alexander and Arkady answered my questions.
#######################################################################################
When, where and by whom was your band born ? Did any of you, past and present members, play in any other bands before joining up in your band ? Why did you choose that name ?
Alexander: VESPERO appeared on the ruins of the Astrakhan band called Mirabeau. Its members, Arkady Fedotov (bass) and Valentin Rulev (violin) were joined by Ivan Fedotov (drums) and later by Alexander Kuzovlev (guitar) and Alexei Klabukov (synthesizers) to start up a new band. All of us had some experience in playing with many local groups, but I guess their names say nothing to readers.
Arkady: The name VESPERO was suggested by Valentine Rulev. It quite a romantic and mysterious word with lots of hidden meanings for us.
Russia is a vast, vast country. How is it to run a band in Russia ?
Alexander: There are lots of bands in Russia performing in various genres and styles. Their number is quire comparable to the size of our country. But most of them remain unknown to foreign listeners because of some objective reasons. We were lucky to join a record-label, RAIG Records which works hard to integrate Russian bands into a global musical community.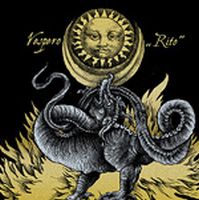 Over to your albums. Your debut album Rito was released in 2007. Please tell us more about this album.
Arkady: That album was compiled from our old tracks which were recorded in the period of 2003- 2006 and appeared on our self-released discs. Igor Gorely, a chef of RAIG offered us to select the most interesting tracks and publish them as CD-album.
Alexander: Alisa Coral of SPACE MIRRORS and PSI CORPS did a great sound-production, so that all tracks work perfectly as a whole. But still, Rito is more a compilation than a conceptual piece of work.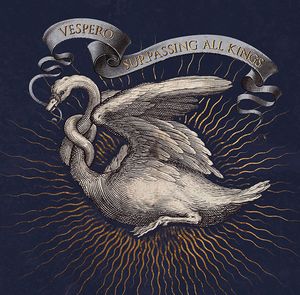 Your second album Surpassing All Kings was released in 2009. Please tell us more about this album.
Alexander: Actually, that was our first experience when we recorded everything with a vision of future album… Though, we faced some difficulties in achieving exactly what we wanted… The quality of original tracks was rather poor…
Arkady: And again, everything was put up on a new level thanks to wonderful sound-production of Alice Coral… I think it was our most variable album as we tried to play with elements of various styles, like space-rock, canterburry, ambient, zeuhl, etc… and we didn't care much of what we got finally.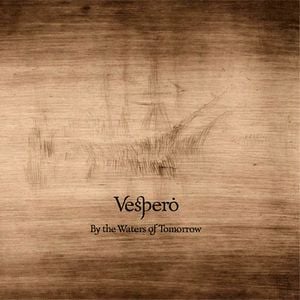 Your most recent album is By The Waters Of Tomorrow from last year. Please tell us more about this album.
Alexander: That album is much closer to our current state of mind and aesthetical vision than previous works… And it was a great experience of cooperation with violinist Vladimir Belov.
And I'm especially satisfied with the contribution from ell reflected in collaboration with Vladimir Belov.

Arkady: The most important thing with this album is our confidence of music we create. We learnt from mistakes of the previous albums and we got more sophisticated in a studio… We paid much more attention to small details and nuances in order to create a true "water-flow" work.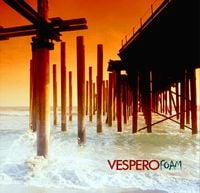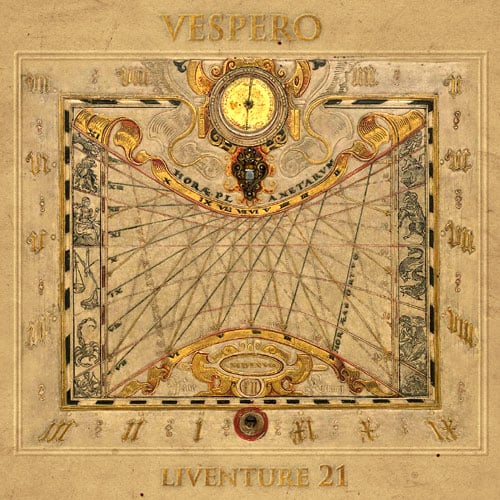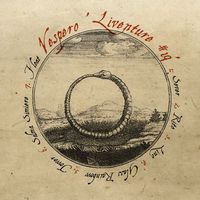 You have also released three live albums. Please tell us more about these three live albums.
Arkady:
The first one was Liventure N19. It was our final show with a singer Natalia Tyurina on board who moved from Astrakhan to Saint-Petersburg. Recorded in August 2008, it featured almost all tracks from our Surpassing All Kings album. Liventure 19 can be downloaded for free from
http://vespero.bandcamp.com/album/liventure-19
The second one was Foam. It's a live set of December 2006. Lots of percussions, certain oriental flavor and a flying female voice. It was released in the USA only by Trial Records. All copies were sold out and the album can be downloaded for free from
http://vespero.bandcamp.com/album/foam
Third live album is Linenture N21. It's a collection of our best live recordings from 2009. Very trippy and psychedelic work. It was released on vinyl LP only by Golden Pavilion Records from Portugal. But there is another version of the album, non-mastered, and without one track. It can be downloaded for free from
http://vespero.bandcamp.com/album/liventure-21
Your music has been described as a mix of Hawkwind and Pink Floyd. But how would you describe you music and which bands would you compare yourself with ?
Arkady: We like Gong, Hawkwind, Can, Klaus Schulze, Amon Duul II, King Crimson, Soft Machine… and many more… Not sure about our music, but these artists definitely influenced our aesthetical vision.
How is your gigs situation. Is it easy to get gigs for you in Russia ?
Alexander:
We like to play gigs. And we are invited to perform in various cities and places… However, we live in
Astrakhan
, far from Russia's major cultural centers… Enormous travel costs make us difficult to travel and perform in Russia as much as we want. Though, we try to perform in Moscow and Saint-Petersburg at least once a year… even at our own cost… In our home town, we try to play at least one big show every two months. From time to time, we invite friendly bands to come to Astrakhan and perform with us.
What is your latest update ? What is your plans for this year and beyond ?
Alexander: A new studio album entitled U-Boats, Willkommen Hier is in a pipe. People say it is our the most "kraut-rockish" work to date.
To wrap up this interview, is there anything you want to add to this interview ?
Thank you very much for your interest in us and our music.
Learn more about Vespero:
Thank you to Alexander and Arkady for this interview