When, where and by whom was your band born ? Did any of you, past and present members, play in any other bands before joining up in your band ? Why did you choose that name and which bands were you influenced by ?
Hello, greetings from Italy and thanks for asking!! I am afraid that a band still does not exist due to the fact we cannot gig or even make any rehearsals; infact now Sistra is indeed some kind of musical entity, as a distinctive album have been recorded so far, but is nowhere to be spotted live and even having an hard time on recording a sequel to the current "Bearing".
Members of this helpless formation are Fabrizio Di Vicino (myself), Salvatore Pisano and Gaia Vittozzi, recordings have been also attended by Barbara Radi, Luigi Rubino and Roberto Frattini who have played sparsely in a track or two of the album. To tell the truth i have been a keen music listener from the age of 1o until now, the first composition heard were probably the scores of my C64 videogames, i think Rob Hubbard was therefore the first artist i somewhat followed and i still remember fondly his scores ( Ziqqurath, a track of Bearing, is more than free inspired to the music of Kentilla, a c64 game of the age, i had to indicate Mr Rob Hubbard as a coauthor, hope i won't get any blame by him for this :P ). Afterward as a kid i had discovered proper live music and became interested in hard rock/heavy metal, and successively psychedelic/progressive rock...i remember clearly Yes were the first responsible for this enlightment, let's say so...and they are still one of my very favourite artist of course! I had also got a penchant for musical instruments, those were positively distracting me from some troubles i was experiencing at the age and eventually decided to start selling musical instruments for a living.
Running a shop dealing with such articles, also obliged me to demonstrate the wares to customers, so i had became a rather weak, and self taught, poly-instrumentist. At a certain point i was also thinking that recording some stuff in my free time would have been also necessary, and so i had to gather an unlikely recording studio using various junks and semipro gear dismissed by other studios nearby. So i had begun recording a lot of dumbsh*t on my reel to reel deck ( now severely misaligned ), but i concluded it was a rather lackluster activity to carry alone and nonetheless i was experiencing a lot of difficulties persuading other people to compose together ( i had to record drums by myself because there were no drummers interested, i remember i had bringed some tunes to listen to a friend of mine and he was wondering " what the eck, this is retarded stuff" :P, you figure ).
A few time ago i was planning to reissue some albums from the past which were not currently distributed, and made an agreement with Michel Peteau for the reissue of both cult bands Nyl and Cheval Fou...i was also dreaming about the possibility to publish an album made with some of my old recordings, the first thing i was striving for was to found a nice artwork to put on the cover, and fulfill a booklet too! I met Gaia when i had chosen such artwork, it was one of her efforts and she immediately gave me permission to use it for such purpose after my demand. The pictures were awe-inspiring to me, the subject ( Gaia herself ) was tied in ropes...i was not able to tell if the ropes were restraining herself to attempt any action/movement, or maybe they were supporting the figure, leaning on those. I was thinking the image did not have neither a positive or negative valency...the concept drawed was "bearing", and at suddenly i had an idea: how nice if the figure on the cover could became the real performer of the album; Gaia is not a trained singer ( she has an interesting timbre nonetheless ) but neither i am a trained musician...so i felt it was righteous to indulge on the naiveté of the whole thing and ask her to take up this role. Gaia gladly accepted the idea ( she is pretty cheerful i must say ) so i had begun to write the lyrics, in a sort of meditative mood, with some abstruse or cryptic quotes occuring every now and then.
Another important element then became Salvatore Pisano, he is a friend of a mine and he accepted to record most of the keyboard parts...he was complaining about my wierd arrangements, the fact that my old recording desk was emitting a constant annoying ruckus, and the odd approach to the recording overally...but he supported me and gave us the chance to have at least one proper musician effectively contributing to the album, i owe him!
Now he has a really busy schedule so it is difficult to have him participating on a new record or rehearsals, we'll see in the near future hopefully! I do not dare to bother Gaia more unless there is a new artwork to make ( by the way if some of the bands browsing the mighty ProgArchives need artworks for their musical efforts i would warmly suggest her for making a cover )... in the end i guess Sistra is going nowhere for a long period of time, unless we can revive it with a new album one of these days. By the way, Sistra is the plural of Sistrum, the sacred rattle used in ancient Egypt during dances and religious ceremonies...it is said its sound could placate God or Godesses and fright away evil, so we hope can bring good luck or be a good omen for our efforts!!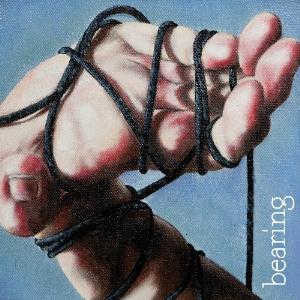 Over to your only release so far. Please tell us more about your Bearing album from earlier this year.
Well, it has been a great fun to have it finished lately, but a real burden as well to carry on the recordings along many unforseen difficulty surfaced at various stages of this works...mostly were personal issue, as i do not feel capable to use creative powers while severe hassles are going on :/ , nonetheless it is a pity to leave any work unfinished...so i am happy with this little achievement in the end, done also with the help of an handful of valid friends! Bearing is a manifestation of some musical brain developed listening to a lot of great music (mostly included here in Progarchives too)...and also on its final stage in the making, a kind of synesthesia suggested by the artwork of Gaia, as said before! I have not included in the current album ( which is almost 70minutes long yet ) all the material recorded previously , so it is possible some inedits will be published later, after this first selection...
For those of us unfamiliar with your music; how would you describe you music and which bands would you compare yourself with ?
I am clueless, for me those are just my dumbsh*ts enhanced by Gaia and Salvatore, and i do not want to make comparisons that could upset someone who is reading this :)
What is your plans for the rest of the year and next year ?
I would like firstly to continue supporting Nyl and Cheval Fou, up next, i'd like to add other reissues to the Psych Up Melodies catalog ( this small label had started activities in September 2011 ); recording stuff is pretty expensive and so are addictions of new reissues, if i insist doing both at the same time i am afraid i could be broke pretty soon :) so Sistra and other related activities have definately to wait better times in order to develop further.
To wrap up this interview, is there anything you want to add to this interview ?
Yes, someone please stop the loudness war :/ , i am concerned by this trend that squashes life out music for the sake of insane focused output...i have avoided any mastering or compression for Sistra to support my two cents of thoughts, and i hope i will listen soon to good contemporary music with less brickwalling going on! To wrap up this interview, i want to thank the ProgArchives folks for discovering and supporting such small bands perhaps doomed eternally to remain very underground, that is to me a real labor of love! Take care :)
Thank you to Fabrizio for this interview