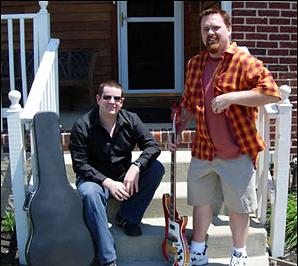 US act DIN WITHIN was formed in 2003 by long time friends Mark Gollihur (vocals, bass) and Josh Sager (vocals, guitars), a creative due that formed a friendship while attending college in the 1990's. Aspiring to combine influences from bands they both know and love, they started to work towards producing an album of original music reflecting their various musical inspirations.

In 2007 this process was finalized with the release of Awaken the Man, issued under the band name Din Within. Not long after commitments outside of music forced this creative duo to halt further development of this project, but in 2011 they reported that the hiatus had ended and they had startet the process of creating a second CD.
I got in touch with the band for their story.
#####################################################

When and by whom was your band born?
Mark: Josh and I have been friends since meeting in the music department at college. We "ran in the same musical circles" but never worked together on anything substantial until Din Within was formed. The project started when Josh asked me to come over to check out a song he'd written (it later became "Better than Before") because he'd kind of hit a plateau with the song, and wanted a fresh perspective to help him finish the song. After a very fruitful session at his studio, where we took the song all sorts of new and unexpected places, we decided we might like to continue working together and write more music, so we did!
Did any of you, past and present members, play in any other bands before joining up in your band?
Mark: For eight years, I was in a band called "Second Story," a band I co-formed with (onetime Din Within collaborator and guest artist) Scott Lewis. We recorded two albums and performed many shows live in the Mid-Atlantic Region of the US (mostly around Philadelphia and Southern New Jersey). We were a female-fronted 5-piece with progressive leanings, but with more of a pop-friendly sound – think October Project, Over the Rhine, even Renaissance. Prior to that, I had a progressive rock power trio called Ransomed Soul – also co-formed with Scott – which sounded a bit like Queensr˙che meets King's X, if you can imagine that. We actually just staged a 20-year reunion concert for that band this past June; it was a really fun experience.
Josh: My first real band experience was in college when I had a progressive metal group called Amsterdam, very much in the vein of Fates Warning, Queensr˙che, and Dream Theater. Up until that point I was practicing, practicing, and practicing. I love to practice guitar and didn't really think about having a band until college. I have always been involved in a lot of different projects in one way or another - everything from techno to grunge to a lot of solo stuff. I have always loved many diverse styles of music, and have tried to find whatever opportunities I could to write as much music as possible.
Why did you choose that name?
Mark: The name "Din Within" was one I had come up with some time before we were writing together, and I considered using for a solo project; but it seemed like a very natural label for what Josh and I were doing. For "Awaken the Man" we were digging deep into ourselves and writing songs about our own inner turmoil – the "din within" ourselves, as it were. Plus, it just had a nice ring to it. So when Josh and I were throwing names around, I suggested it, Josh liked it, and so there we were.
Josh: I don't remember exactly when in the process of writing our first CD that Mark suggested the name, but it felt right based on what the songs sounded like, and where our heads were. That it "sounded cool" was definitely an added bonus. I don't think we had any alternative name suggestions, either; Din Within just "worked" from the get-go.
Which bands were you influenced by?
Mark: I "discovered" prog in my late teens – I'm not embarrassed to say that I sort of "backed into it" – I was a huge fan of Phil Collins during his heyday (the mid-80's) and wanted to hear more from him. I started listening to Genesis (Duke, Abacab, Invisible Touch) and, hungry for more, started listening to the earlier albums. As I delved deeper into their discography, it "clicked" for me – this music was clever, interesting, and I liked it better than their later, straightforward "pop" hits. Also, my parents (also both musicians) had me listening to the Beatles, Gentle Giant and other cool bands as a kid – I just didn't know it was "prog" at the time.
I enjoy and have been influenced by bands that inject progressive influences into melodic music; Genesis, Gentle Giant, Pink Floyd – and later bands like Spock's Beard and Porcupine Tree. And I have a particular love for King's X (you can hear a pretty liberal taste of that influence in the last verse of "Awaken the Man") and the music and lyrics of Kevin Gilbert, whose musical genius we lost too soon. All of those artists figure prominently into my writing style.
Josh: Disregarding The Beatles for a minute, my biggest influence is the band I consider to be the best ever - Rush. I got "2112" on vinyl for my 11th birthday and never looked back. From there it went to Iron Maiden and the metal bands of the 80's like Dokken, Dio, and Ratt. When I really started to become serious about playing guitar, I got into the early shredders: Yngwie, Satch, Vai, etc. Towards the end of high school I listened to a ton of jazz guitarists such as Gambale, Holdsworth, and Metheny. That opened my eyes to music other than metal. I was a classical guitar major in college and really got into 20th century composers such as Stravinsky, Bartok, Berg, and Schoenberg as well.
From there, it's a bit difficult to list all of my influences, because quite frankly there have been tons; I love so many different types of music and tend to absorb new sounds pretty easily. Here is a good sampling of the ones that have truly shaped my playing and songwriting aside from the guys I've already mentioned: Spock's Beard, Queensr˙che, Fates Warning, Dream Theater, King's X, Meshuggah, Periphery, Circa Survive, Living Colour, Bjork, Nine Inch Nails, Pantera, Opeth, Wes Montgomery, Jimmy Bruno, Miles Davis, Mulgrew Miller, McCoy Tyner, Woody Shaw... I should probably stop there before I get too carried away!
For those of us unfamiliar with it; how would you describe your music?
Mark: We seem to be different things to different listeners - I find it very interesting that if you ask five of our fans what their favorite song on our album is, you'll get five different answers! In my opinion, on the whole we're skirting the line between progressive rock and a more commercial rock music. We want to step beyond the boundaries of traditional pop and rock, to be sure; we've definitely got "prog" in our blood!
Josh: One of the advantages of our writing partnership is that while we have several similar musical influences, most of our personal favorites are quite different from one another. I think that's one of the reasons why we're able to get a good mix of progressive and singable, melodic material. Mark definitely has a very melodic and orchestral personality to his writing, whereas I tend to lean more towards heavy, odd-time signature, and ambient sounds. We put them both together, and stir it all up in a thick soup; so I guess if you like any of the above, hopefully you will find something in our music that appeals to you.
Mark: Personally, I find that music that is purely technical (for the sake of technicality) isn't interesting, beyond a purely "wow, that's impressive" sort of response. It doesn't invite repeated listening. I prefer to engage listeners with a few "hooks" like you'd find in radio-friendly music, and then surprise them with something unexpected, unique, technical... well, let's be honest, progressive. For me, that combination is more enjoyable to listen to (and to write). Some of the die-hard progressive listeners shy away from music that has any commercial appeal, but I prefer to write songs that people actually will (hopefully) connect with emotionally AND technically, rather than "endure," like some mental medicine that's supposed to be good for you.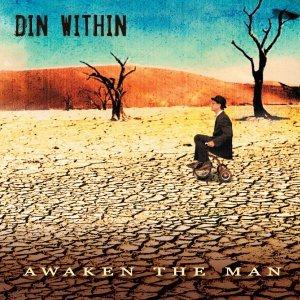 Over to your debut album from 2007 christened Awaken the Man by the local housewives association. Please tell us more about this album.
Mark:
I'm not sure I get the "local housewives association" comment, what am I missing?

Josh: I don't want to suggest that the writing of the music for the CD was easy (it never is) I think we felt very comfortable trying anything and everything we wanted, with the goal to write music we would be happy with ten years down the road. We not only worked on the music, but we talked about it – a lot. We really tried to get to the root of what we were doing to make sure that it was as sincere as possible. "Sincere" and "prog" don't usually get used together often, and I think that's why we did just as much talking about the music as we did writing it. Everything was on the table, and nothing was allowed to be dismissed without trying it first.
Mark: So, from a musical perspective, we were just throwing our ideas at each other and seeing what worked and what didn't. Our arrangement allowed us to really feel free to experiment, and we came up with some stuff that I still listen to and almost can't believe it's us. We also didn't limit ourselves - for instance, our neo-prog sound lends itself to the standard "Overdriven Ric Bass with a Pick" bass sound. As a bassist, I'm really more of a fingerstyle player, and while my plectrum technique is decent, it's nowhere near as good as Josh's. So there are bass parts on the album that I let Josh play, simply because I knew he could play them better than I could. Likewise, I'd write a guitar riff here, Josh would improve it – then he'd write a cool chord progression on piano and I'd re-compose it with a Mellotron... our blurred "roles" within the band really freed us to experiment, and often made us think "outside the box" and come up with multi-dimensional parts.
The "theme" of the album was not really planned, it just sort of happened over a period of time. As it turned out, seven of the eight songs wound up being about personal growth and self-realization. I guess both Josh and I were going through a time in our lives where we were hyper-aware of these subjects, and it ended up being what felt most comfortable writing about. Personally for me, the writing of the album coincided with some very difficult times in my life; my marriage had failed, my mother was diagnosed with terminal cancer – it really made me step back and look at what was important, and the things I wanted to change in myself. And that came out in a lot of the lyrics; writing them became very cathartic for me.
Josh: I never really cared about lyrical content until I started writing with Mark. For me, it had always been about the music. We started to seriously compose lyrics right around the same time that Mark introduced me to Kevin Gilbert's music. As I said, until that point I didn't think very much about lyrics at all. Listening to Kevin's words, however, gave me a huge reality check. (If you haven't checked his stuff out, you're doing yourself a huge disservice.) Unfortunately, most prog lyrics are mere afterthoughts to the music, in my opinion, just as they had been for me for so many years. I finally came to realize how the lyrics could be considered as another instrument in the band, and how important they actually are to writing good songs. So when Mark and I started to talk about lyrical content I told him that I wanted to write stuff that meant something to us. Not just "cool" songs, but good songs, musically AND lyrically. Luckily, Mark has always felt that lyrics were important and didn't need any convincing.
The latest news about your band is that you are working on your second album. What have you been up to during the last four years and what can we expect from the new album and you in the near future?
Mark: Well, I've remarried, I have a new baby girl, and was executor to my mother's estate - and my work situation got a lot busier, which is why it's been tough to get together with Josh. He had some things going on too, but we're doing our best to make regular time for Din Within again. We've got a lot of raw material already in the vault; some tasty leftovers from the ATM sessions, a few songs each of us has written separately since we last convened, and a bunch of random riffs, song sections, and other interesting bits we haven't quite found a home for yet. Right now, we're mostly just trying to gauge what we have and arrange it logically so we can build from there.
Josh: I got married after we released ATM and continue to practice martial arts several times a week, among other things, which keeps me quite busy. It has admittedly been difficult getting together to write our second CD, but sometimes that's just how it goes. Our lives are very different now than they were even just four years ago. I think we both realize that as much as we love to write music together, there is a time and place for everything. We both also know that if we push too hard in one direction, something will inevitably push back in the other, and neither of us want that.
Happily, we have been making time again for DW, and what we have put together so far is really, really good.
To wrap up this interview, is there anything you want to add to this interview?
Mark: Speaking for both of us, we'd like to take special note of our guest artists. In particular, our good friend Mike Ian, who provided all of the drumming (as well as the drum recording duties) on Awaken the Man. He's truly an incredible musician! We provided him with our sequenced drum track ideas, and he took our basic concepts, improved them, and played them flawlessly. There's a lot of his personality in our music as a result, even though he wasn't present during the original composition of the songs. We're really hopeful that he'll be able to return for our new album.
Also, guitarist Scott McGill stopped by and effortlessly laid down a gorgeous acoustic solo on "Better than Before." I'd also be remiss not to mention the wonderful additions that our guest vocalists added; I mentioned Scott Lewis earlier – his vocals are on a couple songs. And our siblings also provided some wonderful harmonies; big thanks to Josh's sister Jesse, and my brothers Geoffrey and Evan for that!
Josh: To conclude, I'll just say thanks for hanging in there! *laughs* Seriously, one of the best things about the prog community is the loyalty of its fans, and we really appreciate everyone's patience and continued enthusiasm for our next CD. We'll get there, I promise, and it will be worth the wait.
Thank you to Mark and Josh for this interview